July 27, 2018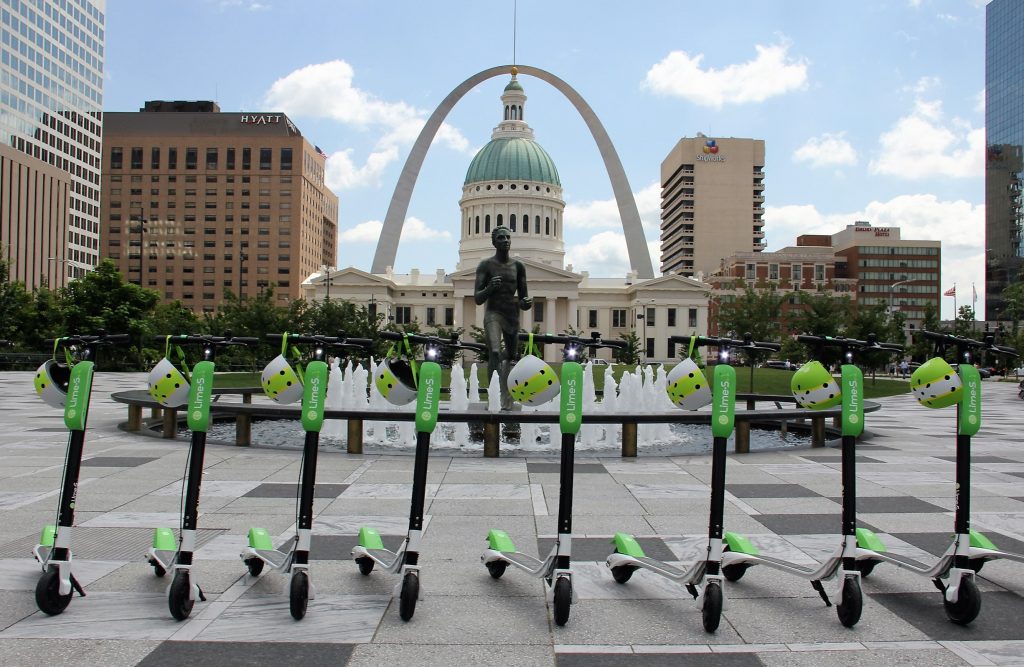 St. Louis now has a fun new way to explore and travel around town.
Lime — which introduced its dock-free bike share service this spring — introduced its dock-free electric scooter service today in the city of St. Louis.
Reaching speeds of up to 14.8 miles-per-hour, Lime-S scooters are intended for roadways and bike paths. It'll cost $1 to unlock the scooter, plus 15 cents a minute to ride.
When you're finished with your trip, park the scooter in the same manner you'd park a bike and keep all pedestrian walkways clear. This means sidewalks, exit and entrance ramps, bus stops and any other locations where those on foot or using a mobility device would easily need to get by.
Dock-free services — whether on a bike or scooter — represent an exciting new opportunity for St. Louisans to easily connect with Metro Transit and travel to destinations throughout the region. Instead of worrying about how to close the gap between Metro and work, or Metro and home, now you can hop on a bike or scooter and get to a MetroLink station, Metro Transit Center or bus stop in a matter of minutes. However, these services are about more than just moving people from point A to point B.
"It's about economic development, environmental responsibility, access to jobs and opportunity, and quality of life, " said Liza Farr, Project Manager in Economic Development for Bi-State Development. "We're all used to trains and buses keeping the region moving every day, but there is still more demand for innovative transportation options that will help people connect to public transit, which is a portal to the entire bi-state region and beyond."
Bi-State Development and Lime are working together on locating devices at transit stations and stops. This partnership will make it more convenient for customers to use Lime to connect with transit and close last-mile gaps, and make getting around without a car even easier and more attractive for everyone.
Since launching dock-free services this spring, the St. Louis region has logged over 160,000 rides. For Lime, over 60,000 individual riders have tried the dock-free bike service, with the average trip length being about a half-mile or 16 minutes. Lime currently operates their bike services in the city of St. Louis, Clayton and Ferguson.
The effort to bring dock-free services to St. Louis began in 2014 when Great Rivers Greenway completed a feasibility study and business plan that included extensive community engagement. Bi-State Development led the Bike Share Working Group in the refinement of that plan and identification of implementation options in 2017, and transitioned the project over to the City of St. Louis, which developed the permit regulations and is managing the program.
Return to Blog