April 16, 2018
TOD Corner: Dockless Bike Share Pedals into the St. Louis Market
Return to Blog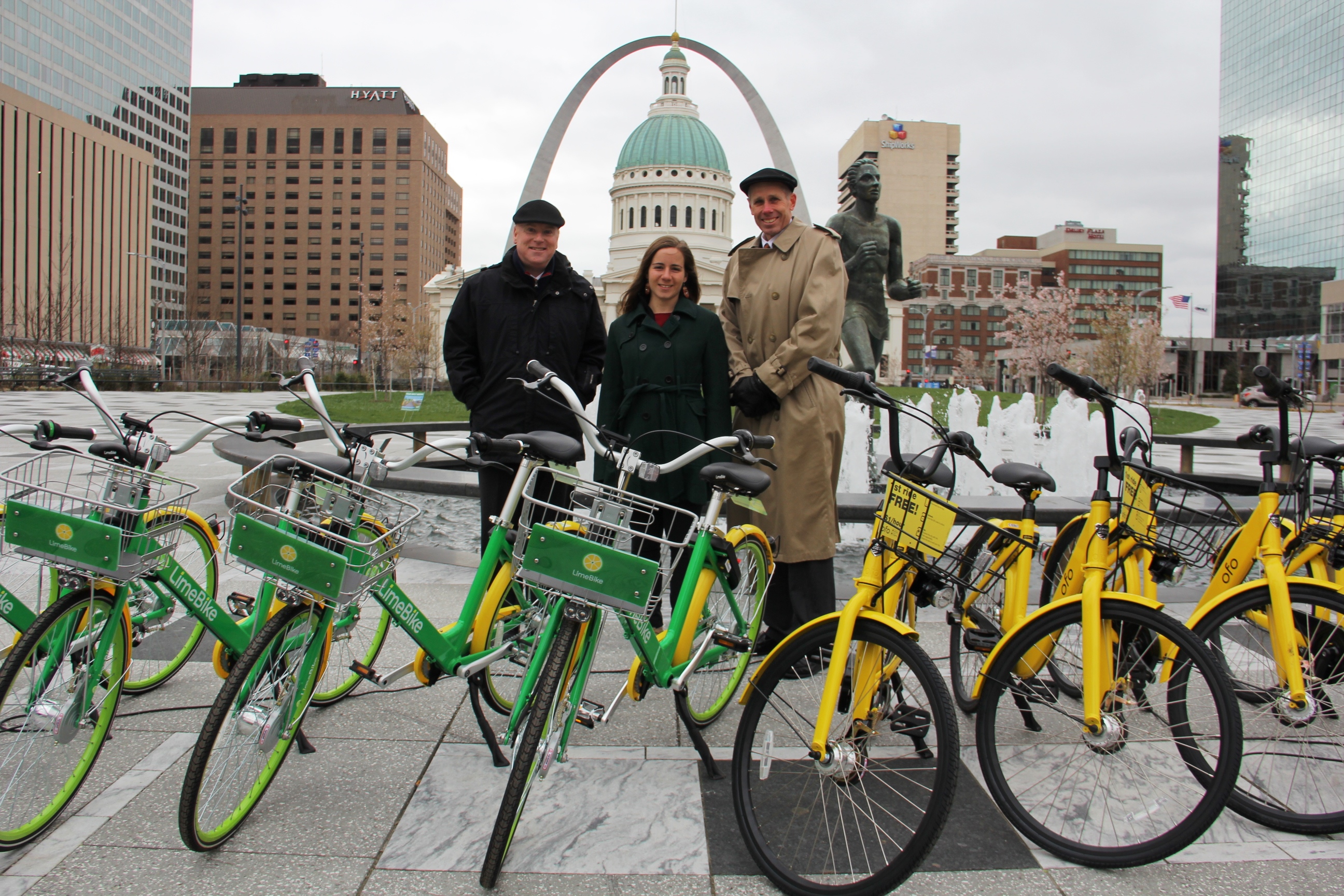 Bike share is now available in city of St. Louis and it's a great new way to get around the city and connect to Metro Transit.
Two private bike share companies, LimeBike and ofo, have received a permit from the St. Louis City Streets Department to operate their dockless bike share systems, and they've brought their brightly colored bikes to sidewalks and bike racks for the public to use.
The effort to bring bike share into St. Louis began in 2014 when Great Rivers Greenway completed a feasibility study and business plan that included extensive community engagement. Bi-State Development led the Bike Share Working Group in the refinement of that plan and identification of implementation options in 2017, and transitioned the project over to the City of St. Louis, which developed the permit regulations and will manage and enforce the program.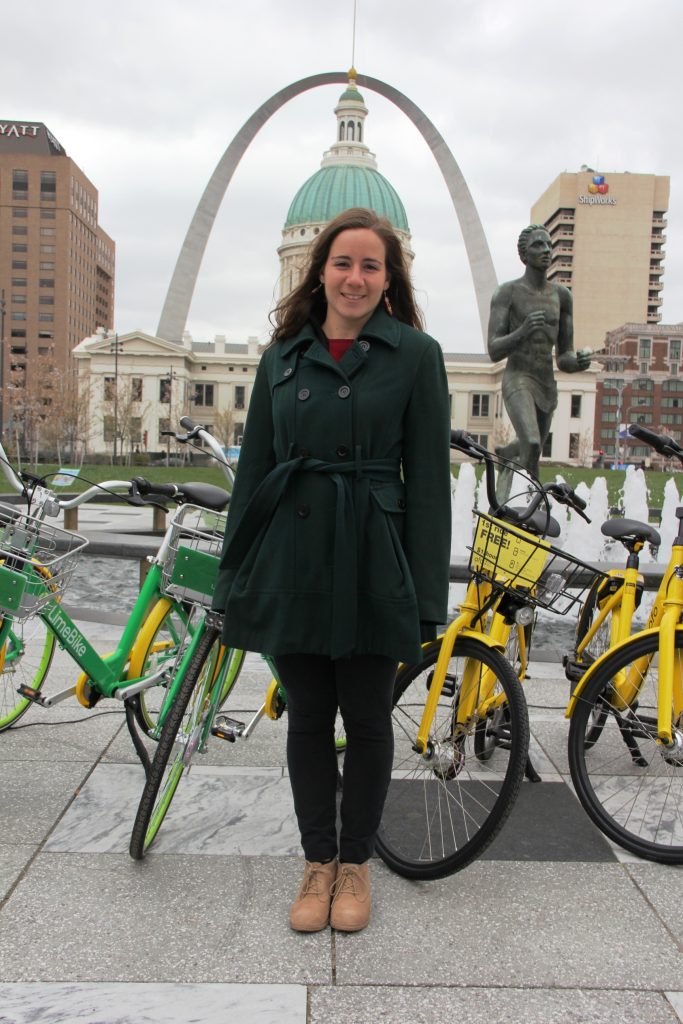 "Bike share is an integral part of transportation networks around the world, and it is a wonderful benefit for the residents of St. Louis, as well as for the thousands of tourists and visitors who travel here every year," said John Nations, Bi-State Development President and Chief Executive Officer. "I am very proud that we were able to contribute our support to help bring this important project to St. Louis."
LimeBike and ofo have both brought 750 bikes to city streets for the first month of operation, and will add around 350 more each month until they reach 2,500 total bikes. That may seem like a lot of bikes, but because the bikes are dockless and don't have stations like traditional bike share systems you see in Chicago or Washington, D.C., a high volume of bikes are needed to reach the goal of always being less than a 5-minute walk from a bike anywhere you go.
LimeBike currently operates in more than 30 cities in the United States, and ofo has more than 10 million bikes on the street in 250 cities across 20 countries, including around 15 cities in the United States. These dockless systems have been successful in achieving higher ridership than their station-based counterparts in similar cities. Although the first dockless bike share program opened in May 2017, they are quickly becoming an integral part of transportation options in cities of all shapes and sizes. Dockless bike share represents a great opportunity for St. Louisans to combine biking and Metro Transit to travel around the city. Instead of worrying about how to close the gap between Metro and work, or Metro and home, now you can hop on a bike and get to a MetroLink station, Metro Transit Center or bus stop in a matter of minutes.
---
"Bike share presents a great opportunity for St. Louis residents and visitors, whether you're trying to get to work or to a meeting, run a few errands, connect to a MetroLink stop or take a trip to a nearby park or museum." – St. Louis Mayor Lyda Krewson
---
The permit requirements in St. Louis were based on other cities like Seattle and Aurora, Colo. The main requirements focus on safety standards, maintenance and operation standards, data sharing and social equity. Bike share companies are required to have a non-smart phone option, and a non-credit card payment option. Additionally, companies are required to maintain 20 percent of their fleet in designed Social Equity and Inclusion Neighborhoods, which include areas between Delmar and Natural Bridge, and in the Dutchtown South area. Although these neighborhoods do not have the density of people or destinations that companies often look for when deciding where to maintain bikes, it is important that these neighborhoods, which have many low-income and low-car ownership households of low income, have access to this new, affordable transportation option. Additionally, these neighborhoods are a quick bike ride from MetroLink and the many jobs, institutions and amenities in the central corridor.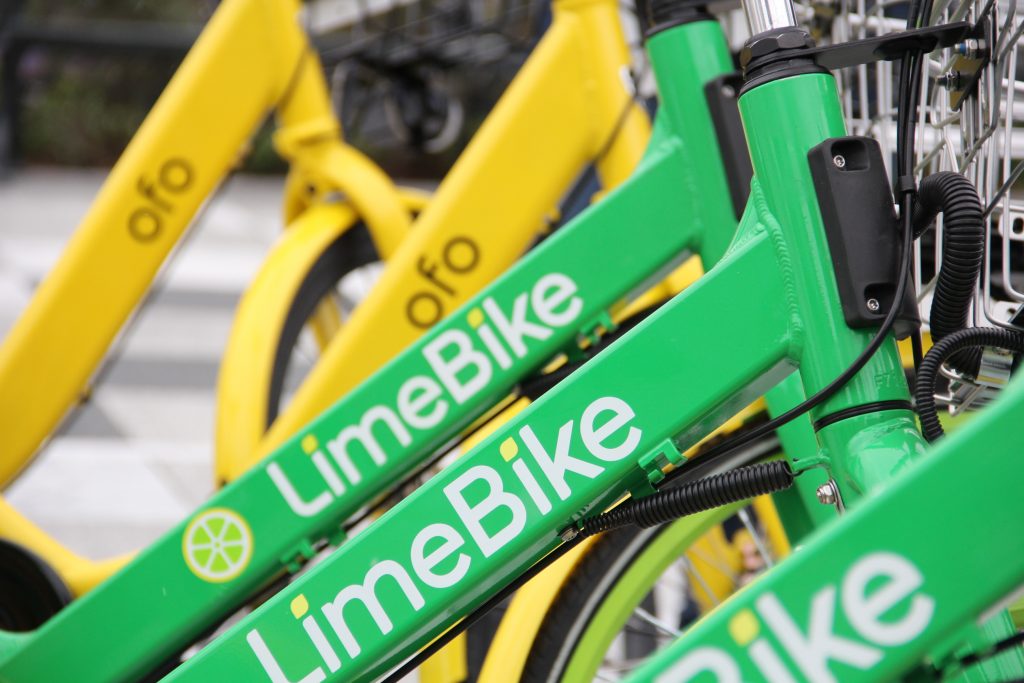 "Bike share presents a great opportunity for St. Louis residents and visitors, whether you're trying to get to work or to a meeting, run a few errands, connect to a MetroLink stop or take a trip to a nearby park or museum," said St. Louis Mayor Lyda Krewson. "By ensuring access to bikes across the city we can improve transportation options for all St. Louisans and help bridge physical and social divides that have historically separated our neighborhoods."
Bikes are accessed via a smartphone app, and rides are $1 for 30 minutes for LimeBike bikes and $1 for an hour on ofo bikes, with some discount options through packaged memberships and for students and low-income users. Bikes will be parked in the strip of sidewalk between the main walking area and the street so they don't block pedestrians, driveways or building entrances. LimeBike and ofo will be working with users so they know how to use the bikes and where to park them, and both companies will be circulating through the city to move incorrectly parked bikes so they don't impede pedestrians or traffic. If you plan on riding one of these bikes at MetroLink stations and Metro Transit Centers, be sure to check the app to see where you should park your bike — at most transit locations, this will be at the bike racks or in an area with a sign indicating as legal parking on the app. In the future, there may be signs to indicate bike share parking areas.
So, will you pair Metro Transit with bike share? Let us know your multi-modal travel plans in the comment section below.
Return to Blog
Categories:
Metro Lifestyle