July 30, 2018
Metro Transit Offers New Text Messaging, Web Chat Services
Return to Blog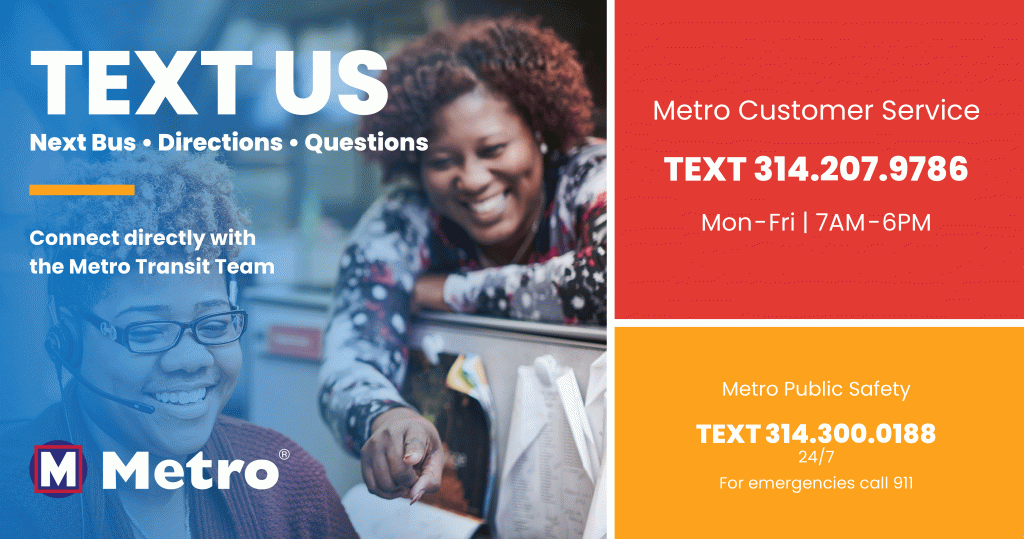 It's now even easier to have your questions answered and to get the transit information you need – quickly, conveniently and all at the push of a button.
Metro Transit has launched a new text messaging and web chat service that allows you to directly connect with Metro Customer Service with any questions about your commute or to ask for help planning your trip, or reach out to Metro Public Safety during your ride with any questions or concerns.
New Text Numbers
Tip: To make it faster and easier to use the new text numbers, add them to your mobile device.
Metro Customer Service | 314-207-9786
Representatives available from 7 a.m. to 6 p.m., Monday through Friday
Metro Public Safety | 314-300-0188
Public Safety is available 24 hours a day, 7 days a week.
Note: In the event of an emergency, customers should call 911

Try the New Web Chat
In addition to the new text features, you can also contact Metro Customer Service directly through the Metro Transit website. Click on the new red chat icon, located on the lower right of every page on metrostlouis.org, to start a conversation with a Metro Customer Service representative using a new web chat feature that works on both computers and mobile devices. The Metro Customer Service web chat is available from 7 a.m. to 6 p.m., Monday through Friday.
Return to Blog
Categories:
Technology