December 1, 2017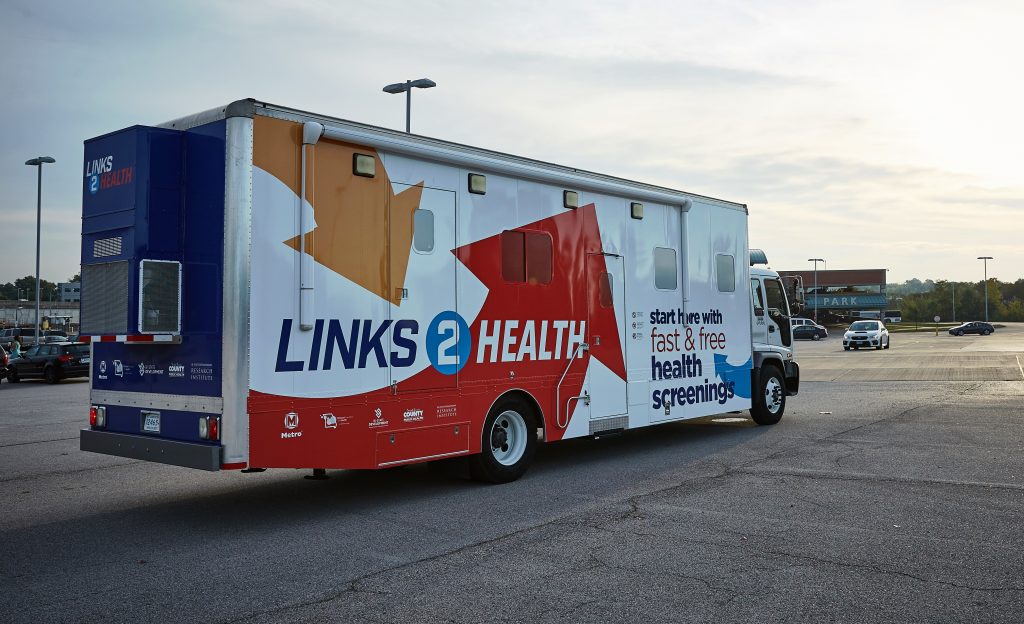 Bi-State Development and the St. Louis County Department of Public Health today unveiled Links 2 Health, a new mobile health screening program that will enhance access to much-needed health care services for residents of North St. Louis County.
The Links 2 Health mobile screening vehicle was displayed at the Wellston Transit Center during a special ceremony on December 1. The 18-month pilot program will provide adults 18 years of age and older with health screenings, such as blood pressure and diabetes testing, as well as other health assessments, all free of charge.
The mobile unit will go into service on December 4, and will be visiting four transit centers once a week as follows:
Rock Road Transit Center (7019 St. Charles Rock Road)  | Monday – 11 a.m. to 6:30 p.m.
North County Transit Center (3140 Pershall Road) | Tuesday – 11 a.m. to 6:30 p.m.
North Hanley Transit Center (4398 Hanley Road) | Wednesday – 11 a.m. to 6:30 p.m.
Thursday Wellston Transit Center (6402 Plymouth Ave.) | Thursday – 11 a.m. to 6:30 p.m.

Bi-State Development, through its not-for-profit enterprise the Bi-State Development Research Institute, received a federal grant award for $940,000 to fund the pilot program. The Links 2 Health mobile screening unit will be operated by the St. Louis County Department of Public Health. The grant is part of the Federal Transit Administration's (FTA) Rides to Wellness initiative, which emphasizes public transportation as a strategy for people to access non-emergency health care, resulting in better health, fewer hospital visits and lower health care costs.

"At Bi-State Development, we are committed to working with community leaders and partners to improve the quality of life for transit riders and residents around our region," said Bi-State Development President and Chief Executive Officer John Nations. "The Links 2 Health pilot program can help create an important bridge for those who need better access to health care resources."

Following screenings, adults in need will also be provided assistance in applying for health insurance and making primary care appointments for follow-up with health care providers accessible via Metro transit. Customers will receive a one-time Metro pass to get to and from their first follow-up care appointment, and Metro's Call‑A‑Ride services also will be available for anyone with accessibility issues that prevent them from taking MetroLink or MetroBus.

St. Louis County Councilwoman Hazel Erby from District 1 represents a large transit-dependent population that includes all four Metro transit centers that will be served by the new mobile health screening unit. "Bringing basic health screenings to the transit centers is awesome and makes it so much more convenient and, in turn, I am hopeful will improve health outcomes and reduce health care costs," said Erby. "Thank you. Thank you. Thank you. This is a blessing for our community."

Dr. Faisal Khan, Director of St. Louis County Department of Public Health, also believes that the program will have a very positive impact. "We're improving access to health care for an underserved population that, due to their lack of private insurance, may not even realize that there are community health care services available to meet their needs," Khan said. "This mobile unit will be a key link between those individuals and quality health care."

"The goal of Links 2 Health isn't just an initial health assessment," said John Wagner, Director of the Bi-State Development Research Institute. "The goal is to help people establish connections to regular, affordable, long-term health care resources."  He added that it is important to remember the Links 2 Health mobile screening unit is NOT a clinic. People won't find any doctors staffing the vehicle—no medicine will be stored, kept or available in the unit, and since the service is free—no money will change hands. A registered nurse, a social worker and a registration person will be assisting visitors to the mobile unit.

The Rides to Wellness Demonstration and Innovative Coordinated Access and Mobility Grant from the Federal Transit Administration (FTA) was one of only 19 awarded in 16 states and the only one awarded in Missouri. A feasibility study to explore how to best meet the growing needs for access to quality health care in select parts of the St. Louis region was funded through a $41,900 grant from the Missouri Foundation for Health, and that study revealed that a mobile health screening unit would be the best approach.

"What makes Links 2 Health so important is how it will be able to help local citizens in a fundamental way – by bringing them easier access to basic health care resources," said Mokhtee Ahmad, Region 7 Administrator for the Federal Transit Administration. "In particular, it can become a lifeline to those who are the most vulnerable in the community; older adults, people with lower incomes and those who are transit dependent."

The FTA grant should ensure the operation of the mobile unit for 18 months, during which time the Bi-State Development Research Institute and St. Louis County Department of Public Health will seek additional funds to continue and expand these vital services.

"The new Links 2 Health mobile screening unit is another important step forward in improving the quality of life not only for Metro riders, but also for residents in the communities surrounding the transit centers it will serve," said Ray Friem, Executive Director of Metro Transit. "When you connect programs like Links 2 Health with public transit, you make health care resources accessible to even more individuals in the St. Louis region. And those are the best kind of investments."

The typical walk-in appointment at the mobile unit is estimated to take between 15 to 20 minutes. Those receiving screenings will have a couple of options for follow-up care. Appointments with a physician at any one of the three St. Louis County Department of Public Health Clinics can be scheduled at the mobile unit.  Alternatively, customers can choose to see a physician at any local federally qualified health center, in which case the mobile unit staff will work through the Integrated Health Network to schedule that appointment and follow back up with the individual to confirm the details. Those centers, each with multiple locations, include Affinia, Betty Jean Kerr People's Health Centers, Myrtle Hilliard Davis Comprehensive Health Centers and Family Care Health Centers.
Return to Blog
Categories:
Economic Development