February 5, 2019
Metro Transit, CMT and Regional Partners Share Special Thank You This Valentine's Day
Return to Blog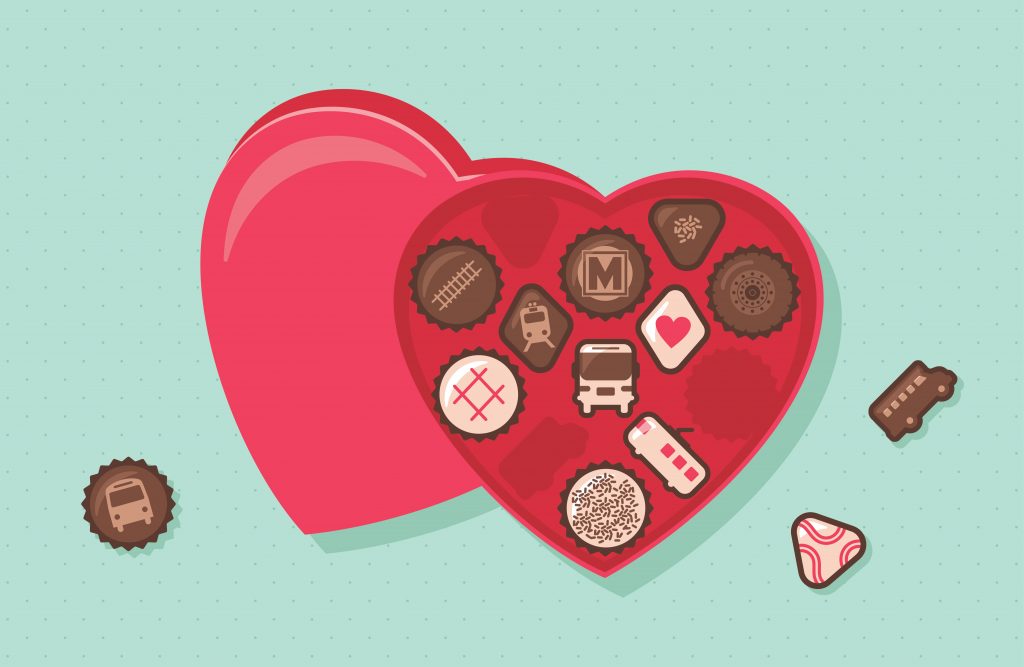 Metro Transit is teaming up with Citizens for Modern Transit (CMT), the MetroLink Police Unit, St. Clair County Transit District and the University of Missouri-St. Louis to share the love on Valentine's Day.
From 6:30 a.m. to 8 a.m. on Thursday, February 14, Metro ambassadors, police officers, Metro Transit security officers and others will be at 14 Metro Transit Centers to greet you and give away Valentine's Day candy. Your commute may get even sweeter because some of the candy boxes will have a free 2-hour pass, a one-day pass, a weekly or a monthly transit pass attached.
"The goal behind this effort is simple – we want Metro Transit riders to know we appreciate them, while raising awareness about the many benefits of public transit," said Taulby Roach, President and Chief Executive Officer of Bi-State Development. "We show this appreciation by providing customers what they want, not only a safe ride, but a comfortable ride – a ride where they can use the time on our system to return emails, read a book, or sit back and relax."
'Wake Up to a Sweeter Commute'  locations
5th & Missouri Transit Center
Belleville Transit Center
Brentwood I-64 Transit Center
Central West End Transit Center
Civic Center Transit Center*
Clayton Transit Center
Emerson Park Transit Center
Fairview Heights Transit Center
Forest Park-DeBaliviere Transit Center
Grand MetroLink Station
North County Transit Center
North Hanley Transit Center
Rock Road Transit Center
Shrewsbury-Lansdowne I-44 Transit Center
Photo booths will be set up at the Civic Center, Fairview Heights and North County Transit Centers, so you take a special photo and share it on social media. Y98 street team members will be at the Civic Center Transit Center with music, games, and prizes.
"A safe, reliable public transit system also plays a key role in stimulating economic development, attracting and retaining business, establishing healthier communities, connecting individuals to job opportunities, furthering equality, and building sustainable communities," said Kimberly Cella, Executive Director of CMT. "We have a very solid system in our region, and the 'Wake Up to a Sweeter Commute' events are a fun way to recognize this and reinforce why so many are crushing on transit."
The MetroLink Police Unit, CMT, Metro Transit, St. Clair County Transit District and the University of Missouri – St. Louis are all members of the Transit Advisory Working Group, which was established to help improve safety and security on MetroLink and restore public confidence in St. Louis' main public transportation system. The Transit Advisory Working Group is comprised of a diverse cross-section of riders, MetroBus and MetroLink operators, and regional stakeholders that also include representatives from Amalgamated Transit Union Local 788, East-West Gateway Council of Governments, Organization for Black Struggle, SEIU Local 1, St. Louis Community College, St. Louis Regional Chamber and Washington University, as well as prosecutors and law enforcement officials from the City of St. Louis, St. Louis County and St. Clair County.
Return to Blog
Categories:
Metro Lifestyle