June 23, 2021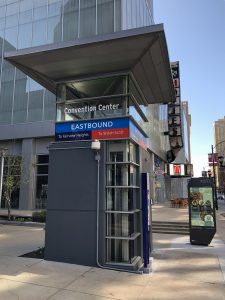 Metro Transit is excited to welcome some of the best gymnastic athletes in the nation, their families and fans to the St. Louis region for the U.S. Olympic Team Trials – Gymnastics this week!
Thousands of fans will be in downtown St. Louis and at The Dome at America's Center later this week (June 24-27) to see America's top gymnasts like Simone Biles compete as USA Gymnastics makes a stop here on the road to the Tokyo Games. Metro Transit is a great option to get you to the action at The Dome at America's Center – safely and conveniently – while avoiding traffic, congestion and parking hassles. Metro is also a great way to get to some great restaurants around town and to the best tourist attractions St. Louis has to offer.
Enjoy Unlimited Rides with the $5 Metro Day Pass
Enjoy unlimited rides on MetroLink and MetroBus for only $5 a day with our Metro Day Pass! Purchase your $5 Metro Day Pass on the Transit app, the official mobile app of Metro Transit to plan your trip, track your ride, and pay your fare. You can also purchase a day pass at our Ticket Vending Machines at any MetroLink Station or Transit Center, or by visiting the MetroStore at 8th and Pine in downtown St. Louis. For more information about the new $5 Day Pass, click here.
MetroLink
MetroLink is a fast, easy way to get into downtown St. Louis, from your hotel or your home if you live in the bi-state area, and Ballpark Village, to Union Station, the St. Louis Zoo and other attractions in Forest Park, to the Delmar Loop, to Clayton and other places you may want to check out. Depending on what hotel you are staying at, you may be able to walk to a MetroLink station. Or you can park your vehicle at any one of 20 free Park-Ride lots located at MetroLink stations in Missouri and Illinois, purchase a $5 day pass, and ride to the Convention Center MetroLink Station to reach The Dome at America's Center, or any of the five other MetroLink stations in downtown St. Louis.
MetroBus
MetroBus is another convenient option for getting to the Olympic Trials or other destinations around town, like City Museum. You can ride the #32 Dr ML King, #40 N Broadway or #174X Halls Ferry Express for convenient access to the event at The Dome at America's Center. The #19 St Louis Ave and #97 Delmar will also take you within a few blocks of The Dome at America's Center. A one-ride MetroBus fare is just $1.
Riding Safely
We have made numerous safety and security changes to make your experience better and more comfortable. Here are some reminders for riding safely with us:
Federal mandate requires everyone to wear a mask on Metro Transit. Please wear your face covering on MetroLink platforms, at Metro Transit Centers, when riding on MetroLink, MetroBus and Metro Call‑A‑Ride vehicles or waiting for your bus.
Whenever possible, practice social distancing when on a public transit vehicle or when waiting at your stop.
Please do not take transit if you are not feeling well.
Use the Transit app for a contactless fare. You can buy the $5 Metro Day Pass, monthly passes, MetroBus and MetroLink one-ride tickets, and 2-hour passes through the Transit app with our mobile fares option.
See something? Say something. Metro Public Safety is available 24/7 to address any of your safety concerns. You can text 314-300-0188 or call 314-289-6873 for assistance.
Plan Your Trip
To plan your trip to the Olympic Trials and to explore restaurants and attractions in the St. Louis region, download the Transit app to your mobile device to plan your trip, pay your fare and check on the real-time status of your bus or MetroLink train.
You can also use our Trip Planner, or contact Metro Transit Information at 314-231-2345 (phone) or 314-207-9786 (text), Monday through Friday from 7 a.m. to 6 p.m.
Good luck, Olympic hopefuls and gymnastics fans. We hope you enjoy your time here in St. Louis.
Return to Blog
Categories:
Metro Lifestyle