June 25, 2021
Board & Explore St. Louis with Metro Transit this Summer
Return to Blog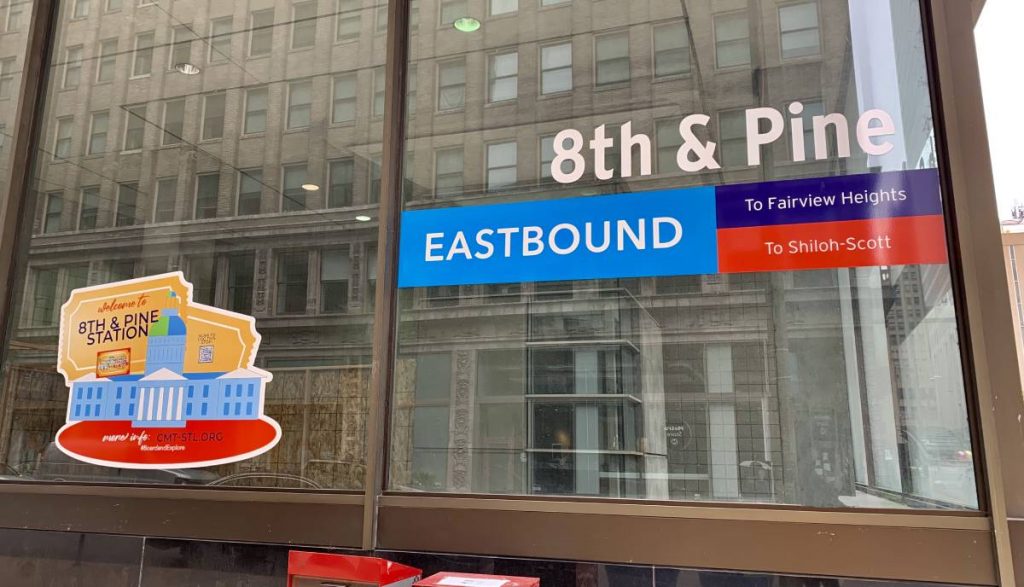 Metro Transit has teamed up with Citizens for Modern Transit & St. Clair County Transit District to launch Board & Explore St. Louis this summer! Metro is a great way to enjoy restaurants, shops, entertainment and the best attractions the bi-state region has to offer, and the Board & Explore St. Louis program is focused on helping you visit these fun, transit-accessible destinations.
Board & Explore St. Louis runs until August 31, 2021. You can download a free educational booklet – with information on how to get a free ticket to ride – to see all of the places you can go. You can also grab a booklet at the MetroStore in downtown St. Louis, at the Belleville Transit Center, the Citizens for Modern Transit offices, and at several local businesses, attractions and hotels. Find the complete list of locations here.
Riders will also find customized oversized artwork displayed at various transit centers throughout the summer. The artwork and booklet feature a QR code that can provide you with walking directions from the transit centers to area attractions. When you're out exploring the region, be sure to log your trips on the Citizens for Modern Transit's website or by scanning the Board & Explore St. Louis QR code to be entered into drawings throughout the summer to win gift cards to area attractions.
Now it is even easier to explore with our $5 Metro Day Pass. Enjoy unlimited rides on MetroLink and MetroBus for only $5 a day! You can purchase your $5 Metro Day Pass on the Transit app, the official mobile app of Metro Transit that allows you to plan your trip, track your ride, and pay your fare – all from your mobile device. You can also purchase a day pass at our Ticket Vending Machines at any MetroLink Station or Transit Center, or by visiting the MetroStore at the corner of 8th & Pine in downtown St. Louis.
As you are exploring and sharing your photos, make sure to tag @stlmetro on Facebook, Instagram and Twitter and use #BoardAndExplore.
Plan Your Trip
To plan your trip on Metro, download the Transit app to your mobile device, use our Trip Planner, or contact Metro Transit Information at 314-231-2345 (phone) or 314-207-9786 (text), Monday through Friday from 7 a.m. to 6 p.m.
Riding Safely
Our goal is to help provide customers with a safe, comfortable and convenient ride on Metro Transit. Here are some reminders for riding safely with us:
Federal mandate requires everyone to wear a mask on Metro Transit. Please wear your face covering on MetroLink platforms, at Metro Transit Centers, when riding on MetroLink, MetroBus and Metro Call‑A‑Ride vehicles or waiting for your bus.
Whenever possible, practice social distancing when on a public transit vehicle or when waiting at your stop.
Please do not take transit if you are not feeling well.
Use the Transit app for a contactless fare. You can buy the $5 Metro Day Pass, monthly passes, MetroBus and MetroLink one-ride tickets, and 2-hour passes through the Transit app with our mobile fares option.
See something? Say something. Metro Public Safety is available 24/7 to address any of your safety concerns. You can text 314-300-0188 or call 314-289-6873 for assistance.
Happy Exploring!
Return to Blog
Categories:
Metro Lifestyle