June 17, 2021
Enjoy Unlimited Rides on MetroLink and MetroBus for Only $5 a Day
Return to Blog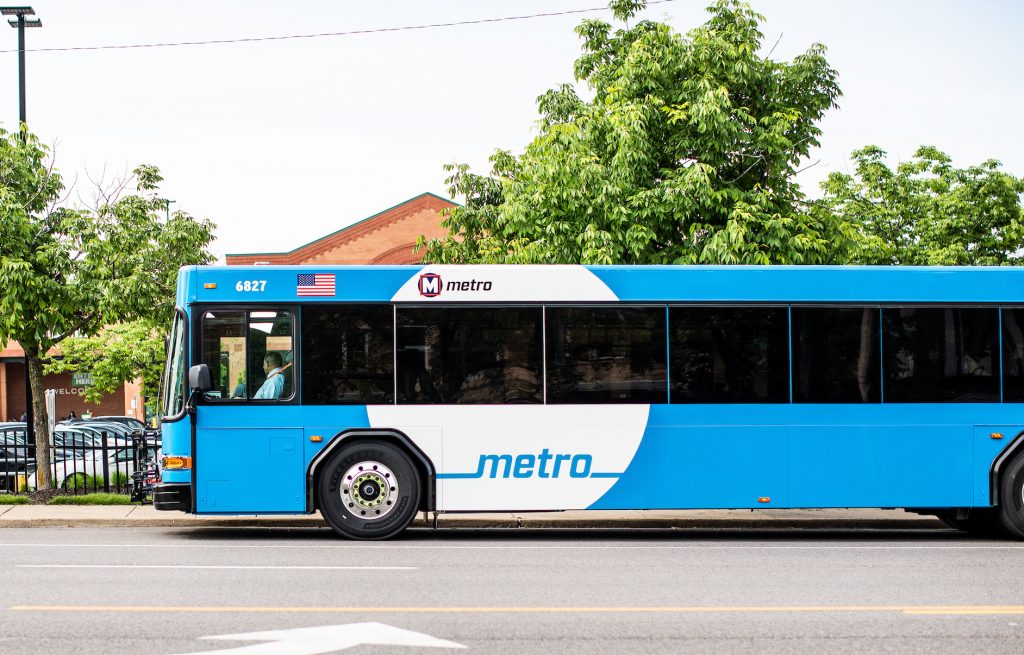 Beginning Monday, June 21, Metro Transit is offering our Metro Day Pass for just $5! With the $5 Metro Day Pass, you can enjoy all the St. Louis region has to offer with unlimited rides on MetroLink and MetroBus for an entire day.
As the bi-state area continues to recover from the impact of the COVID-19 pandemic, Metro Transit is excited to announce this new promotion that will make it easier for you to reconnect with all of the destinations you have missed over the last year. For only $5, the Metro Day Pass provides an affordable an option to travel throughout the region, allowing for unlimited transfers and providing round trip travel that is more cost-efficient and easier to manage. Instead of a single trip to work, to a doctor's appointment or to run an errand, you can combine multiple rides on MetroLink and MetroBus to easily reach more destinations, connecting with shopping, education, attractions, restaurants and activities across the bi-state area – all for one low price.
The $5 Metro Day Pass will be available for purchase beginning on Monday, June 21, and is available as both a physical pass and a mobile pass on the Transit app, the official mobile app of Metro Transit. The $5 Metro Day Pass can also be purchased at some Schnucks stores throughout the region and at the MetroStore, located at the corner of 8th & Pine Streets in downtown St. Louis. Day passes purchased at Schnucks or at the MetroStore will say Adventure Pass on them and you just need to scratch off the date you are using the pass to enjoy unlimited transit rides on MetroBus and MetroLink for that day. Day passes can also be purchased at the Ticket Vending Machines at Metro Transit Centers. During the purchasing process you will select the date you plan to use the pass.
The $5 Metro Day Pass promotion runs from June 21 through December 17, 2021.
Young people in the St. Louis area can also take advantage of discounted transit rides through the Gateway Go Card program. The Gateway Go Card provides half-price fares on MetroLink and MetroBus, and a special $80 summer pass for unlimited train and bus trips through the end of August, for anyone ages 13 to 25. Learn more about the Gateway Go Program here.
Planning Your Trip
To help plan your commute with Metro Transit, download the Transit app to your mobile device to plan your trip, pay your fare and check on the real-time status of your bus. You can also use our online Trip Planner or check out MetroLink and MetroBus schedules, or contact Metro Transit Information for additional assistance at 314-231-2345 (phone) or 314-207-9786 (text), Monday through Friday from 7 a.m. to 6 p.m.
Riding Safely
Since March 2020, we have made adjustments to transit operations and policies to protect our riders and team members, while continuing to provide transportation options for everyone throughout the region. Here are some reminders for riding safely with us:
Federal mandate requires everyone to wear a mask on Metro Transit. Please wear your face covering on MetroLink platforms, at Metro Transit Centers, when riding on MetroLink, MetroBus and Metro Call‑A‑Ride vehicles or waiting for your bus.
Whenever possible, practice social distancing when on your vehicle or when waiting at your stop.
Wash your hands regularly, or use hand sanitizer, and don't ride if you are feeling ill.
Use the Transit app for a contactless fare. You can buy MetroBus and MetroLink one-ride tickets and 2-hour passes through the Transit app with our mobile fares option.
See something? Say something. Metro Public Safety is available 24/7 to address any of your concerns. Text 314-300-0188 or call 314-289-6873.
Stay updated on all service and operations updates in response to COVID-19 here: metrostlouis.org/health.
Return to Blog
Categories:
Metro Lifestyle
,
News
,
System Changes
,
Transit Benefits