November 5, 2021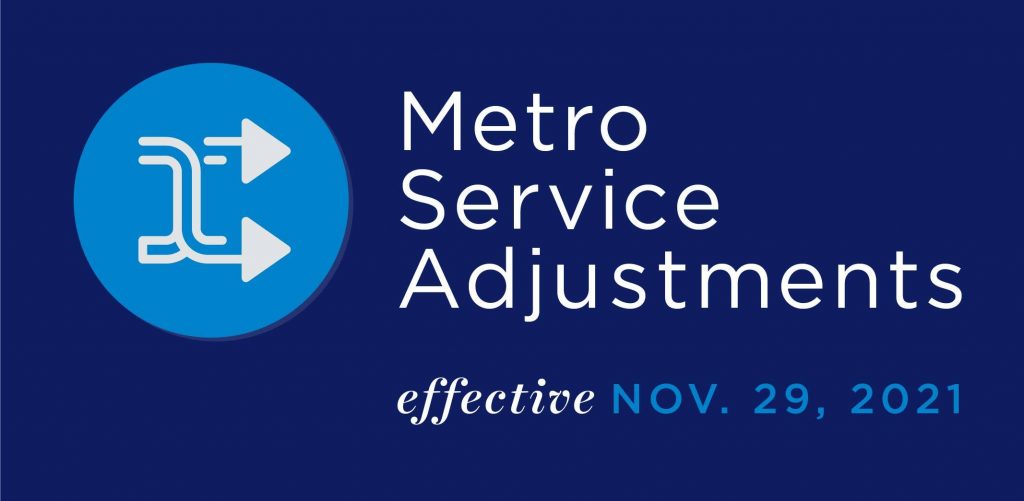 Metro Transit will make adjustments to schedules and service frequency for 38 Missouri MetroBus routes on Monday, November 29. This includes the temporary suspension of service on six MetroBus routes. There are no changes to MetroBus routes in Illinois or to MetroLink service.
Like other transit agencies and businesses, Metro Transit has been challenged by the nationwide labor shortage. Due to a shortage of bus operators, it is sometimes necessary to cancel scheduled MetroBus trips on a daily basis, which leads to inconvenient delays for MetroBus riders. These changes to MetroBus service will be implemented to improve service reliability and minimize or eliminate cancelled bus trips, while Metro Transit continues to aggressively recruit and train new operators.
To check on the status of your bus, use Transit or contact Metro Transit Information at 314.207.9786 (text) or 314.231.2345 (phone), Monday through Friday from 7 a.m. to 6 p.m.
Details for the November 29 Service Change are available below. New schedules and route maps for the affected MetroBus routes will be available on the Upcoming Schedule Change page beginning Monday, November 15.
Details for November 29 Service Change
Temporarily Suspended MetroBus Routes

#46 Tesson Ferry
#65 Outer Forty
#57X Clayton Road
#58X Twin Oaks Express
#73X I-55 Express
#410X Eureka Express
Service on these routes will be temporarily suspended beginning on November 29. Via Metro STL will be available for riders of the #46 Tesson Ferry and riders who use the #65 Outer Forty west of I-270, and it may be an option for express route riders. Via Metro STL is an on-demand transit service that allows you to hail a ride using the Via app – no schedules or advance booking required. With Via Metro STL, riders can travel between any two locations in the service zone for $2, or with a valid Metro Transit pass, can transfer from MetroBus or MetroLink to Via Metro STL for free. Visit metrostlouis.org/via for more information.
MetroBus Service Ending at 8 p.m.
#60 Shepley-Lilac
#78 Bellefontaine
#79 Ferguson
Evening service in North St. Louis County will be available through Via Metro STL from 8 p.m. to 1 a.m., seven days a week. Visit metrostlouis.org/via for more information.
Service Frequency Adjustments
#4 Natural Bridge
#10 Gravois-Lindell
#32 Dr. ML King
#35 Rock Road
#40 N. Broadway
#41 Lee
#49 Lindbergh
#57 Manchester
#60 Shepley-Lilac
#61 Chambers Rd.
#64 Lucas-Hunt
#73 Carondelet
#76 McDonnell-Waterford
#77 Village Square
#78 Bellefontaine
#91 Olive
#94 Page
#97 Delmar
#98 Ballas-North Hanley
#174X Halls Ferry Express
Service frequency on these routes will be temporarily reduced to improve schedule reliability. The November 29 Service Change also includes minor schedule and routing adjustments for other Missouri MetroBus routes. New schedules and route maps for all MetroBus routes will be available on the Upcoming Schedule Change page and in the Transit app on November 15.
Before you ride, here are some quick reminders:
---
For more information or assistance, please contact Metro Transit Information. 
314.207.9786 (TEXT) |​​​​  314.231.2345 (PHONE)
7 a.m. – 6 p.m. | Monday through Friday
Return to Blog
Categories:
Rider Alert
,
System Changes