October 8, 2023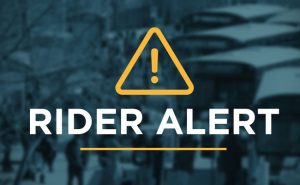 Metro Call‑A‑Ride service will resume at 12:30 p.m. today (Oct. 8) for customers who previously reserved trips for today from 12:30 p.m. through the end of the service day.
Some, but not all, of the phones for the Metro Call‑A‑Ride reservation system are back up. We encourage Call‑A‑Ride customers who are not able to get through on the phone to keep trying. Call‑A‑Ride trips for tomorrow (Monday, Oct. 9) will be provided for customers who made reservations before today. We are currently accepting trip reservations for Tuesday and Wednesday as well as cancellations and trip inquiries.
Service for MetroLink and MetroBus customers has not been impacted by the network outages. Metro Transit Ticket Vending Machines are currently only able to accept cash payment because of the network outage.
We are working diligently with third-party specialists to investigate the source of this disruption, confirm its impact on our systems, and restore full functionality to our environment as soon as possible. These teams have worked tirelessly to restore service and get back to the obligations we have to the public.
We apologize for this disruption but please be assured that we will do all that we can to fix this issue. Your patience and understanding is appreciated.
Return to Blog