June 2, 2017
Metro's North County Transit Center Project Recognized For Planning Excellence
Return to Blog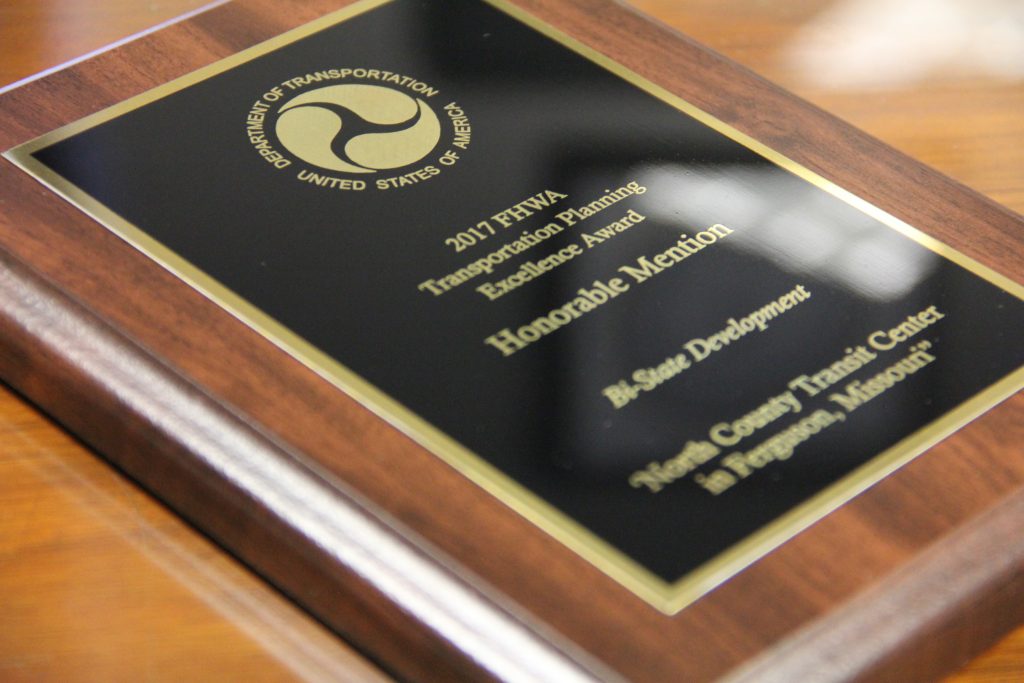 The Federal Highway Administration (FHWA) has recognized Metro and Bi-State Development for the development and planning of the North County Transit Center in Ferguson, Missouri.
The project earned an honorable mention in the competitive 2017 FHWA Transportation Planning Excellence Awards, sponsored by the FHWA and the American Planning Association.
With the opening of the North County Transit Center in March 2016, Metro completely transformed the MetroBus service plan for North St. Louis County, one of the region's fastest growing transit markets accounting for approximately 20 percent of all bus and light rail ridership. The new transit center allows Metro to provide transit riders with more direct service, more frequent service, faster transfers and connections to more destinations. The total project cost for the North County Transit Center was $10.28 million, and 80 percent of that amount was supported by federal funds.
Brad McMahon, transportation specialist with the Missouri Highway Division of the FHWA, presented the Transportation Planning Excellence Award to Bi-State Development President and Chief Executive Officer John Nations at a St. Louis Regional Freightway Industry forum on May 31.
"Thanks to a successful combination of public engagement, planning expertise and innovative thinking, Metro commuters in the North County area are enjoying the many benefits of a more efficient transit system, highlighted by one of the most state-of-the-art transit centers in the St. Louis area," said Nations. "It's an honor to accept this recognition on behalf of the outstanding Metro transit team who worked so hard to deliver this project."
The Transportation Planning Excellence Awards (TPEA) Program is a biennial awards program that provides a unique opportunity to recognize and celebrate the outstanding transportation planning practices performed by planners and decision makers in communities across the nation. To be eligible, organizations must have used Federal FHWA funding within the past three years to develop a plan, project, or planning process that demonstrates excellence in planning. The transit center is being recognized as a notable example of the progress a region can make when stakeholders work together to address common needs and goals.
Return to Blog