September 19, 2018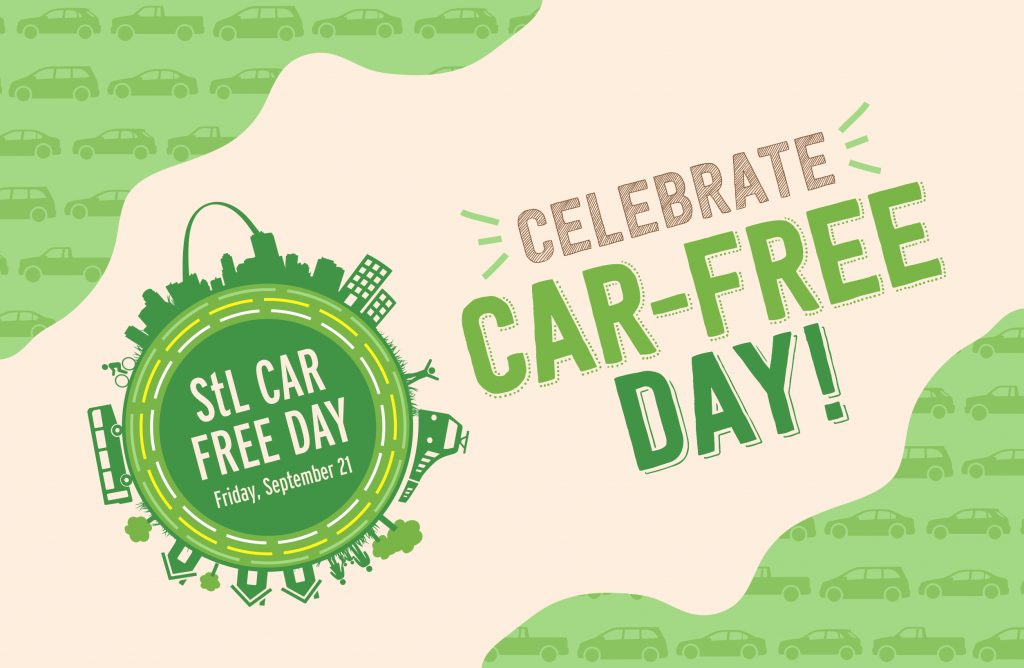 The "New American Road Trip" is partnering with Metro Transit and other organizations throughout the St. Louis region to highlight the importance of sustainability and creating healthier, more equitable and environmentally friendly communities, and will host a special event in the Cortex Innovation Community on STL Car-Free Day, Friday.
The "New American Road Trip" is an electric-vehicle tour, which launched at the Global Climate Action Summit in San Francisco, and is traveling across the nation to share the stories of people, cities and emerging technologies that are impacting the country's energy future. St. Louis is one of four cities in the country chosen to host a "New American Road Trip" event.
Metro Transit and other community partners will join the "New American Road Trip" at the special event at the Cortex Commons on September 21, from 5 p.m. to 7 p.m., where they will award $10,000 to local innovators who are addressing climate change with innovative mobility and transportation solutions in the St. Louis community. Attendees will be able to talk with and get information from local transportation partners and services, while enjoying music, food trucks and the opportunity to view, ride and drive electric vehicles. The event is free and open to the public.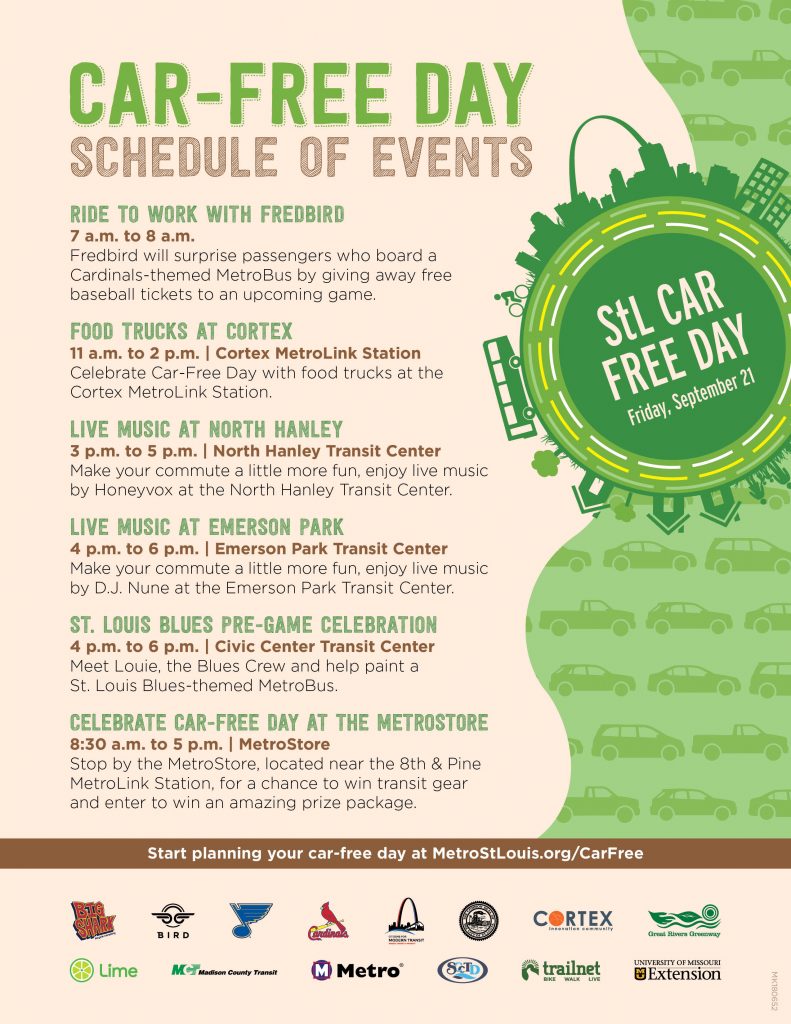 The "New American Road Trip" event is part of a slate of special events scheduled across the bi-state area for STL Car-Free Day on Friday, where visitors can win prizes, enjoy food and music, and have fun while learning about the benefits of a car-free lifestyle and all of the alternative transportation options available to them. Area participating partners include Big Shark Bicycle Company, Bird, City of St. Louis, Cortex, Great Rivers Greenway, Lime, Madison County Transit, Metro Transit, RideFinders, St. Clair County Transit District, Trailnet, University of Missouri Extension, St. Louis Blues and St. Louis Cardinals.
"More and more metropolitan areas throughout the world are looking at car-optional transportation services, which are not only good for the environment and reduce congestion, but deliver tremendous civic and economic benefits as well," said Jessica Mefford-Miller, Executive Director of Metro Transit. "The future of mobility will include a wide variety of car-free options, and we want to help everyone discover new ways to travel – whether it's public transit, cycling, scooters or ride-sharing – so we can create a brighter future for our region."
STL Car-Free Day begins during the early morning commute on Friday with a visit from Fredbird, who will surprise passengers on one of the area's MetroBus routes with free tickets to an upcoming Cardinals game, followed by a lunch-time Transportation Pop-Up in the Cortex Innovation Community with food trucks and information from regional transportation partners. Metro Transit riders heading home or traveling to Blues and Cardinals games in downtown St. Louis that evening will be able to enjoy live music at the North Hanley and Emerson Park Transit Centers, and the St. Louis Blues will host a car-free, pre-game celebration at the Civic Center Transit Center with Blues mascot Louie, the Blues Crew and a Metro Arts in Transit bus painting.
Car-free transportation options have been shown to provide numerous benefits for communities, including:
Fewer single-occupancy vehicles on the road means less gridlock and fewer delays for everyone, and a more positive impact to the environment and regional air quality
Local businesses enjoy more success in areas that promote pedestrian and bicycle travel, and people develop stronger civic connections in car-free communities
More and more young workers, students and families want to live in areas that support car-free lifestyles, and businesses are looking to locate where they invest in public transit and pedestrian/bike infrastructure
Having a strong network of public transit and other car-free transportation options helps remove obstacles so everyone can pursue careers, education and other opportunities
Return to Blog
Categories:
Metro Lifestyle