February 10, 2021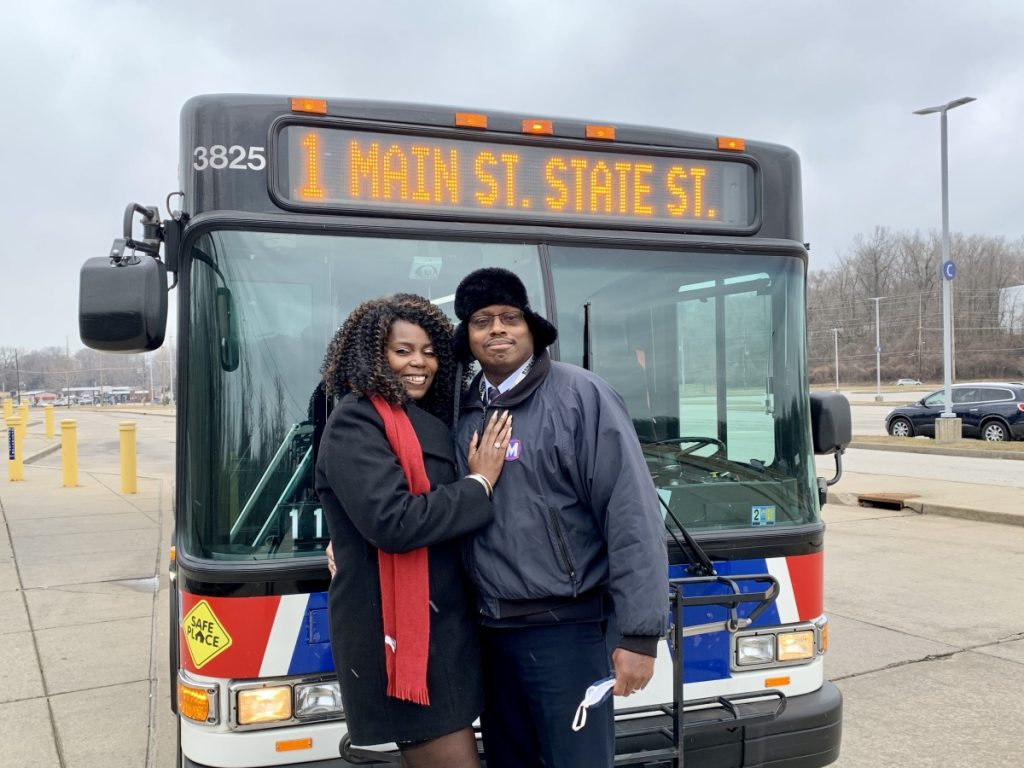 In celebration of Valentine's Day this month, we are sharing the stories of couples who met on Metro Transit. This week's Passenger Profile features two transit lovebirds, Lawanda and Jose. 

Jose has been driving MetroBus for almost 30 years. During that time, he never once expected that the love of his life would step onto his bus. But, one day fate intervened, and that's when he met Lawanda.
The two first met while he was driving his regular route in Illinois – the #1 Main Street–State Street – back in 2018. Lawanda was new to this route, but she rode almost every day. Jose felt an immediate connection to her, but took his time. After three and a half months, and with a little encouragement from his regular riders, he caught her attention.
"Once he finally asked me out, one of the other passengers told me how he was telling her about taking me out, he just didn't know how to ask me," Lawanda shared with us.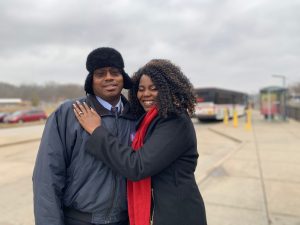 You could say that after that, the rest was history. The day after he asked her out, they ended up having two dates in the same day! They went to breakfast, and then later that day he invited her to dinner and a movie. And then the next day, they enjoyed another dinner date together!
The romance didn't fade. After their whirlwind beginning, they continued to spend a lot of time together, going to movies, to dinner, grabbing snow cones, and singing, dancing and cooking together.
"It really was romantic. I would get her flowers. I'm crazy about her. She's my queen," said Jose.
Lawanda knew they were right for each other. "I knew it was something I was missing out of my life – there was like a void. And when I met him, it was filled."
Fast forward to Christmas Eve of 2019, and Jose was down on one knee proposing to Lawanda in front of her whole family. He talked to Lawanda's kids before proposing, and even had help from her daughters and her mother when picking out the engagement ring.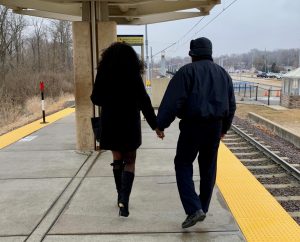 After the pandemic pushed their wedding date back a few months, the two were married on August 1, 2020. Jose even had some of his Metro Transit family there to help them celebrate the big day. Once the pandemic is over, they plan on enjoying a proper honeymoon, and have narrowed it down to three options: Hawaii, Vegas, or a cruise out of Florida.
And the thing that first brought them together, still connects them to this day. Lawanda still rides Jose's bus. Jose has been driving on that same route for 12 years, so riders know him. And now they know Lawanda, too.
We asked the lovebirds their advice for a successful relationship, and they offered three simple principles: trust, compromise and communication.
"Once you have the unity together, always put God first and then your wife or your husband follows that," Jose shared.
Lawanda also knows that sometimes you have to patient when it comes to love. "Getting to know a person takes time – be patient. Mister Right is there, you just have to be patient and wait on God."
Return to Blog