June 16, 2017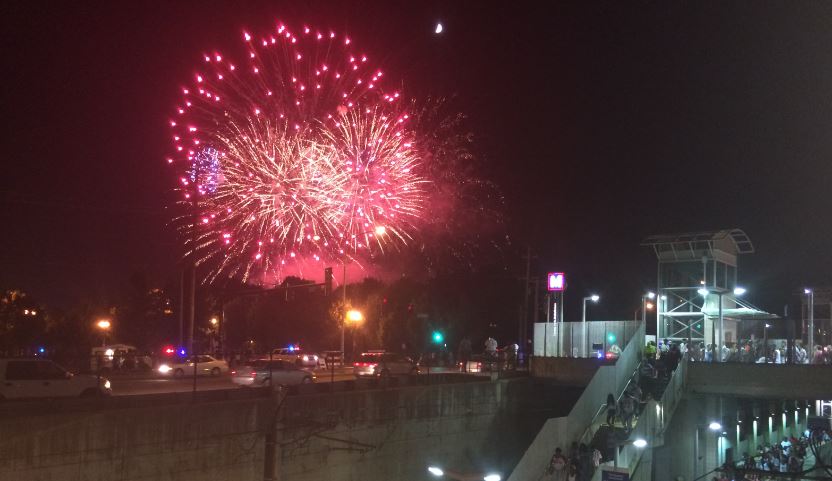 Fourth of July celebrations are just a couple weekends away. Are you ready?
The key to enjoying the America's Birthday Parade and Fair Saint Louis to the fullest is being prepared, and it's not too early to start thinking about how you'll get to the festivities this year.
Metro is a great option if you're celebrating our nation's birthday in downtown St. Louis at the America's Birthday Parade on July 1, or at Fair Saint Louis in Forest Park on July 2, 3 and 4, and want to avoid traffic congestion, street closures and parking issues.
America's Birthday Parade: July 1
America's Birthday Parade takes place in downtown St. Louis along Market Street, and Metro makes it easy to get to the fun. The Union Station, Civic Center, Stadium and 8th & Pine MetroLink Station are all just a couple of blocks away from the parade route. You can also ride on one of more than a dozen MetroBus routes to 18th & Clark, near Union Station, and walk a couple of blocks north to the parade.
Fair Saint Louis: July 2-4
Like last year, we're asking you to get to Fair Saint Louis using one of these MetroLink stations:
Blue Line

 passengers should use the Skinker MetroLink Station to get to the fair and to head back home
Red Line passengers should use the Forest Park-DeBaliviere Station to get to the fair and to head back home
Both stations are about a half-mile from the fairgrounds, and by choosing the right station to use, you will minimize your wait time and you will get back on the train more quickly and smoothly after the fireworks end each night.
The Park-Ride lot at our Forest Park-DeBaliviere MetroLink Station will be closed during Fair Saint Louis, however the other 20 free Park-Ride Lots at MetroLink stations in Missouri and Illinois will be available for fairgoers. MetroBus is also another good option for traveling to the fair as most routes connect with MetroLink. You can create your travel plan early by using our online Trip Planner.
MetroLink trains will be crowded at various times during the three-day fair, so we ask that you be patient and respectful of your fellow passengers. Remember, no eating, drinking or smoking (including e-cigarettes) are allowed on Metro buses, MetroLink trains or on Metro property. Alcohol and firearms are also prohibited on Metro vehicles and Metro property, and no alcohol or coolers are allowed at the fair.
We'll provide more details about Metro service as we get closer to our nation's birthday.
Return to Blog
Categories:
Metro Lifestyle