June 13, 2019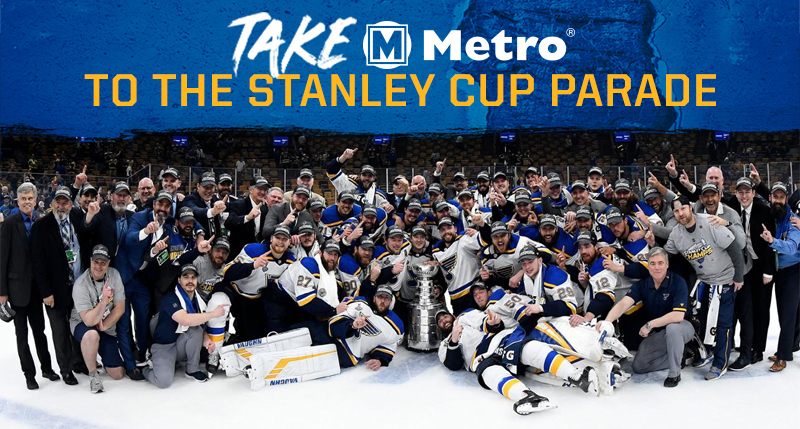 MetroLink will have extra trains ready to go on Saturday as hundreds of thousands of Blues fans head downtown to celebrate with the Stanley Cup Champions, the St. Louis Blues.
With five downtown MetroLink stations a block or two away from the Stanley Cup Parade, MetroLink is the perfect option while avoiding road construction, traffic and parking issues.
MetroLink Service Details
On Saturday, MetroLink will operate its normal weekend schedule, and will add extra trains to match passenger volumes.
Due to the large crowds anticipated on Saturday, you should expect trains to be crowded. Metro will have extra security, additional personnel and volunteer employee ambassadors available throughout the MetroLink system to assist you. Metro Transit's law enforcement partners at the St. Louis County Police Department, Metropolitan St. Louis Police Department and St. Clair County Sheriff's Department will also have extra officers available.
Buy MetroLink Tickets in Advance with Metro Mobile App
To avoid long lines and delays, purchase your tickets in advance using the Metro Mobile app. The Stanley Cup Parade Pass is valid for round-trip MetroLink service to the Stanley Cup Parade and Rally.
MetroLink tickets can also be purchased at Ticket Vending Machines located at all MetroLink stations, and from Metro ticket vendors who will be located at 21 popular MetroLink stations.
Parade Details and Nearby MetroLink Stations
The Stanley Cup Parade starts at noon at 18th and Market Streets and ends at Broadway and Market. The parade will be followed by a rally at the Gateway Arch grounds. Nearby MetroLink stations include:
Stadium (Parade & Rally)
8th & Pine (Parade & Rally)
Laclede's Landing (Rally)
Where to Park
Park at any one of 21 free Park-Ride lots at MetroLink stations, and take advantage of more than 10,000 free parking spaces in the bi-state area. Large number of parking spaces can be found at the following transit locations:
Brentwood I-64 Transit Center (914 spaces)
North Hanley Transit Center (1,731 spaces)
Shrewsbury-Lansdowne I-44 Transit Center (800 spaces)
Emerson Park Transit Center (815 spaces)
Fairview Heights Transit Center (853 spaces)
Lyft Rides to Metro Transit Centers
Lyft is offering 50 percent off Lyft rides (up to $5) to and from MetroLink stations and Metro Transit Centers using code WEGOTTHECUP. All MetroLink stations and Metro Transit Centers in St. Louis City, St. Louis County and in the Metro East are included, except for downtown stations, to help alleviate congestion by the center of the parade.
MetroBus Service Details
MetroBus is another convenient option. Ride on any one of 18 MetroBus routes to the Civic Center Transit Center and walk a few blocks north to the event site. Please note there will be several MetroBus routes will be detoured in downtown St. Louis due to street closures. The #99 Downtown Trolley will be out of service on Saturday from 10 a.m. until festivities conclude in downtown.
Trip-Planning Assistance
To plan your trip to the Stanley Cup Parade and Celebration:
Contact Metro Transit Information – 314-231-2345 (phone) | 314-207-9786 (text) – available Monday through Friday from 7 a.m. to 6 p.m. To better assist customers, the Transit Information Text Line will operate special hours on Saturday. Transit Information Experts will be available by text at 314-207-9786 from 7 a.m. to 1 p.m.
Return to Blog
Categories:
Metro Lifestyle