October 20, 2023
Are you as excited as we are for the City SC's final game of the regular season? Or to watch the St. Louis Blues take on the Pittsburgh Penguins in their third home game of the year? We sure hope so, because downtown St. Louis will be the place to be on Saturday for exciting soccer and hockey. Metro Transit makes it easy to enjoy all of the fun – conveniently and affordably.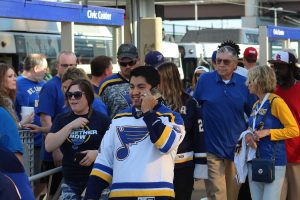 St. Louis Blues vs. Pittsburgh Penguins | Enterprise Center | 7 p.m.
You can park for free at any of 21 free Park-Ride lots at MetroLink stations in Missouri and Illinois, purchase a $5 Day Pass at a ticket vending machine or on the Transit app, and ride the train to the Civic Center MetroLink Station, located just south of Enterprise Center.
MetroBus is another great option, with more than a dozen MetroBus routes serving the Civic Center Transit Center, including the #4 Natural Bridge, #10 Gravois-Lindell, #11 Chippewa, #19 St. Louis Ave., #30 Arsenal, #31 Chouteau, #32 Dr. ML King, #40 North Broadway, #41 Lee, #73 Carondelet, #74 Florissant, #94 Page and #97 Delmar.
St. Louis City SC vs. Seattle | CITYPARK | 8 p.m.
Just like above, use our free Park-Ride lots and ride MetroLink – but instead, take the train to the Union Station MetroLink Station, located a couple blocks south of CITYPARK. You could also consider taking any of the dozen MetroBus routes serving the Civic Center Transit Center, which is just two blocks east of the Union Station MetroLink Station.
MetroLink will be operating two-car trains on Saturday, October 21.
Some benefits of using Metro to enjoy sports in downtown St. Louis: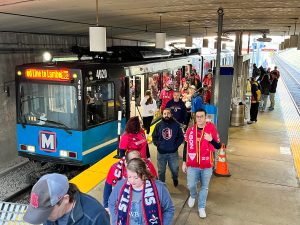 Avoid sitting in traffic. No need to worry about navigating through crowds and road closures when you park your car and hop on the MetroLink.
Save on cost. Purchase a $5 day Metro pass to secure your ride to and from the game while avoiding expensive parking lots or outrageous Uber prices.
Metro Transit is an efficient way to get to downtown without worrying about your car or finding a parking spots, and the Transit App makes trip planning even easier. Download for free and plan your trip ahead of the game.
Using Metro Transit, you'll be joining hundreds of other sports fans headed downtown – we can't wait to see you, cheering your team victory!
Return to Blog
Categories:
Metro Lifestyle