October 13, 2023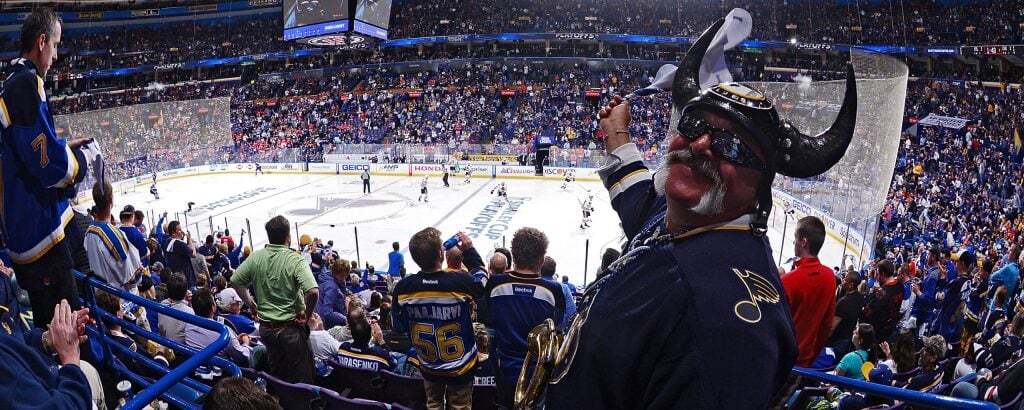 Hockey returns to the St. Louis region this weekend as the St. Louis Blues kick off their first home game of the season against the Seattle Kraken at the Enterprise Center. With MetroLink and several MetroBus routes available at the Civic Center Transit Center – located just south of Enterprise Center – Metro Transit makes it easy to enjoy all of the fun and festivities of the Blues Home Opener, while avoiding crowded streets, road construction, and parking hassles.
The festivities begin on Saturday with a special Home Opener Rally at Union Station from 3 p.m. to 5:30 p.m., featuring games, prizes, giveaways, live music, food and drink, and more. The rally is open to everyone, with or without tickets. However, you will need a ticket to enjoy the big game against the Seattle Kraken, which begins at 7 p.m. at Enterprise Center, located just down the street from the pre-game rally.
Metro Transit has 21 free Park-Ride lots located at MetroLink stations in the City of St. Louis and St. Louis County in Missouri and in St. Clair County in Illinois. Hockey fans can park for free, purchase their transit fare and hop on a Red or Blue Line MetroLink train to downtown St. Louis and exit the train when arriving at the Civic Center MetroLink Station to reach Enterprise Center or the Union Station MetroLink Station for the Home Opener Rally at Union Station. Round-trip MetroLink tickets can be conveniently purchased for $5 on mobile devices by downloading the Transit App, or at Ticket Vending Machines found at all MetroLink stations and Metro Transit Centers.
MetroBus is also a great option to get to the Blues Home Opener and games throughout the year with more than a dozen MetroBus routes serving the Civic Center Transit Center, including the #4 Natural Bridge, #10 Gravois-Lindell, #11 Chippewa, #19 St. Louis Ave., #30 Arsenal, #31 Chouteau, #32 Dr. ML King, #40 North Broadway, #41 Lee, #73 Carondelet, #74 Florissant, #94 Page and #97 Delmar.
To plan your trip to the Blues hockey, download the Transit app to your mobile device, use the maps and schedules on MetroStLouis.org or contact Metro Transit Information by phone at 314.231.2345 or by text at 314.207.9786, Monday through Friday from 7 a.m. to 6 p.m.
Return to Blog