June 7, 2017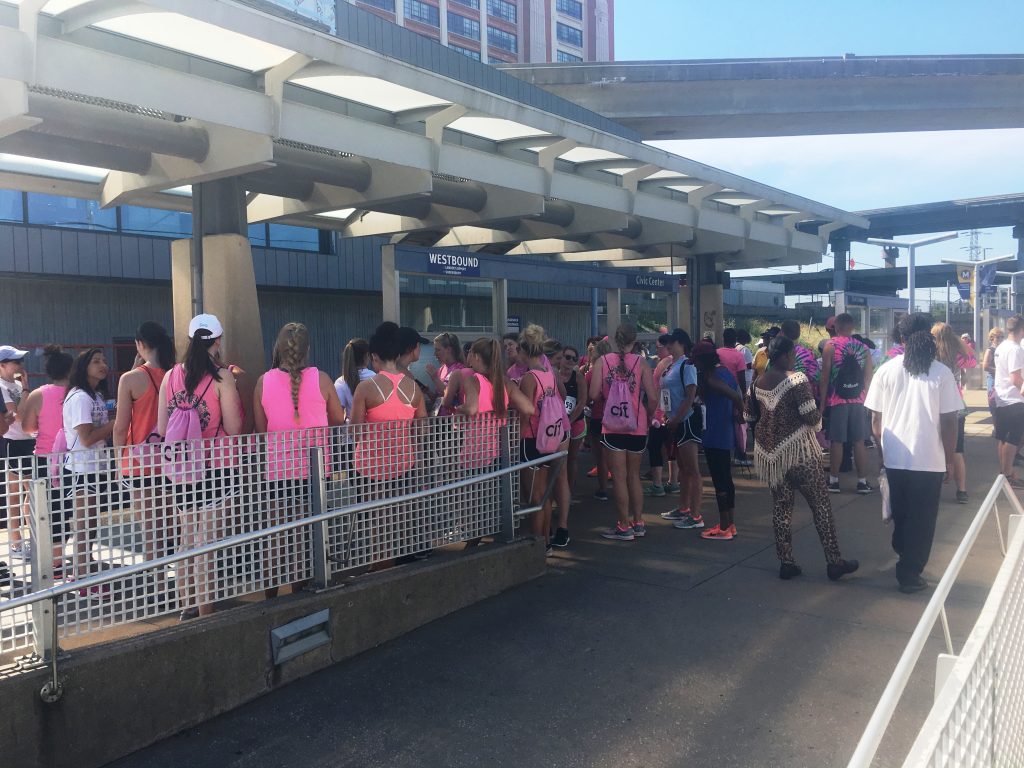 The Komen Race for the Cure, Scott Air Force Base Centennial Celebration Airshow, and Cardinals baseball at Busch Stadium are a few of the special events happening around the bi-state region this weekend, and Metro is a convenient way to get there while avoiding street closures, traffic jams and parking issues. Just park your vehicle at any one of 21 free Metro Park-Ride lots in Missouri and Illinois, purchase a round-trip ticket, and hop on MetroLink or MetroBus to enjoy all of the events this weekend.
To plan your trip, download the Metro On The Go App, or contact Metro Transit Information at 314-231-2345 or 618-271-2345, from 7:30 a.m. to 4:30 p.m. Monday through Friday.
Komen Race for the Cure
In downtown St. Louis, thousands of volunteers, breast cancer survivors and their families and friends will be heading to downtown St. Louis on Saturday for the 2017 Komen St. Louis Race for the Cure. You can ride MetroLink to the Union Station or Civic Center MetroLink Stations, which are both just a few blocks away from the race registration area and starting line. Passengers riding to the Civic Center Station should note the entrance at the corner of 14th and Spruce Streets is closed due to construction. You will need to use the ramp leading to Clark Avenue.
MetroBus is another great option for getting to downtown St. Louis for the race. Participants can ride on one of 13 MetroBus routes to the Union Station MetroLink Station and walk a few blocks north to the race site near Soldier's Memorial.
St. Louis Cardinals
At Busch Stadium, the St. Louis Cardinals will host the Philadelphia Phillies on Friday at 7:15 p.m., and at 1:15 p.m. on Saturday and Sunday. Baseball fans can ride the train to the Stadium MetroLink Station, or catch the #40 Broadway or #99 Downtown Trolley MetroBus routes, which both have stops near Busch Stadium. If you're coming from Illinois, take advantage of the Redbird Express to get you to the game.
Scott Air Force Base Centennial Celebration Air Show
Across the river, in Shiloh, Illinois, Scott Air Force Base will host its centennial celebration airshow on Saturday and Sunday. Gates open at 9 a.m. You can take MetroLink to the Shiloh-Scott MetroLink Station where free shuttles will take you to the flight line for the show.
Weekend MetroLink and MetroBus Service
MetroLink will operate on its regular weekend schedule on Saturday and Sunday. Metro will be monitoring station platforms, and extra service will be added if needed. Metro will also have extra security and personnel on the transit system to assist passengers.
Ten MetroBus routes will be detoured beginning early Saturday morning through the afternoon due to downtown street closures for the Race for the Cure, and MetroBus passengers riding these routes should allow extra time for their commutes. The impacted routes include:
#4 Natural Bridge
#10 Gravois-Lindell
#11 Chippewa
#30 Soulard
#32 ML King-Chouteau
#41 Lee
#74 Florissant
#94 Page
#97 Delmar
#99 Downtown Trolley
Check our Rider Alerts page for more detailed information.
Return to Blog
Categories:
Metro Lifestyle