October 14, 2020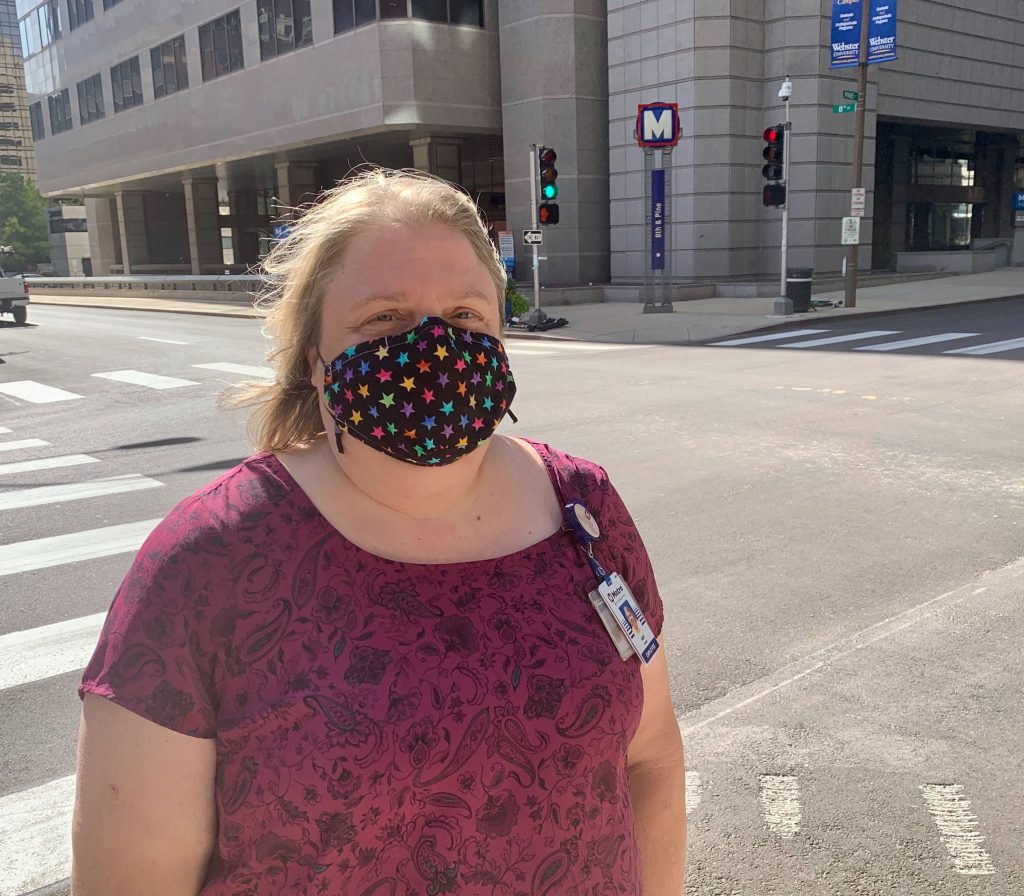 Our team members work hard to keep our region moving every single day. From operators to customer service, maintenance to mechanics, and operations to public safety, we bring the best of the best together to bring progress, collaboration and innovation to our communities. We want to share their stories, so stay tuned for more team member spotlights.
Amy is Metro Transit's ADA Coordinator and leads the team that is responsible for our work with the Americans with Disabilities Act (ADA), including eligibility assessment, compliance, and eligibility for the reduced fare program on MetroBus and MetroLink. Our ADA Services team also offers a Travel Training Program that helps seniors and disabled transit riders gain more independence by teaching them how to use Metro Transit before their first trip.
Amy has been with Metro since 2007, working first as an ADA-Eligibility Specialist performing assessments for Metro Call‑A‑Ride passengers, and later as a Metro Call‑A‑Ride Transit Service Manager.
Amy loves working at Metro because of the people, the benefits, and her ability to help our riders. It energizes her when she sees our team working together for a common goal, and when other team members reach out to her to ask questions about accessibility for our riders.
"I like being a part of one little way to enable people with disabilities to function more fully in society, and transportation is key."
Amy has three kids – one in college and two in high school – as well as two dogs. Outside of work if she is not busy with her kid's activities and sports, she enjoys spending time outdoors or volunteering with the St. Vincent de Paul Society.
Teaching people how to use transit is now running in the family. She taught her daughter how to ride the bus when she was in junior high, and now that she is in college in Iowa, she has started teaching her friends how to ride the bus – her very own travel training!
Check out our Q&A with Amy below to get to know her more.
---
How would you describe your job to a group of kindergartners?
My job is to help our company include people with disabilities in our transit system.
What was your first job?
I worked at a shoe repair store. I would go in after school and take off the old soles on shoes, and eventually got to where I could dye shoes and replace a set of heels.
What do you like most about the bi-state region?
I love the community that we have that is kind of tied to our kids and school.
What are 2 words to describe Metro?
Customer-focused and innovative
Do you have advice or tips for someone who is new to riding Metro?
If you don't know something, ask your operator!
---
We're focused on providing high quality, accessible travel options for all of our customers. You can learn more about our ADA Services team and our commitment to accessibility here: metrostlouis.org/accessibility.
The ADA Services team works out of our Transit Access Center, which has moved to a new location at 8th & Pine – right next to the MetroStore! Due to COVID-19, the office is closed to visitors right now, but they are accepting appointments. To schedule an appointment or if you have any questions, you can contact the ADA Services team at 314.982.1510 or [email protected].
When you're out riding with us, make sure to pause and thank our team members for what they do. We could not move the region without them. Thank you, Amy!
Return to Blog
Categories:
Accessibility
,
Metro Lifestyle
,
Team Metro