November 19, 2021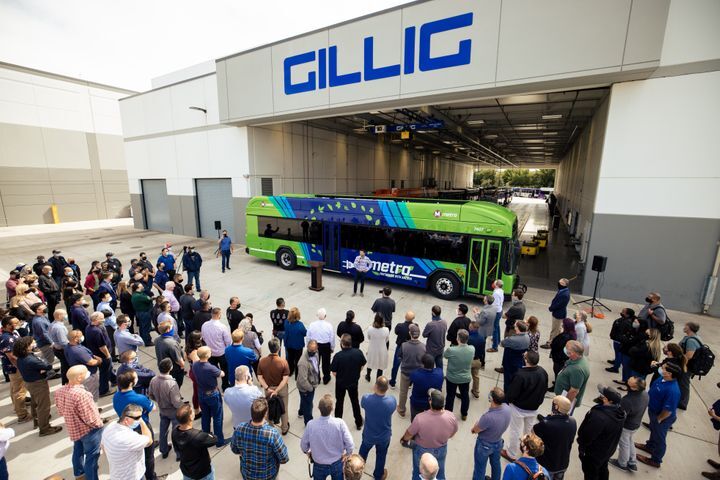 Our electric bus fleet is growing! This month marked the arrival of six new 40-foot battery
electric buses
at Metro Transit, including the 100th battery-electric bus produced by GILLIG.
Metro Transit has been partnering with GILLIG since 1992, and this recent delivery brings our total electric bus fleet to 10 40-foot buses and 14 60-foot buses.
The battery electric buses provide a substantial savings in fuel and maintenance costs – up to $525,000 over the life of each bus. As zero-emission transit assets, these buses will provide a reduction of 100 to 160 tons of greenhouse gas emissions when compared to a diesel bus.
These new additions will operate on various MetroBus routes in the City of St. Louis and St. Louis County, and provide riders with a quiet, comfortable ride.
Fast Facts: GILLIG's 40-Foot Battery Electric Buses
Serve a variety of MetroBus routes in Missouri
GILLIG: Purchase price = $950,000 | Operating cost = $0.43 per mile
Range of 150 miles on a single charge
Have 444 kWh of battery storage
Charges overnight at Brentwood MetroBus Facility, powered by Ameren Missouri
The 40-foot buses also deliver a superior transit experience with the latest features and amenities, including a Thermo King Electric HVAC system with integrated thermal management, and superior ride quality with low noise levels and smooth, seamless acceleration.
Known for being the lowest cost transit buses to maintain, GILLIG buses are built on the company's proven low-floor platform design and feature Cummins propulsion systems.
Buses were built in Livermore, California
Return to Blog
Categories:
Electric Buses
,
News
,
Technology