March 15, 2018
The Crossings Brings Shopping, Food and Fitness to Richmond Heights
Return to Blog
Transit-Oriented Development (TOD) refers to the investment that takes place at and around transit infrastructure. TOD is often a catalyst for economic growth – improving access to jobs, housing and amenities, and helping promote active lifestyles and a reduced dependence on automobiles.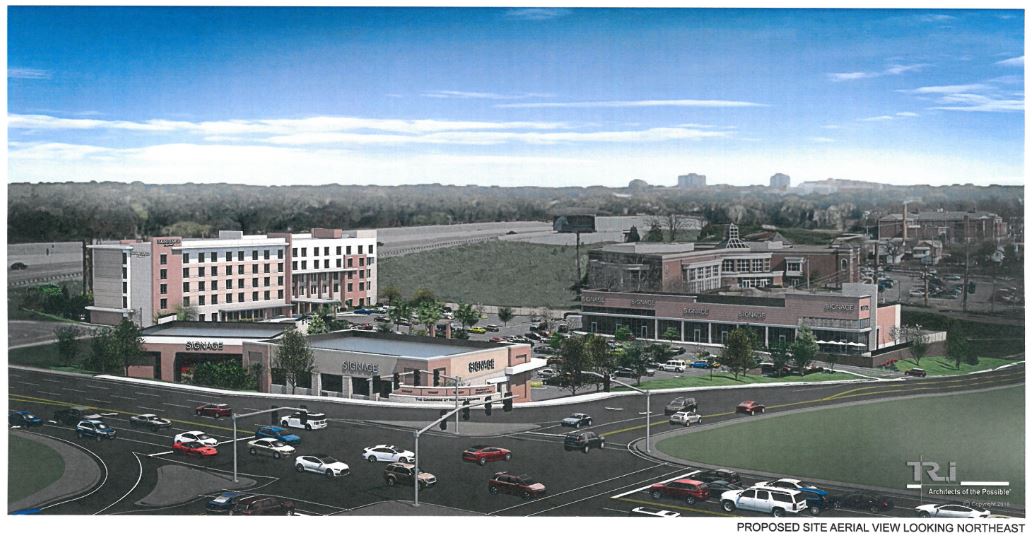 A new mixed-use development a few blocks east of the Brentwood I-64 Transit Center will offer more options and amenities to transit riders.
The Crossings at Richmond Heights, located at the intersection of Dale Avenue and South Hanley Road, will include a five-story, 142-room Courtyard by Marriott hotel along with 13,000 square feet of retail space. The Crossings will also offer shoppers and visitors a Cyclebar indoor cycling gym and several restaurant options, including Red Robin, Starbucks, Vitality Bowls Superfood Cafe, Firehouse Subs and Blaze Pizza. The project has an estimated cost of $52 million.
This project replaces a 6.4 acre grassy lot just east of South Hanley Road, which is a short walk from the Brentwood I-64 Transit Center. It is also located on the Dale Avenue bike lane. This multimodal accessibility is a major benefit for Metro Transit riders, and for pedestrians and cyclists accessing the stores and restaurants in the area.
"This reinvestment delivers a long-awaited stability to the site, especially for the Hanley Road/Dale Avenue Intersection," said Amy Hamilton, City Manager of Richmond Heights. "We are adding amenities for the community, and improving the streetscape and multimodal connection."
Summit Development Group LLC, the developer of The Crossings, plans to open the restaurant and retail portion of the project in the coming months, and the hotel by the end of the year.
Blueprints:
Project: The Crossings at Richmond Heights
Developer: Summit Development Group LLC

Courtyard by Marriott: five-story, 80,000 square feet, 142 rooms
Two free-standing restaurants, 7,000 square foot each
13,000 square feet of retail space

Timeline: Construction began in March 2017 with planned restaurant and retail completion in the second quarter of 2018 and hotel completion in fourth quarter of 2018
Return to Blog
Categories:
Economic Development