August 23, 2021
Transit Stop Transformation Project Brings Music History to Emerson Park
Return to Blog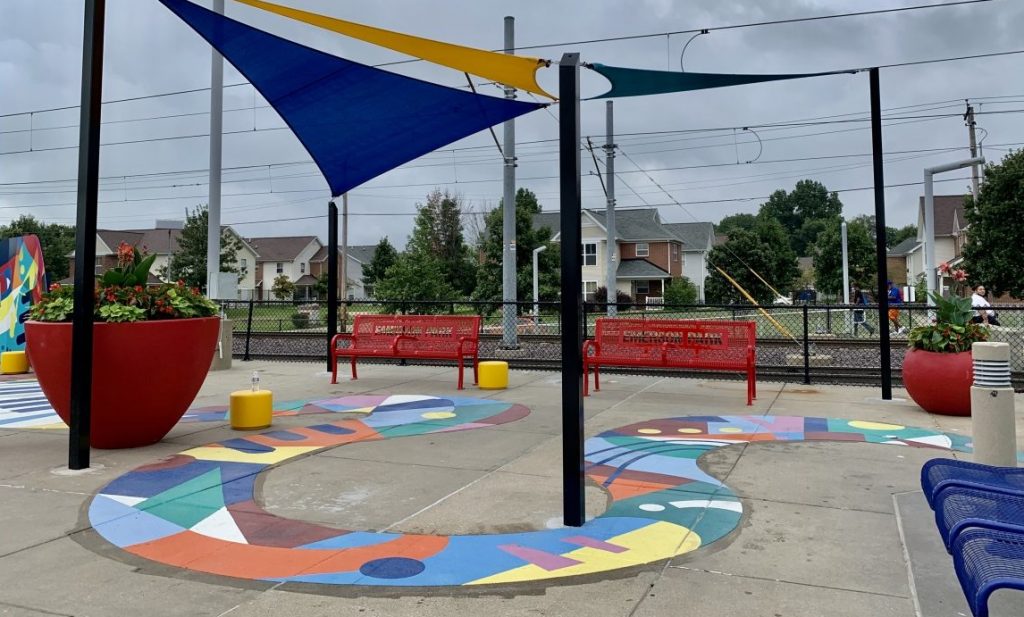 Metro Transit riders can now experience a colorful, playful and interactive space at the Emerson Park Transit Center while they wait for their bus or MetroLink train.
The previously gray concrete area between the bus bays and MetroLink entrance has been transformed into a new space that boasts a vibrant-colored jazz theme, flowers and greenery, shaded seating, canopies and a mural inspired by design concepts submitted by East St. Louis High School students.
The Transit Stop Transformation project was accomplished with our partners at St. Clair County Transit District (SCCTD), Citizens for Modern Transit (CMT), and AARP. A celebration to highlight the completion of the colorful new area was held this weekend (August 21) and featured remarks by several project partners with special recognition for three East St. Louis High School students who helped inspire the vision behind the mural. Transit riders and the public were invited to explore the new space, listen to live music performed by students from East St. Louis High School, and enjoy complimentary Pirtle's Ice Cream.
The CBB/PGAV team completed the planning and design, Added Dimension, LLC, oversaw community engagement, and the mural was created by Jayvn Solomon of L.O.T.U.S. Labs, with inspiration from East St. Louis High School students Zemerion, Taychelle and Jomari.
This is the second project of its kind in the region. Last summer, CMT led the transformation of a MetroBus Stop in Maplewood, which now features enhanced bus shelters, a public art installation, a hopscotch game, vibrant colors, improved lighting and sightlines, and better access to surrounding green spaces.
Check out the slideshow below to see more photos from the event.
Return to Blog