May 5, 2022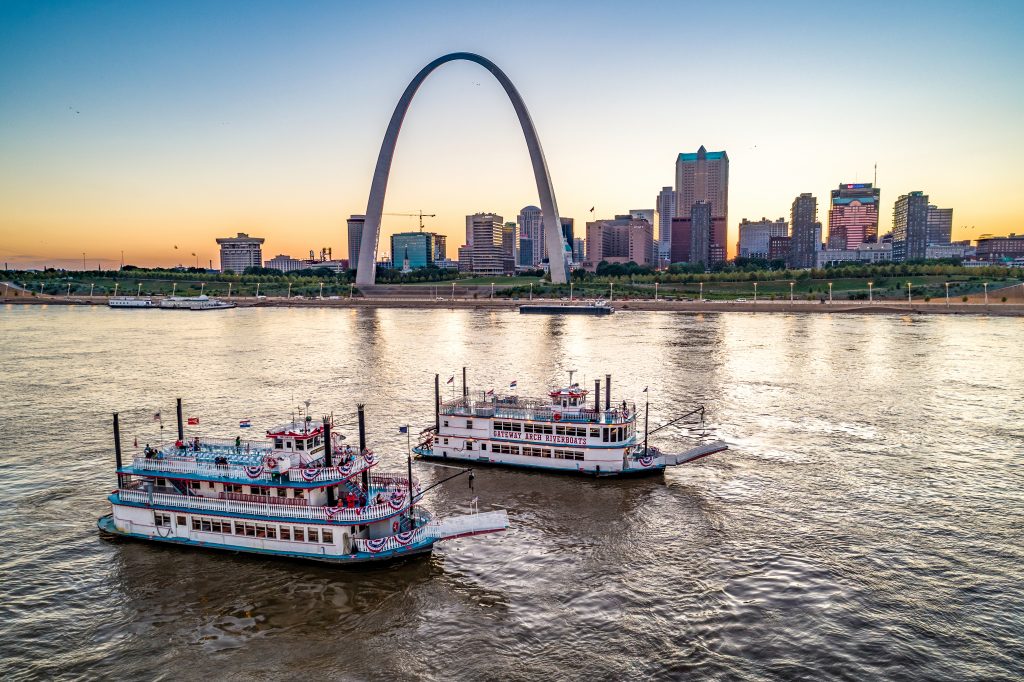 The first week of May marks National Travel and Tourism Week, and Metro Transit makes it easy to become a tourist in your own city. There are numerous fun attractions and activities throughout the St. Louis area that are great for a staycation, and Metro is here to get you there safely, conveniently and comfortably.
Enjoy unlimited rides on MetroLink and MetroBus with a $5 Metro Day Pass or $27 Metro Weekly Pass, and check out these St. Louis attractions while avoiding traffic, parking and high gas prices.
Downtown St. Louis, Downtown West and the St. Louis Riverfront
Downtown St. Louis has plenty to offer from the Gateway Arch to Union Station. Visit a national park, tour Busch Stadium or ride the St. Louis Wheel at Union Station, all while being within walking distance of some of the city's most exciting bars and restaurants.
Gateway Arch National Park
MetroLink – Laclede's Landing MetroLink Station
Gaze at over 43,000 tons of concrete and steel making an iconic, elegant arc 63 stories high into the Midwest sky. The Gateway Arch celebrates the westward expansion of the United States and the pioneers who made it possible. See history differently at the Gateway Arch Museum Galleries that feature 201 years of history in six themed exhibit areas. Then take the Tram Ride to the Top to be transported 630 feet to the top of America's tallest monument.
Gateway Arch Riverboats
MetroLink – Laclede's Landing MetroLink Station
Travel through time on a replica 19th century paddle-wheel riverboat. Day or night, the Riverboats at the Gateway Arch offer stunning skyline views that have been voted Best in St. Louis. With a variety of sightseeing, dinner and specialty outings to choose from, a riverboat cruise makes a unique and relaxing way to experience the Gateway Arch and downtown St. Louis. Click here to get your tickets.
The City Museum
MetroLink – Convention Center MetroLink Station
MetroBus Route – #97 Delmar
A brainchild of acclaimed artists Bob and Gail Cassilly, the City Museum has something for everyone. This 10-story, 600,000 square-foot warehouse is an architectural marvel that melds a playground, funhouse and surrealist pavilion with the use of repurposed objects.
Union Station
MetroLink – Union Station MetroLink Station
MetroBus Routes – #11 Chippewa
Busch Stadium Tours
MetroLink – Stadium MetroLink Station
The Cardinals are on the road until May 10, but if you're in need of a baseball fix, head to Busch Stadium for a tour of the ballpark. All tour tickets include admission to the Cardinals Hall of Fame and Museum at Cardinals Nation.
Soulard and Lafayette Square
The iconic Soulard neighborhood and Lafayette Square will make you feel like you're walking through New Orleans. The architecture resembles the French Quarter and Garden District while the bar scene is Bourbon Street-esque. Cajun flavors can be found at restaurants throughout these neighborhoods but there are also a few St. Louis institutions. After admiring the architecture, enjoying the food and drink offered by the neighborhood you can visit the Soulard Farmers Market or learn about history that has been brewing in St. Louis since 1852 at Anheuser-Busch.
Soulard Farmers Market – Open Year-Round, Wednesday through Saturday
MetroBus Routes – #30 Arsenal, #73 Carondelet
The Soulard Farmers Market in the Grand Hall on Carroll Street has operated since 1779. With 147 vendor stalls there is a wide variety of local spices, flowers, meat, seafood, baked goods, and produce.
The Budweiser Brewery Experience
MetroBus Routes – #30 Arsenal, #73 Carondelet
Over the years, micro-breweries have become a big part of St. Louis culture over the last 20 years but brewing history has been engrained in the city since 1852 at Anheuser-Busch. Head down to Soulard for the Budweiser Brewery Experience where you can explore the Anheuser-Busch campus and visit the legendary Clydesdales. Look at the experiences offered at AB here.
Cherokee Street
MetroBus Route – #8 Shaw-Cherokee
Cherokee Street is a center of commerce, culture and creativity in St. Louis, with galleries and antiques, music and good eats, and the best festivals and events STL has to offer. Click here to see a calendar of events on Cherokee Street and here see a directory of Cherokee Street businesses.
Shaw and South Grand
A cultural and culinary center of St. Louis can be found in the South Grand Dining District, which is just steps away from Tower Grove Park. Use one of Metro's new electric buses on the #70 Grand to explore South Grand. Shaw is sleepy neighborhood on the north side of Tower Grove Park and is also home to the Missouri Botanical Garden.
South Grand Dining District
MetroBus Routes – #70 Grand
The South Grand Dining District is proud to offer authentic cuisine from around the world. Its international community spans 14 unique cuisines: Thai, Chinese, Japanese, Vietnamese, Italian, Moroccan, Ethiopian, Lebanese, Persian, French, Brazilian, Turkish, Filipino and American. Eat your way around the world in only 6 blocks.
Tower Grove Park
MetroBus Routes – #70 Grand and #8 Shaw Cherokee
Tower Grove Park includes landscapes of grassy meadows, approximately seven thousand trees and many varied flowerbeds make the park an important urban green space. Along with Victorian pavilions that are a favorite site for family, school, and community events. Well-maintained trails, tennis courts and athletic fields are busy year-round.
Missouri Botanical Garden
MetroBus Routes – #8 Shaw Cherokee
Founded in 1859, the Missouri Botanical Garden is the nation's oldest botanical garden in continuous operation and a National Historic Landmark. The Garden is a center for botanical research and science education, as well as an oasis in the city of St. Louis. The Garden offers 79 acres of beautiful horticultural display, including a 14-acre Japanese strolling garden, historic architecture, and one of the world's largest collections of rare and endangered flora.
Delmar Loop
MetroLink – Delmar Loop Transit Center
MetroBus Routes – #2 Red, #16 City Limits, #91 Olive, #97 Delmar
As a neighborhood that merges the relaxed feel of a college town and the hustle of a big city, the Delmar Loop has plenty to offer. It's home to legendary hangout Blueberry Hill, record stores, vintage clothing shops, must-see music venues The Pageant and Delmar Hall, the "unique boutique" Moonrise Hotel and more.
Forest Park
Recently named the Best City Park of 2022, Forest Park has plenty to offer including the Saint Louis Art Museum, Science Center, the Missouri History Museum, The MUNY, and the always-free Saint Louis Zoo. Forest Park is bordered by neighbors like the Central West End, Dogtown and Skinker-DeBaliviere that offer countless options for dining and drinks. See what Forest Park has to offer on the list below along with what transit centers and MetroBus routes provide access:
Saint Louis County
Out past city limits, there is still plenty to do in St. Louis County including parks, recreational complexes, and other attractions.
The Magic House, St. Louis Children's Museum
MetroBus Route – #49 Lindbergh
Laumeier Sculpture Park
MetroBus Route – #49 Lindbergh
Presenting more than 70 works of large-scale outdoor sculpture in a 105-acre park located in the heart of St. Louis County. Free and open daily, the Laumeier Sculpture Park serves 300,000 visitors of all ages each year through sculpture conservation, education programs, temporary exhibitions and public events.
Metro East
If Downtown St. Louis isn't your speed, maybe Downtown Belleville is. Take a step back and explore what Metro East has to offer from food and drinks to shopping and entertainment there is plenty to do.
Belleville Main Street
MetroBus Route – #1 Main-State Street
Downtown Belleville is the perfect place to discover restaurants, nightlife, entertainment, shopping and many other great businesses. To see what Downtown Belleville has to offer click here.
Plan Your Trip
To plan your trip to any of these great local events, use our online Trip Planner or download the Transit app to plan your trip and pay your fare, or contact Metro Transit Information at 314.231.2345 (phone) or 314.207.9786 (text), available 7 a.m. to 6 p.m., Monday through Friday.
Return to Blog
Categories:
Metro Lifestyle