June 29, 2023
Metro Transit is Your Ticket to America's Birthday Parade and Fair Saint Louis Fireworks
Return to Blog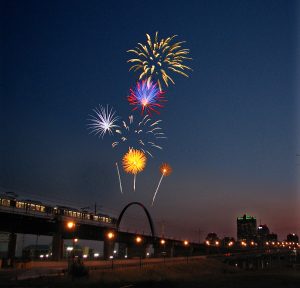 Metro Transit is a great way to conveniently get to downtown St. Louis for America's Birthday Parade and Fair Saint Louis Fireworks Spectacular. Avoid local road construction, street closures, traffic jams, and the hassle of finding parking when you ride on Metro. We have 21 free Park-Ride lots with more than 10,000 parking spaces for you to park your car and catch MetroLink to one of the six MetroLink stations that serve downtown St. Louis. MetroLink trains will arrive and depart downtown every 10 minutes.
July 4th celebrations start with America's Birthday Parade on Tuesday at 10 a.m. The parade will travel west on Market Street in downtown St. Louis from Broadway to 17th Street. Parade-goers can ride MetroLink to the Union Station, Civic Center, Stadium, or 8th & Pine Stations, which are all located just a block or two from the parade route. Visitors can also ride on more than a dozen MetroBus routes that serve the Civic Center Transit Center (located just south of the parade route).
The Fair Saint Louis Fireworks Spectacular takes place along the St. Louis Riverfront at the grounds of the Gateway Arch on July 4, with the fireworks show scheduled to start around 9:15 p.m. Visitors can take MetroLink to the Laclede's Landing Station (located near the riverfront, just north of the Gateway Arch) or the 8th & Pine Station (west of the Gateway Arch) to reach the Gateway Arch grounds and enjoy the show.
MetroLink will operate on a weekend schedule on Tuesday, July 4, with trains arriving and departing downtown St. Louis every 10 minutes. Metro Transit will have extra public safety and security personnel, law enforcement officers, transit personnel and volunteer Metro ambassadors positioned on the transit system to assist passengers during the parade and firework show.
Reminders before you ride: 
Metro Transit Information Center is closed on July 4.

Get your $5 Day Pass on your mobile phone through the 

Transit app

.

 

No eating, drinking, smoking or vaping (including e-cigarettes) is permitted on Metro vehicles or property. Only personal sized coolers are allowed to be brought on trains, buses and Metro Call‑A‑Ride vans. Alcohol and firearms (both open carry and concealed carry) are prohibited on Metro Transit vehicles and property.
Child strollers and wagons must be able to be broken down and stored while on the train.
The last MetroLink trains will leave downtown at approximately 1 A.M.
Metro Public Safety is available at 314.289.6873 (phone) or 314.300.0188 (text).
To plan your trip, use the Transit app to view transit schedules and rider alerts.  Find parking and use our online trip planner at metrostlouis.org; or contact Metro Transit Information at 314.231.2345 (phone) or 314.207.9786 (text), available Monday through Friday from 7 a.m. to 6 p.m. Riders are encouraged to check the weekend schedule in advance for eastbound and westbound departure times.
Return to Blog
Categories:
Metro Lifestyle