August 13, 2020
Via Metro STL Provides More Than 1,300 Trips in First Month
Return to Blog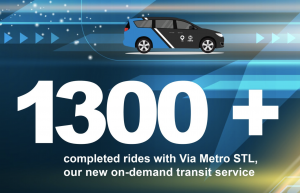 The St. Louis region's new on-demand transit service, Via Metro STL, has already become a popular transportation option for customers in North and Southwest St. Louis County. In its first month, more than 1,300 trips were completed. The service allows you to hail a vehicle directly from your smartphone.
Through the end of August, you can ride Via Metro STL for free, and experience firsthand how the new on-demand service can work for your commute.
Via Metro STL is available in the Fenton, Valley Park and Twin Oaks area seven days a week from 5 a.m. to 9 p.m. Service hours have been expanded for the North St. Louis County area, where riders can now book their trips seven days a week from 10:30 p.m. to 5:30 a.m. After the free ride period ends in August, rides on Via Metro STL will be $2.
"The mobility needs of the St. Louis region are constantly evolving. Innovative on-demand and microtransit options like Via Metro STL allow us to grow and adapt to better meet the changing needs of our customers," said Jessica Mefford-Miller, Executive Director of Metro Transit. "Via Metro STL provides our customers with a convenient and affordable transportation option that they can request when they need it, directly from their phone or mobile device."
How to Ride
Create an account. Download Via from the App Store or Google Play store and follow the simple sign-up steps. If you don't have a smartphone, call 636.251.3328 to set up your ride. For riders who need a wheelchair accessible vehicle, call 314.982.1505 to book your ride.
Request a ride. Enter your pickup and drop-off addresses and choose the ride option that works for you.
Meet your driver. Check the app and walk a short distance to your pick up spot.
Get where you need to go.
Masks are required for all Via Metro STL passengers and drivers.
Check out our recent test drive to see how easy riding Via Metro STL is!
For more information about the new on-demand service, including maps of the service areas, visit metrostlouis.org/via.
Return to Blog
Categories:
Metro Lifestyle
,
Technology