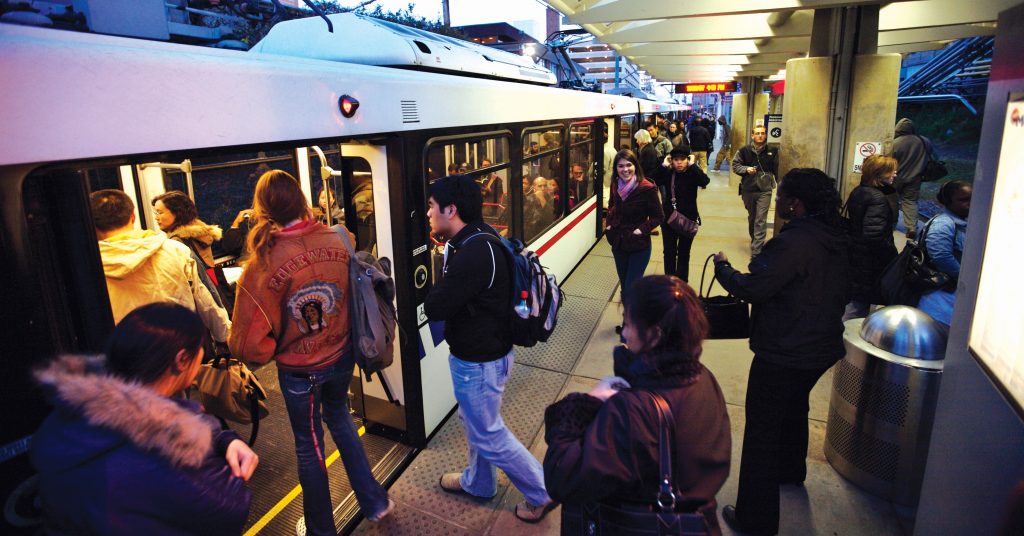 Hop on board Metro Transit for a fast, comfortable and convenient way to enjoy everything the St. Louis region has to offer. Here are some tips and resources to help you take advantage of MetroBus and the MetroLink light rail system.
MetroLink
MetroLink is a 46-mile, 38-station light rail system connecting St. Louis International Airport and key business and entertainment destinations throughout the area, including downtown St. Louis, Gateway Arch and St. Louis Riverfront, Busch Stadium and Forest Park.
The system operates on two lines – a Red Line and a Blue Line – and arrives and departs from downtown St. Louis and other core stations every 6 minutes during peak travel times. Each MetroLink train has 87 seats and can comfortably move more than 300 passengers
MetroLink Schedules – MetroLink System Map – How to Ride MetroLink
MetroBus
Our 400-vehicle MetroBus fleet operates on approximately 80 routes in Missouri and Illinois, creating convenient connections to all of the neighborhoods and communities in the bi-state area.
MetroBus Schedules – Metro System Map – How to Ride MetroBus
Trip Planning is Easy
In addition to the schedules linked above, we have a number of resources to make planning your transit commute easy.
Transit App
Download Transit, the official mobile app of Metro Transit, and find nearby MetroLink stations and MetroBus stops and see the real-time location of your MetroBus. Transit is easy to use, free and it's available for iOS and Android devices.
Consult a Transit Expert
Transit information specialists are available to help you plan your trip by phone, text or email, Monday through Friday from 7 a.m. to 6 p.m.
*Call 314.231.2345
*Text 314.207.9786
*Email [email protected]
Parking Options
The Metro Transit system has more than 11,000 free parking spaces available in Missouri and Illinois, making it convenient to park your vehicle and let Metro do the driving. Click here for information on all of our Park-Ride options. 
Stay Safe While Traveling
Metro Public Safety Department
Our responsive Public Safety team is available 24/7 to address any of your concerns. Available 24/7.
*Call 314.289.6873
*Text 314.300.0188
*Visit noonlight.com/metro to sign up for Metro Transit's free safety app.
Rules for the Ride
Be courteous to your fellow passengers by following these rules:
Eating and drinking are not allowed on MetroBus, MetroLink or Metro Call‑A‑Ride
Smoking (include e-cigarettes) is prohibited on all Metro vehicles and on MetroLink platforms, and is not allowed at the Civic Center Transit Center
All weapons and firearms are prohibited on Metro vehicles, on MetroLink platforms and at Metro Transit Centers
Use headphones or ear buds when listening to music
Shirt and shoes are required to ride on MetroLink
Allow disabled and elderly passengers to use priority seating
Only service animals accompanying customers with disabilities can travel on Metro Transit vehicles, and they do not need to be in a pet carrier
Accessible to All Riders
All MetroLink trains and MetroBus vehicles are ADA accessible. They have priority seating and are equipped to accommodate mobility devices. System announcements at MetroLink stations are audible as well as visual.
Questions?
Metro Customer Service is available from 7 a.m. to 6 p.m., Monday through Friday.
*Call 314.982.1406
*Text 314.207.9786
*Email [email protected]