March 4, 2019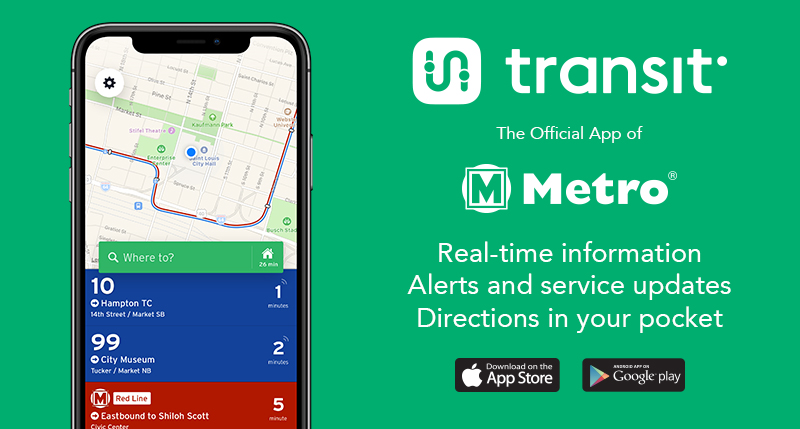 Metro Transit today announced Transit as the official real-time information and trip-planning mobile application for the St. Louis region's public transportation system. Transit, the leading transport app in North America, counts millions of active users in more than 175 cities worldwide, including tens of thousands throughout the St. Louis area.
"We are excited to partner with Transit, and help our riders access smart, user-friendly technology that makes it even easier to use the Metro system," said Jessica Mefford-Miller, Executive Director of Metro Transit. "With this app, our customers can check real-time information, get the latest service alerts, look up schedules, and plan multimodal trips – all from the palm of their hand."
With the app, you can check out nearby transit options and departure times, and easily navigate the region, aided by accurate real-time MetroBus tracking, trip planning, and step-by-step navigation with Transit's GO feature.
---
---
Transit also offers first- and last-mile connections to Metro with its Transit+ feature. For certain trips, Transit will suggest taking an Uber or Lyft part of the way, and connecting with MetroBus or MetroLink service. This first-of-its kind feature allows you to plan, book, and pay for a ride-sharing trip, while getting real-time updates on your connection — all in one app.
Metro joins dozens of agencies that have partnered with Transit, including Boston's MBTA, Baltimore's MDOT MTA, Tampa Bay's PSTA, Silicon Valley's VTA and Montreal's STM.
"Partnering with a single app that prioritizes transit makes it clear to riders where they can go for information," said Jake Sion, Chief Operating Officer of Transit. "We're excited to work with Metro and to see more people using Transit as part of their daily routine."
In addition to helping you access a comprehensive, easy-to-use and widely adopted app, through this partnership, Metro will also receive usage data and customizations to better serve you, such as adding the ability to text, call or email Metro customer service from directly within the app.
The "Metro on the Go" app, which was launched in 2015, will be discontinued and no longer supported effective May 2019.
Return to Blog
Categories:
Technology