Have a media request? Contact the Metro Communications Department at 314-486-5553.
December 21, 2022
Metro Transit Gears up for Winter Storm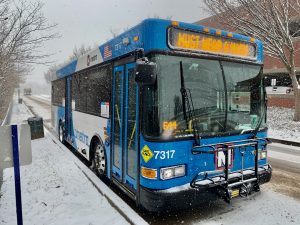 [ST. LOUIS, MO/Dec. 21, 2022]  The first major winter storm of the season will bring blowing and drifting snow, ice, wind gusts up to 50 miles an hour, and wind chills of 35 below zero to the St. Louis region starting tomorrow, and Metro Transit is encouraging its customers to prepare for the dangerous weather conditions. If possible, public transit commuters should work from home during the time the Winter Storm Warning is in effect, which is from 6 a.m. tomorrow through midnight tomorrow night. A Wind Chill Warning is in effect from 3 p.m. tomorrow through noon on Saturday. If working from home is not an option, transit customers should dress appropriately by layering warm clothing and keeping exposed skin covered. Frostbite can occur within a few minutes during the sub-zero wind chills. Customers should expect delays and dress for being outside in the extreme cold temperatures and plan accordingly.
As road conditions deteriorate, MetroBus and Metro Call‑A‑Ride vehicles may be rerouted or delayed. Customers should be aware that MetroLink will be operating single car trains Friday, Saturday and Sunday, so customers will board and exit trains at the end of the platform where the cab stops.
If transit customers are walking to a bus stop or transit center during the winter storm, they should allow extra time to reach their destination, walk cautiously and watch for slick spots on snow and ice covered sidewalks and wet platforms. Platform heaters are located at all outdoor MetroLink stations. Customers should use caution on the platforms, walkways and parking lots because there may be slick spots.
Metro Transit offers the most up-to-date service information through the Transit app for customers to find out when a bus or train is expected to arrive and if there are any delays due to road conditions. The app can push out alerts directly to a rider's phone. Assistance by phone or text is also available. Metro Transit Information will stay open an hour later tomorrow night and will open an hour early on Friday morning so the Metro Transit Information hours will be 7 a.m. until 7 p.m. on December 22 and from 6 a.m. until 6 p.m. on December 23. Customers can call 314.231.2345 or text at 314.207.9786. The Transit Information Center operates Monday through Friday. Winter storm service updates can be found tomorrow at metrostlouis.org/weather.
About Metro Transit
Metro Transit operates the St. Louis region's main public transportation system, which includes 24 battery electric buses and nearly 400 clean-burning diesel buses that serve 59 MetroBus routes in eastern Missouri and southwestern Illinois. Metro also operates MetroLink light rail vehicles on 46 miles of track serving 38 stations in the two-state area, and operates Metro Call‑A‑Ride, a paratransit fleet of 122 vans. Metro Transit is a Bi-State Development enterprise.
# # #