Have a media request? Contact the Metro Communications Department at 314-486-5553.
December 8, 2022
Next Metro Transit Hiring Event Scheduled for January 28
[ST. LOUIS, MO/Dec. 8, 2022]  The next Metro Transit hiring event is scheduled for Saturday, January 28, 2023, not December 10 as has been shared on local broadcast outlets and social media. The January 28 hiring event will be held at the Metro Transit Central Facility located at 3300 Spruce Street in St. Louis. On-site interviews will be conducted from 10 a.m. until 2 p.m. on January 28 for MetroBus operators, Metro Call‑A‑Ride operators, Transit Service Managers for MetroBus and Metro Call‑A‑Ride, Metro Call‑A‑Ride Dispatchers full time and part time (FT & PT), Metro Call‑A‑Ride Reservation Clerks (FT & PT), and Mechanics for MetroBus.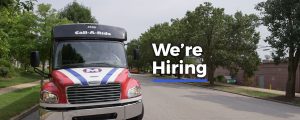 Individuals interested in Tourism positions at the Gateway Arch and Riverboats at the Gateway Arch are also invited to attend the hiring event on January 28. The Gateway Arch and Riverboat operations will be looking to add new team members for the 2023 tourism season.
Individuals interested in the high priority transit positions are encouraged to apply online immediately. The transit positions qualify for special $2,000 signing bonuses. A $500 hiring incentive may apply to the Tourism positions.  For more information on careers at Metro Transit and Bi-State Development, including a list of all available job openings, please visit bistatedev.org/careers. On-site, in-person transit hiring events will be held quarterly until further notice.
About Metro Transit
Metro Transit operates the St. Louis region's main public transportation system, which includes 24 battery electric buses and nearly 400 clean-burning diesel buses that serve 58 MetroBus routes in eastern Missouri and southwestern Illinois. Metro also operates MetroLink light rail vehicles on 46 miles of track serving 38 stations in the two-state area, and operates Metro Call‑A‑Ride, a paratransit fleet of 122 vans. Metro Transit is a Bi-State Development enterprise.