June 7, 2021
Gateway Go Card Returns to Connect Young People to Jobs & Opportunities this Summer
Return to Blog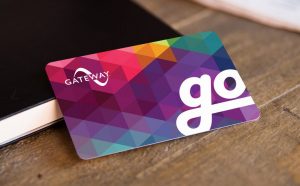 The Gateway Go Card is back this summer, providing people ages 13 to 25 with an easy, reliable and very affordable option to commute to summer jobs, camps, recreational programs, personal and professional development opportunities and other destinations. The program aims to provide mobility and independence to young persons in the St. Louis region, offering a discount of up to 66% to ride MetroLink and MetroBus. The program will run through August 31, 2021.
The Gateway Go program, which launched in 2018, is a partnership with the City of St. Louis, St. Louis County, St. Clair County, St. Clair County Transit District, Metro Transit and Bi-State Development.
This year's program comes with two significant enhancements. It includes an $80 Summer Pass, which will cover unlimited rides on MetroLink and MetroBus through August 31, representing a significant savings from the cost of three regular monthly passes. In addition, for the first time, it includes a variety of mobile passes, conveniently available to Gateway Go participants via the Transit app.
Once you have signed up for a Gateway Go mobile pass, you will be able to access all of the available discounted passes quickly and easily through your mobile devices – no cards needed. The discount given through the mobile pass is accessible exclusively to members of the Gateway Go Card program.
Fares available on mobile for Gateway Go participants include:
3-Month Summer Pass = $80
Two-Hour Pass = $1.50 (half fare)
MetroLink One-Ride = $1.25 (half fare)
MetroBus One-Ride = $0.50 (half fare)
Fares available on the Gateway Go Card, include:
3-Month Summer Pass for $80
Cash Value up to $100 to come off as half fare on one-rides or two-hour passes
June, July & August 2021 individual Monthly Passes are $39 per month – available only via physical card, not via Transit mobile app
Securing a Gateway Go Card is easy – after you provide proof of age using a driver's license, birth certificate, state ID, school ID or passport, you will be able to take advantage of discounts to ride MetroLink and MetroBus routes on the entire Metro Transit system. To sign up for a Gateway Go mobile pass, visit metrostlouis.org/gatewaygo. You will need an email address, which is required for a Transit App account through which the mobile fares will be available. Groups seeking to register multiple people for the Gateway Go program should contact Metro Transit at [email protected] or call 314.982.1500 or 618.274.1500.
The Gateway Go Card will also be available at the MetroStore, where staff will be available to help you navigate your journey on the transit system. The MetroStore is located at 801 Pine Street in downtown St. Louis (by the 8th & Pine MetroLink Station). The store is open Monday through Friday, from 8:30 a.m. to 5 p.m.
For more information about the Gateway Go Card, visit www.MetroStLouis.org/GatewayGo
Return to Blog
Categories:
Metro Lifestyle
,
Technology
,
Transit Benefits