June 15, 2017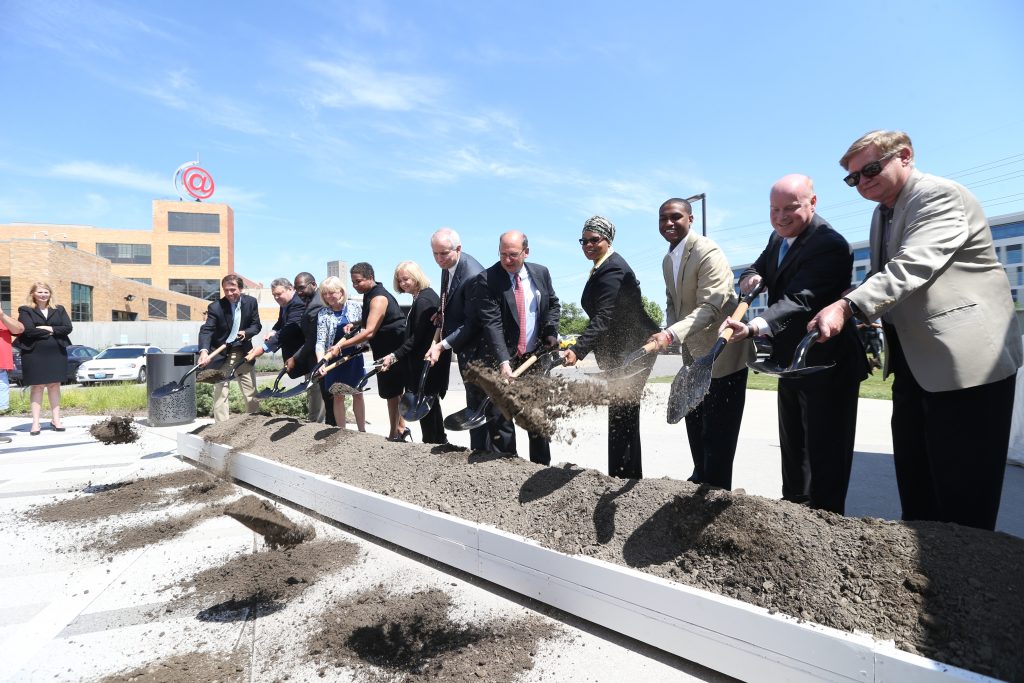 Construction on the first new MetroLink station to be built in the St. Louis region in more than a decade will begin this summer in the Cortex Innovation Community, which is located in the central corridor.
Regional leaders joined project partners and the public on June 8 for the ceremonial groundbreaking for the new Cortex MetroLink Station and Chouteau Greenway, a paved path where people can walk, run or ride a bike. The new station will provide another transportation option for those who will fill an estimated 13,000 permanent jobs expected to be created in the Cortex Innovation Community and throughout the central corridor. This is the first Metro station to be built from public and private funds.
Representatives from the funding partners — Cortex Innovation Community, Great Rivers Greenway, Washington University, BJC HealthCare and the City of St. Louis — joined Metro and Bi-State Development to kick off the project. The new MetroLink station will become the 38th station to be constructed on the current light rail system, and will be located between the Grand Station and Central West End Station, between Boyle Avenue and Sarah Street. The project also calls for the extension of the platform at the Central West End MetroLink Station, which has the highest ridership on the entire alignment.
"This public-private partnership is an outstanding model for how the region, and the nation, can approach infrastructure needs in the future," said John Nations, President and Chief Executive Officer of Bi-State Development, whose Metro enterprise operates the MetroLink light rail system for the region. "Projects like this are more important than just helping people get from point A to point B. It is about making an investment in our community; an investment that will help attract workers and create new jobs; an investment that will serve as a catalyst for new business and economic development; an investment that will position the City of St. Louis and the entire bi-state region for even more prosperity and success in the years to come."
St. Louis Mayor Lyda Krewson spoke about the importance of the project. "Young people want to live and work in safe, fun, walkable communities; and employers want the same," said Krewson. "This new MetroLink station is part of that equation. Anytime we can make it easier to get to work, school or other destinations, we're doing our part to make the city grow."
Also speaking at the event to provide more details about the greenway element of the project was Susan Trautman, Chief Executive Officer at Great Rivers Greenway. This project includes the first quarter-mile section of the Chouteau Greenway that will be built between Boyle and Sarah Avenues. When the entire five-mile greenway is complete, people will be able to walk or ride a bike all the way from the Gateway Arch to Forest Park—on a paved, accessible greenway that is separate from the street.
"We are at the beginning of the vision for the Chouteau Greenway, which eventually will connect Forest Park, Washington University Medical Center, Barnes-Jewish Hospital, Cortex Innovation Community, St. Louis University, Harris Stowe, the downtown business district and neighborhoods north and south," Trautman said. "This marks the first step in the project, and with our many partners, we will develop this greenway as a common ground to enrich lives, strengthen relationships, bridge communities and create places that attract and retain talent and improve quality of life."
Joseph Roddy, St. Louis Alderman for the 17th Ward, said the project is already having a positive impact. "The anticipation of this station has already led to development rippling in every direction from here," Roddy said. "What you're doing here by making this investment, letting the train stop here, is really transformative. It will change the lives of hundreds, if not thousands of people."
Hank Webber, chairman of Cortex, talked about the 4,000 people already employed by companies in the Cortex Innovation Community and what the project means to them and the others who will join them as they continue on their path to creating 13,000 jobs within the next 10 years.
"They want to live in a region that has a vibrant public transit system," said Webber. "This is about connections between large institutions and small firms, and how a region goes from pockets of great strength to a great whole."
One of those large institutions, BJC HealthCare, has more than 1,000 employees in the corridor to be served by the new station and whose main campus surrounds the busy nearby Central West End MetroLink Station.
"At BJC, we focus on our vision of making medicine better, but we also focus on making the St. Louis region better," said June McAllister Fowler, Senior Vice President, Communications, Marketing and Public Affairs. "Public transit plays a critical role in achieving this goal."
That sentiment was shared by Washington University's Vice Chancellor for Operations and Technology Transfer Dedric Carter. Washington University is Metro's largest university pass customer.
"Washington University has been a historic and strong supporter of public transit as part of a robust transportation strategy for the University. We believe this project will be catalytic for our community," said Carter. Using a quilting analogy, he went on to state "The station is an important stitch in the fabric of St. Louis."
Primary funding for the project is provided from a $10.3 million Transportation Investment Generating Economic Recovery (TIGER) grant from the U.S. Department of Transportation. The remaining funds for the estimated $15 million project will come from Cortex Innovation Community, Great Rivers Greenway, Washington University, BJC HealthCare and the City of St. Louis/St. Louis Development Corporation. Bi-State Development was one of nearly 800 applicants from around the country for a TIGER grant, and this project as one of just 72 that were actually awarded grant money, representing quite an achievement.
"This great public-private partnership will improve the MetroLink infrastructure for the benefit of the transit riding public, and that, in turn, will enhance the entire community," said Ray Friem. Friem, the Executive Director of Metro Transit, is leading the project with the assistance of the Metro team. "This partnership can serve as a model for future transit infrastructure projects."
Additional partners whose support and advocacy helped make this project possible include Citizens for Modern Transit, which led the effort to develop the draft feasibility study for the new station in 2014;  East-West Gateway Council of Governments; Missouri Department of Transportation; IKEA; Wexford Science and Technology, and several federal and local officials, including U.S. Senator Claire McCaskill and former St. Louis Mayor Francis Slay.
"This station, this project, this partnership is about so much more than its individual elements," said Nations. "It's about getting the best of St. Louis to do the best for St. Louis."
The project is expected to support approximately 170 construction jobs and is slated for completion in 2018.  HNTB Corp. led the project design team, which included KAI, Access Engineering, Glasper Professional Services, TSi Geotechnical and Kivindyo Engineering Services, all of St. Louis.
Return to Blog