October 6, 2022
Metro Transit is Your Ticket to the St. Louis Cardinals Postseason
Return to Blog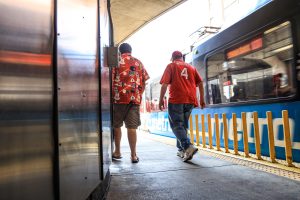 Thousands of baseball fans will be heading into downtown St. Louis this weekend to watch the St. Louis Cardinals as the Philadelphia Phillies for the first round of the MLB playoffs. Metro Transit makes it easy for you to enjoy all of the fun, thrills and excitement of postseason baseball while avoiding road construction, parking hassles and traffic jams.
MetroLink is a great option, providing convenient service to the Stadium MetroLink Station, located just steps away from Busch Stadium and Ballpark Village. Park your vehicle at any one of 20 free Metro Park-Ride lots at MetroLink stations in Illinois and Missouri, purchase a $5 Day Pass and ride MetroLink to the Stadium Station to get to all of the action.
Additional security and personnel will be on the transit system to assist you. Please note that Blue Line MetroLink service is currently only operating between the Shrewsbury-Lansdowne I-44 and Forest Park-DeBaliviere MetroLink Stations due to damage from unprecedented flooding in July. Blue Line passengers will need to exit their Blue Line train at the Forest Park-DeBaliviere Station and transfer to an eastbound Red Line train to continue their trip to Stadium Station.
The St. Louis Cardinals are scheduled to play at 1:07 p.m. on Friday, October 7, at 7:37 p.m. on Saturday, October 8, and if needed, at 7:37 p.m. on Sunday, October 9. As trains and platforms may be crowded before, during and after the games, passengers are encouraged to allow extra time for their commutes and to pay close attention to children and others they are traveling with so they do not get separated.
Plan your trip to Cardinals playoff baseball by using the online schedules and maps, using the Transit app, or by contacting Metro Transit Information at 314.231.2345 (phone) or 314.207.9786 (text), available Monday through Friday from 7 a.m. to 6 p.m.
Return to Blog