November 30, 2017
St. Louis Adopts 200 MetroBus Stops in First Year of New Program
Return to Blog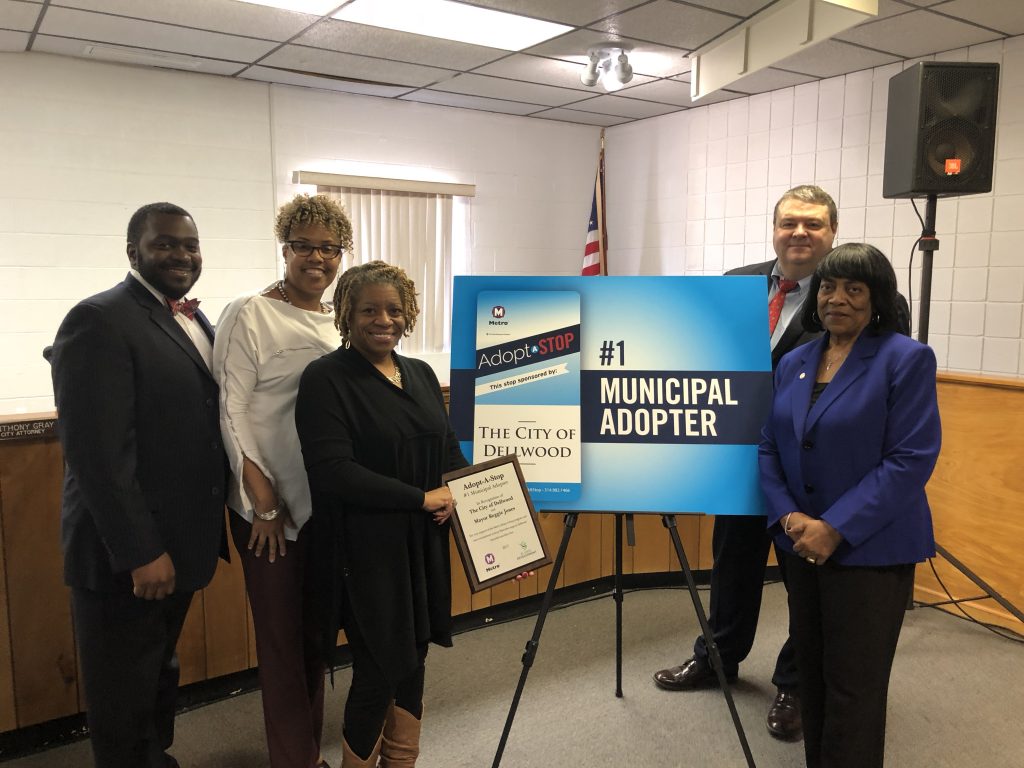 Metro transit has named the city of Dellwood as its top municipal partner in St. Louis County for the Adopt-A-Stop program.
Dellwood has adopted a total of 16 MetroBus stops since the program launched more than a year ago. Dellwood is among the more than 100 organizations and individuals who have adopted and are maintaining 200 MetroBus stops in the city of St. Louis and in St. Louis County. The goal of Adopt-A-Stop is to increase civic pride while creating a more pleasant transit experience for Metro riders and for residents and businesses in the neighborhoods and communities Metro serves.
---
Video: City of Dellwood calls on other communities to join Adopt-A-Stop program.
---
"The Adopt-A-Stop program is a great way for everyone to keep Dellwood beautiful, and it is an important part of a larger, comprehensive effort with the Great Streets program and other community initiatives to improve and enhance Dellwood and North St. Louis County," said Reggie Jones, Mayor of Dellwood. "It's a win-win not only for North County, but for the entire region, so I challenge the mayors in neighboring communities to adopt all the stops in their municipalities. Let's see if they can even come close to adopting 16 stops like we have here in Dellwood."
Located in North St. Louis County, Dellwood is one of the many communities in St. Louis County Councilwoman Hazel Erby's District 1.
"I am proud of the city of Dellwood for their involvement with the beautification of our St. Louis community," said Erby. "When you hear about a great idea, you sometimes wish you would have thought of it. I'm just glad Metro thought of this program."
"Public transit and moving people safely and efficiently is part of supporting and sustaining a healthy economy," said Ray Friem, Executive Director of Metro Transit. "Future businesses, visitors, motorists, pedestrians and cyclists get their first impressions of our region as they travel down the streets into our neighborhoods – so we want our bi-state communities to be attractive and inviting, and for the bus stops to enhance a positive transit experience. "
Metro is also recognizing Great Southern Bank as its number one business partner for adopting 17 MetroBus stops in St. Louis County. One of those stops adopted by the bank is located in Dellwood on West Florissant Avenue.
"Keeping our communities clean is critical," said Eric Mitchell, Assistant Regional Manager for Great Southern Bank. "Businesses are a reflection of our community, so keeping our businesses and nearby bus stops clean and litter-free is important. This has always been a priority for Great Southern Bank."
Metro launched the Adopt-A-Stop program in August 2016 as a way for individuals,  businesses, groups, not-for-profit organizations and municipalities to contribute to their communities by sponsoring MetroBus stops in the bi-state region.
Return to Blog