April 6, 2022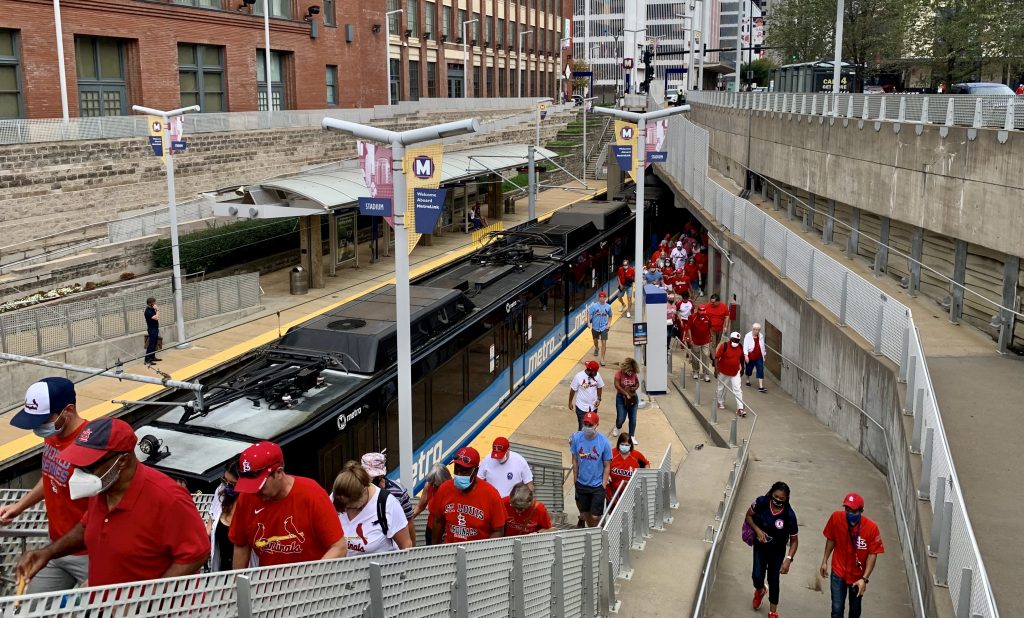 Cardinal's baseball is back this week! Opening Day is Thursday, April 7, and tens of thousands of baseball fans will head to downtown St. Louis for Opening Day festivities, the return of Albert Pujols and the Cardinals first game of the season against the Pittsburgh Pirates starting at 3:15 p.m.
Metro Transit makes it easy for you to enjoy all of the fun and excitement without the hassle of traffic jams, road closures, paying for parking and feeling pain at the pump. You can park for free at any of the 19 Metro Park-Ride lots at MetroLink stations in Missouri and Illinois, purchase a $5 Metro Day Pass for unlimited trips on MetroLink, and ride the train to the Stadium MetroLink Station to get to Busch Stadium, Ballpark Village or Kiener Plaza. Or ride to any of the other downtown MetroLink stations to enjoy other Opening Day rallies and activities.
MetroBus is also another great option, with more than a dozen MetroBus routes serving the Civic Center Transit Center, which is located just a couple blocks west of Busch Stadium.
Metro will have additional security and personnel available throughout the Metro system on Opening Day to assist passengers.
Note: The Redbird Express is not operating this season due to operator shortages.
Masks Are Required on Metro Transit
Per a federal mandate, masks continue to be required while riding MetroBus, MetroLink and Metro Call‑A‑Ride, and at MetroLink stations and Metro Transit Centers.
Plan Your Trip
To plan your trip to Opening Day, use our online Trip Planner or download the Transit app to plan your trip and pay your fare, or contact Metro Transit Information at 314.231.2345 (phone) or 314.207.9786 (text), available 7 a.m. to 6 p.m., Monday through Friday.
Return to Blog
Categories:
Metro Lifestyle