We're In This Together
Slowing the spread of COVID-19 is a team effort.
Metro Transit is communicating with local, regional and state health officials and will continue to closely monitor operations and make necessary adjustments to support the health and safety of transit operators and riders during the pandemic. However, we need your help to prevent the spread of the coronavirus.
Transit riders who have questions or require assistance are encouraged to call or text Metro Transit Information at 314-231-2345 (phone) or 314-207-9786 (text), Monday through Friday from 7 a.m. to 6 p.m.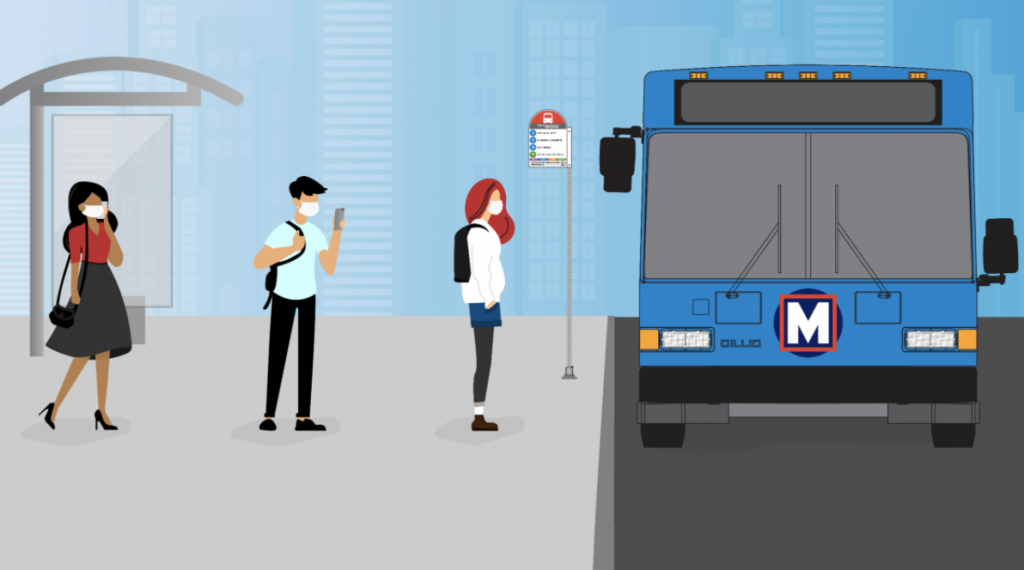 Ride Safely
Personal awareness is an important part of public health efforts. We encourage everyone using MetroLink, MetroBus and Metro Call-A-Ride to consider these points before riding:
In support of safety for riders and employees, riders and team members must wear a mask when riding Metro Transit.
Use Face Coverings
To help protect transit riders and operators from the spread of coronavirus, Metro Transit is taking the important step of requiring all customers to wear face coverings when riding MetroBus, MetroLink or Metro Call-A-Ride. If you are not wearing a face covering, you will not be permitted to board.
The requirement to wear face coverings on public transit follows recommendations from the Centers for Disease Control and requirements from state/local governments asking people to wear a face covering over their noses and mouths when in a public environment where social distancing is not always possible.
Many types of cloth face coverings are permitted including homemade and non-medical masks, handkerchiefs, and bandanas, but they must fit over your nose and mouth and be worn during your entire trip on a Metro Transit vehicle.*
* This policy does not apply to children ages 2 and under, and customers who have trouble breathing, are incapacitated or are unable to remove the cover without assistance. Please notify your operator before boarding if you require an exemption.
Everyday Preventive Actions
Wearing face coverings should be practiced in combination with other everyday preventive actions to reduce the spread of COVID-19, including social distancing, frequently washing your hands and monitoring your own health daily.

Social Distance:
Limiting close face-to-face contact with others is the best way to reduce the spread of COVID-19.
Wash Your Hands:
The cleaning spray and liquids we use to clean and disinfect our vehicles are CDC-approved to fight COVID-19. However, as soon as someone touches one of the surfaces, it is no longer disinfected. We have set up several hand-washing stations for you and other riders to use on the system in some of the areas where restrooms aren't readily available.
Monitor Your Health
If you have a fever, respiratory issues or any other symptoms, please do not ride Metro Transit.
Everyone has a role to play in slowing the spread and protecting themselves, their family, and their community. In addition to practicing these everyday steps, keeping space between you and others is one of the best tools we have to avoid being exposed. For the most up-to-date information about preventing the spread of COVID-19, visit the Centers for Disease Control and Prevention's website.
Stay informed on the latest updates at metrostlouis.org/health.