May 12, 2021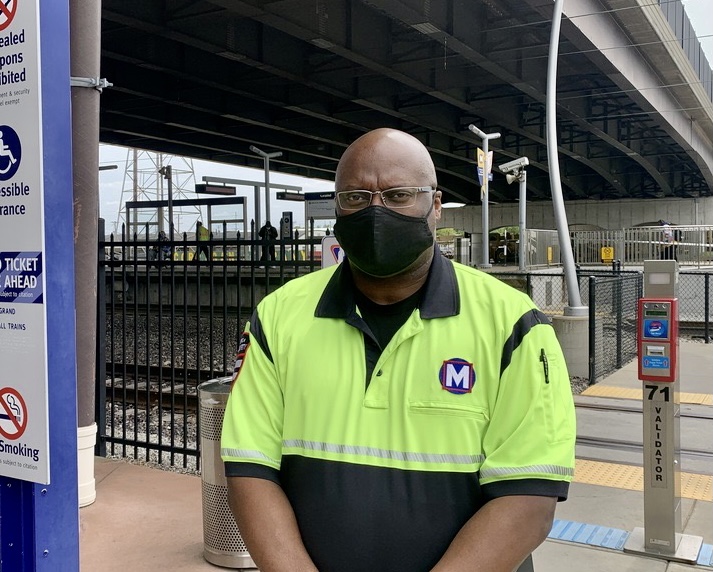 For some, it takes years to figure out what their path in life will be when it comes to their job or profession. For others, it's almost like they were born to do it.
Tony belongs in the second group.
"I knew I wanted to be a police officer when I was 3 years old," Tony said.
That childhood dream to be a member of law enforcement and serve his community fueled a 24-year career with the St. Louis Metropolitan Police Department, including 13 years on the department's SWAT team.
"I loved being a police officer," Tony said. "Every day was unique, and I always enjoyed helping the public."
Tony left the department as a Lieutenant, and for the last five years, he's been a part of the Metro Transit Public Safety team. As a Field Supervisor, Tony spends his time patrolling the transit system, supporting Transit Security Specialists, working with community organizations, and coordinating with our contracted security team from G4S and our law enforcement partners. His nearly three decades of law enforcement and security experience are a valuable resource for these important relationships.
"A lot of my work as a police officer required close interactions with other agencies, and I think that collaborative effort and having those partnerships, really lends itself to what we are doing now with our layered approach to security," Tony said. "With our G4S team, a lot of what I do is education, making sure they have the knowledge to address different types of situations and interactions."
That layered approach to transit security – including Metro Transit Public Safety, contracted security, law enforcement partners at Metropolitan St. Louis Police Department, St. Louis County Police Department, St. Clair County Sheriff's Department, and secondary off-duty law enforcement officers – is one part of our new Comprehensive Safety and Security Program. Tony has noticed a significant improvement with the new approach.
"Our new strategy is allowing us to be customer-focused and provide our riders with better service," Tony said. "Our relationships with law enforcement are stronger. The shift to zoned deployment and active patrols makes us more visible, faster to respond, and a stronger deterrent to bad behavior. We're more effective, because we are where our customers are."
When you are out riding with us, be sure to say hi if you see Tony when he's patrolling the Metro Transit system, and check out our Q&A below to learn a little more about him. Click here for more information about our Public Safety strategy, and if you have any questions, be sure to join us tomorrow for Transit Talk, where you can learn more about transit security from Kevin Scott, General Manager of Field Security.
---
What was your first job out of high school?
St. Louis Metropolitan Police Department. I actually first started working with the department while I was still in high school through a special program. I started off as a dispatcher, and then worked my way up from there.
What do you like to do in your free time?
I have been investing in real estate, and I like to travel. Before the pandemic, I had planned on traveling to Manila, and I also want to go to Europe and the Caribbean.
Do you have any advice for someone who is new to riding Metro Transit?
Get out there and try the system out. You'll like it. It's easy to use, and if you have any questions or issues, ask any member of our Public Safety team. We are happy to help.
Return to Blog
Categories:
Safety
,
Team Metro