Transit Talk: Where we're going and how we're getting there.
Join us on Thursday, May 13, at 2 p.m. for Transit Talk on Facebook Live with Kevin Scott, General Manager of Field Security. Kevin will discuss our approach to public safety and the changes that have been made to improve security on Metro Transit and provide our riders with a safe, comfortable and convenient ride.
Transit Talk lets you hear from the experts and leaders at Metro Transit – learn about the latest news and developments and ask your questions about the region's transit system. Tune in to hear where Metro Transit is going and how we're getting there.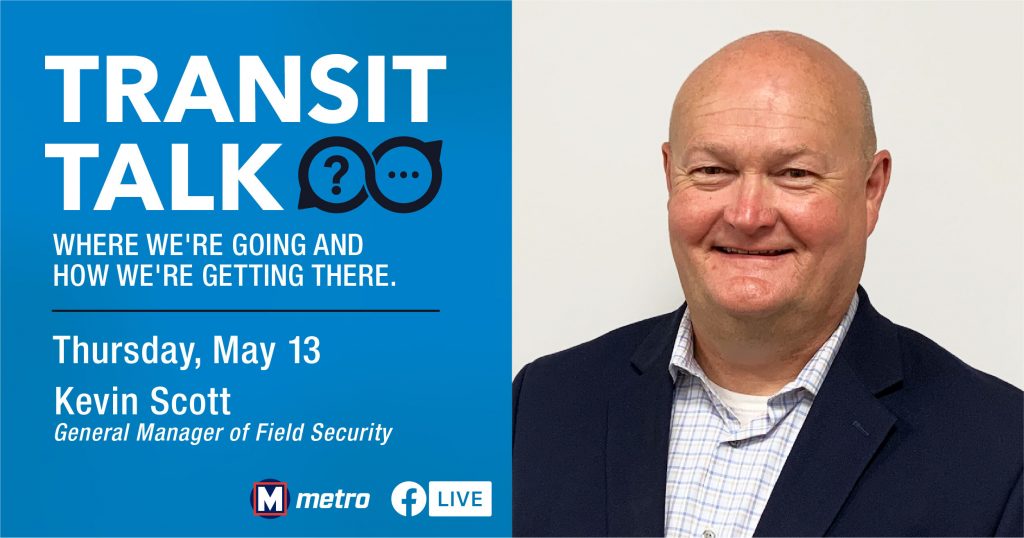 Submit Your Transit Talk Questions
Ask your questions using the form below. We will answer as many as time allows during our Facebook Live conversation.
Frequently Asked Questions About Public Safety
• Who is Kevin Scott? Kevin Scott joined our Metro Transit Public Safety team in August 2019, and leads Metro's Public Safety Team and its collaboration with regional law enforcement partners and contracted security personnel. Kevin served as the Chief of Police in Ballwin, Missouri for three years, and was with the Ballwin Police Department for 27 years. A respected member of the region's law enforcement community, his proven success in community-oriented policing supports the refinement of Metro Transit's customer-focused approach to safety and security.
• How does public safety work on the system? Our team is everywhere our customers are — on the light rail platforms, at transit centers, on board MetroBus vehicles and MetroLink trains. Metro's comprehensive, multi-layered approach to safety and security includes uniformed law enforcement, Metro Transit Security Specialists, security officers and fare inspectors.
• Is Metro Transit safe? Metro Transit is very safe. Not only is Metro an industry leader in operational safety, crimes and other serious incidents are very rare on the system. The majority of the issues that our Public Safety team addresses relate to minor offenses and behavior — like eating on the train or smoking in inappropriate areas. In response, we have established a Passenger Code of Conduct to ensure everyone follows the rules and respects their fellow riders. Repeat offenders who do not comply with these rules could face citations, removal from the Metro Transit system and/or suspension of their transit privileges through the Ride and Abide policy, click here for more information.
• Are Metro Transit security guards armed? Our contracted security officers and Transit Security Specialists are focused on patrolling the system, assisting customers and addressing nuisance behavior, and are equipped with batons, tasers and other resources. Our law enforcement partners at the St. Louis County Police Department, Metropolitan St. Louis Police Department and the St. Clair County Sheriff's Department provide an armed, uniformed presence on the system. We have also partnered with the St. Louis Sheriff's Office and St. Clair County Sheriff's Department for their deputies to serve as secondary officers, providing an additional armed, uniformed presence as they patrol MetroLink stations, Metro Transit Centers and Metro vehicles.
• Are weapons allowed on Metro Transit? Weapons and firearms, concealed or in the open, are prohibited on Metro Transit.
• Who do I contact if I have an issue while riding? Metro Public Safety is available 24/7 to address any of your concerns. Text 314.300.0188 or call 314.289.6873.
How to Watch
You do not need to have a Facebook account to watch Transit Talk, but you will need one if you wish to ask questions during the discussion.
• Visit our Facebook page at 2 p.m. on Thursday, May 13.
• You may need to refresh the page if you visited before the start time.
• Our Facebook Live stream will show up at the top of the page.
• Click on the video to start watching (you may need to click the volume button in the bottom right to turn on sound).