May 14, 2021
Transit Talk: Our Public Safety Vision with Kevin Scott
Return to Blog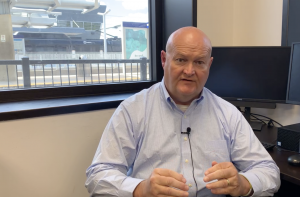 On Thursday, May 13, we hosted our first Transit Talk on Facebook Live. Kevin Scott, General Manager of Field Security, joined us to discuss our approach to public safety and the changes that have been made to improve security on Metro Transit and provide our riders with a safe, comfortable and convenient ride.
Check out our Q&A below to check out some of the questions about safety and security we covered:
How does public safety work on the system?
Our team is everywhere our customers are — on the light rail platforms, at transit centers, on board MetroBus vehicles and MetroLink trains. Metro's comprehensive, multi-layered approach to safety and security includes uniformed law enforcement, Metro Transit Security Specialists, security officers and fare inspectors.
Is Metro Transit safe to ride?
Yes, Metro is safe to ride. We have a dedicated staff that work on a daily basis with coordinated security plans, and we have outstanding collaboration with our police partners. Not only is Metro an industry leader in operational safety, crimes and other serious incidents are very rare on the system. The majority of the issues that our Public Safety team addresses relate to minor offenses and behavior — like eating on the train or smoking in inappropriate areas. In response, we have established a Passenger Code of Conduct to ensure everyone follows the rules and respects their fellow riders. Repeat offenders who do not comply with these rules could face citations, removal from the Metro Transit system and/or suspension of their transit privileges through the Ride and Abide policy, click here for more information.
What are some of the top recommendations that have been met from the WSP report?
There have been a number that have been fulfilled. The 99 recommendations cover six categories: Security Strategy, Police and Security Staffing, Procedures and Training, Fare and Fare Enforcement, CPTED, and Technology. We have a layered approach to safety and security, and we have to marry all of our efforts into a one team approach with all of our partners. Those are the areas that we have really been focused on to provide the foundation for overall improvement.
You can find more details, including the latest security scorecard, here.
How do you handle a guard not doing their job?
We have solid, professional leadership on the security level, and when security officers join our team they are getting specific training, and we set our expectations right away. We are all working for the betterment of the region, no matter your role. We have an expectation that our vision and customer approach is followed all the time. If there are any incidents or specifics, we want to hear them. We need to know about it so we can address it. And we are always looking for ways to improve. We all want to get better.
What is going on with concealed carry?
There is a Missouri House Bill that passed in the House of Representatives, and is pending in the Senate that would allow people with a concealed carry permit to access public transit throughout the state of Missouri if they have their permit. Our dynamic in the region is different. We are a bi-state operation. We operate under a federal compact that states only law enforcement officers should carry weapons on our system. And that is our stance: Only law enforcement officers will carry firearms on the Metro Transit system.
Our Public Safety team is available 24/7 to address any of your concerns. Text 314.300.0188 or call 314.289.6873.
Transit Talk lets you hear from the experts and leaders at Metro Transit – learn about the latest news and developments and ask your questions about the region's transit system. Hear where Metro Transit is going and how we're getting there.
Stay tuned for future Transit Talks. If you have a topic you would like covered, send an email to [email protected] or visit metrostlouis.org/transit-talk to submit your question.
Return to Blog
Categories:
Safety