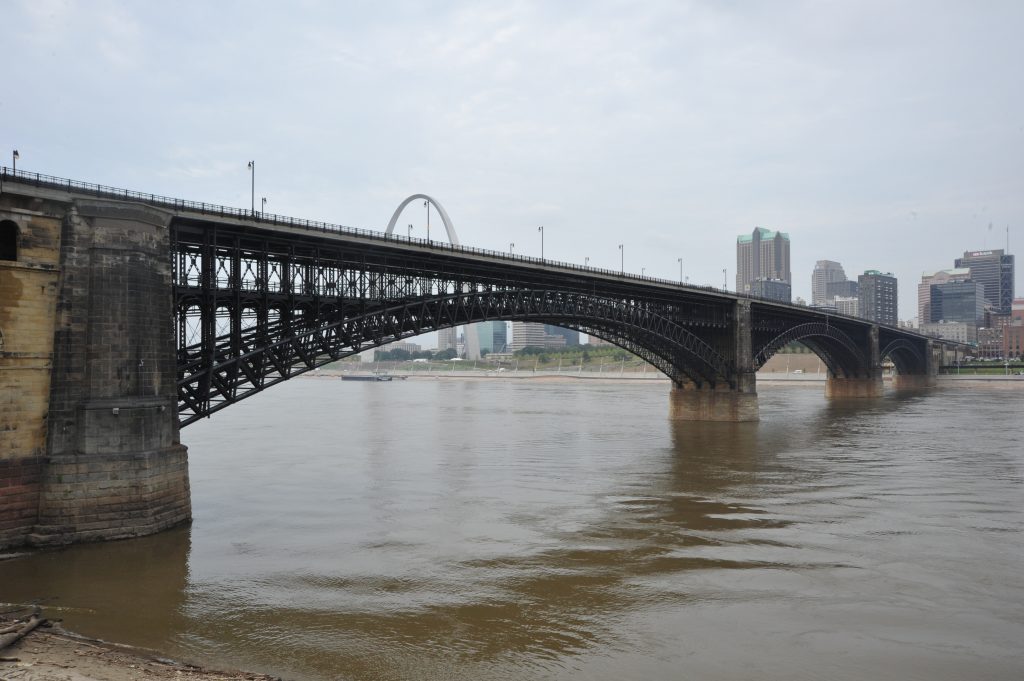 Eads Bridge: First Full-Scale Rehabilitation for a St. Louis Icon
Dedicated in 1874, the Eads Bridge is the oldest bridge still in operation across the Mississippi River. After almost a century and a half of use, a $48 million comprehensive rehabilitation project was needed to extend the life of the bridge for 75 years for pedestrians, vehicles and the MetroLink light rails system.
Metro obtained co-ownership of the Eads Bridge as part of the original MetroLink project. Since then, the bridge has played and will continue to play a critical economic and structural role in the plans for the region's light rail system as we've seen its life span increase by about 50 years.
The crews working on the rehabilitation of this true engineering marvel encountered some challenges of their own, which came as a result of working on 19th century structure with a number of unknowns that could only be uncovered once the project team started to get to work. Crews not only had to overcome working with an unknown type of alloy, but also on how to reuse or fabricate handmade pieces from the 1870s. Through this landmark project, support steel that dates to the 1920s or older has been replaced, and the entire superstructure has been blasted and repainted. The MetroLink track system has also been upgraded, including rail, ties and the installation of new Overhead Conductor Rail, making Metro one of the first transit systems in the nation to use this state-of-the-art technology to power the trains more efficiently and reliably.
The first phase of the project focused on the north side of the bridge, which was completed and opened to traffic in October 2014. The bridge rehabilitation was fully completed in October 2016.
Project Details
Start Date: September 2012
Completion Date: October 2016
Project Cost: $48 million
Project Funding
Project Partners
More Information:
Federal Transit Administration's Top Leader Tours Federally-Funded Metro Transit Project Sites
Eads Bridge Rehabilitation Project Moves Into Second Phase 
The Eads Bridge Project: Extending the Life of an Important National Landmark Still in Use Every Day
Eads Bridge Rehabilitation: Project Update for September
Metro Announces Major Project to Restore Eads Bridge
Walking Inside the Eads Bridge Rehabilitation Project
Eads Bridge Rehab and Interlocking Projects