July 6, 2017
Bi-State Development Sparks Huge Savings With Energy-Efficient Lighting
Return to Blog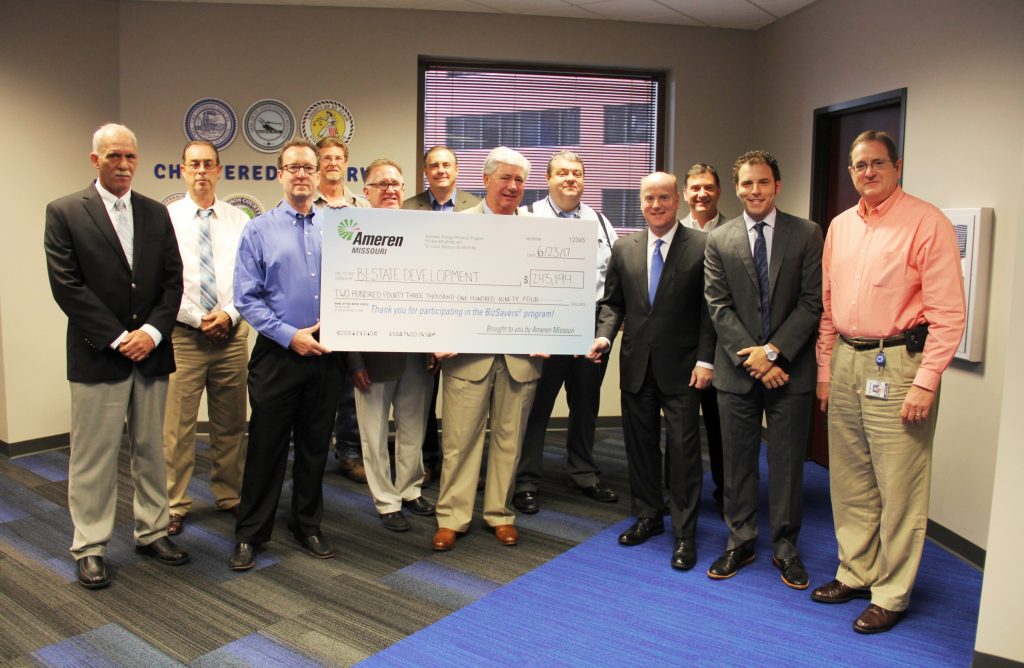 While it's true Metro transit is an industry-leader in operational efficiency and reliability, and is known around the world for its innovative maintenance program, there's one area where we were falling behind.
Our lights.
If you walked through a Metro transit facility a few years ago, you would have noticed that the lights shining down on the trains, buses and vans weren't the brightest. They also weren't the most energy efficient.
"We needed to upgrade to a newer technology," said Andrew Ghiassi, Manager of Safety and Loss Control at Bi-State Development. "It was time."
It just so happened that while Ghiassi was thinking about stronger and safer lighting options, he experienced a spark of inspiration.
"I attended an Ameren seminar," he said. "They mentioned a new program called Ameren Missouri BizSavers, a program to encourage companies to reduce their energy consumption."
In 2015, Bi-State Development partnered with Ameren Missouri and began a substantial updating project – replacing old, high-pressure sodium light fixtures with new, state-of-the-art light-emitting diode (LED) fixtures. When the project was completed in the spring of 2017, more than 1,900 light fixtures had been upgraded at five Metro transit facilities: Brentwood MetroBus Facility; Central Facility; DeBaliviere MetroBus Facility; Illinois MetroBus Facility; and Missouri Rail Yard and Shops.
Several Metro employees played an integral role in this project: Darren Curry, Chief Mechanical Officer; Chuck Clemins, Senior Director of Maintenance of Way; Marvin Dixon, Supervisor of MetroBus Support Services; Terrence Trower, Superintendent-Main Shop; Brian O'Hara, Supervisor of MetroBus Maintenance; William Kamler, Electrician; Adam Biagi, Electrician; Larry Rohde, Electrician.
"It was a monumental undertaking to replace all of these lights – these industrial fixtures are quite large. The team did an amazing job," Ghiassi said. "And the feedback has been great. All of our mechanics, technicians, operators are thrilled with the new lights."
The improved illumination is just one of the many benefits of the new light fixtures. In addition to making employee work environments brighter – and safer – the new lights reduce labor costs, as they require no maintenance for the first 100,000 hours of operation. They consume less energy as well, to the tune of 3.2 million fewer kilowatt-hours of electricity each year. For Bi-State Development, that translates into an annual savings on energy cost of more than $236,000.
"Bi-State Development is always looking for ways to be more efficient, and we take special pride in making sure we maximize the value of the financial resources entrusted to us," said John Nations, President and Chief Executive Officer of Bi-State Development. "This partnership with Ameren Missouri has produced amazing results, from increasing safety at our facilities to improving our energy usage and costs."
As part of the Ameren Missouri BizSavers program, Bi-State Development received a cash incentive for the lighting upgrades, and representatives from Ameren Missouri presented a check for $243,194 at a recent Board of Commissioners meeting.
"Ameren Missouri is committed to energy efficiency, and we actively support organizations to help them find ways to improve their operations and infrastructure, save energy, and ultimately save money," said Rich Wright, Manager of Energy Efficiency at Ameren Missouri. "We are proud to have worked with the team at Bi-State Development over the last few years on this project, which has delivered some amazing benefits already, and will continue to generate substantial energy cost savings for years to come."
Return to Blog