The safety of our passengers and team members is our top priority during this challenging time. In response to the coronavirus (COVID-19), we have implemented a stringent cleaning and disinfecting protocol for MetroBus, MetroLink and Metro Call-A-Ride, and have incorporated extra cleaning and disinfecting efforts at our transit centers.
Fares During COVID-19
MetroBus – Metro has temporarily waived cash fares on MetroBus. MetroBus passengers do not need to purchase their fare at the farebox, and do not need to present their ticket or pass to the operator. All passengers are asked to use the rear doors to board and exit their bus.
MetroLink – Valid fare is still required for MetroLink. All passengers must have a valid ticket or pass while riding MetroLink.
Metro Call-A-Ride – Metro has temporarily waived cash fares on Metro Call-A-Ride.
MetroBus and Metro Call-A-Ride cash fares are temporarily waived until April 14, 2020.
Updates
Updated 3/29/2020
Service Suspended on 4 MetroBus Routes Beginning March 30
Metro is shifting its available personnel and transit vehicles in response to the COVID-19 crisis. Beginning Monday, March 30, Metro Transit will temporarily suspend service on four Missouri MetroBus routes: #1 Gold | #5 Green | #17 Mackenzie | #59 Oakland.
---
Updated 3/29/2020
Effective immediately, MetroLink passengers will not be able to board or exit the train using the first door at the front of the train. This door will remain closed to help maintain social distancing between operators and passengers. Riders may use any other door to board or exit MetroLink trains.
---
Updated 3/26/2020
MetroBus Riders Should Plan Ahead for Delays
Due to fewer workforce resources, it is necessary to reduce the frequency of MetroBus services. MetroBus riders are encouraged to plan ahead and allow more time for their commutes, as delays are possible on all MetroBus routes.
Click here for more information on changes to MetroBus services.
---
Updated 3/24/2020
The Transit Access Center and MetroStore are currently closed to visitors, but are still serving customers remotely. To reach the Transit Access Center, call 314-982-1510 or email adaservices@metrostlouis.org. For MetroStore, call 314-982-1495 or email metrostore@metrostore.org.
---
Updated 3/20/2020
Service Adjustments for COVID-19
Metro is making several adjustments to transit services and operations for the safety of transit riders and Metro employees, and to minimize the spread of COVID-19 through the community.
Beginning Monday, March 23, Metro Transit will begin operating a modified weekend schedule during weekdays until further notice. In addition, Metro is temporarily waiving fare enforcement of cash fares on MetroBus and Metro Call-A-Ride. Fare enforcement will continue on MetroLink.
Click here for more information.
---
What We Are Doing
• MetroBus, MetroLink and Metro Call-A-Ride vehicles are being sanitized every night with CDC-approved disinfectants and cleaning agents.
• During operation, any vehicles with unsanitary conditions are immediately removed from service for disinfecting.
• Wiping down and disinfecting high-touch surfaces on Metro vehicles and at transit centers and MetroLink stations.
• Hand-washing stations have been installed for our riders at the North Hanley, Rock Road, Delmar Loop, Shrewsbury-Lansdowne I-44, Maplewood-Manchester, Brentwood I-64, Richmond Heights, Clayton, Forest Park-DeBaliviere, Central West End, Grand, Civic Center, 8th & Pine, Convention Center, 5th & Missouri, Emerson Park, Fairview Heights and Belleville Transit Centers.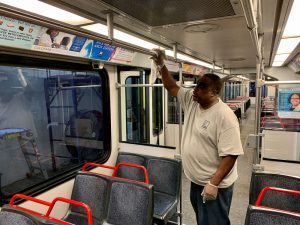 The cleaning spray and liquids are CDC-approved to fight COVID-19. Please keep in mind though as soon as someone touches one of the surfaces, it is no longer disinfected. We have set up several hand-washing stations for you and other riders to use on the system in some of the areas where restrooms aren't readily available.
We're In This Together
We are keeping a close eye on COVID-19 developments and are communicating with local, regional and state health officials. However, we also need your help to prevent the spread of the coronavirus and keep everyone safe – it really is a team effort.
Here are some actions you can take to slow the spread of coronavirus:
• Wash hands frequently with soap and water for at least 20 seconds.
• Cover sneezes and coughs.
• Avoid touching your face after being in public places.
• Distance yourself from other riders as needed. It's not rude to get up and move if you need to.

We are committed to keeping the region moving by getting people to jobs, stores and essential services. Riders will be notified of any disruptions to service through our social media pages and the Transit app. This page will continue to be updated with the latest developments.
For the most up-to-date information about coronavirus, visit the Centers for Disease Control and Prevention's website.