Keeping You Safe During COVID-19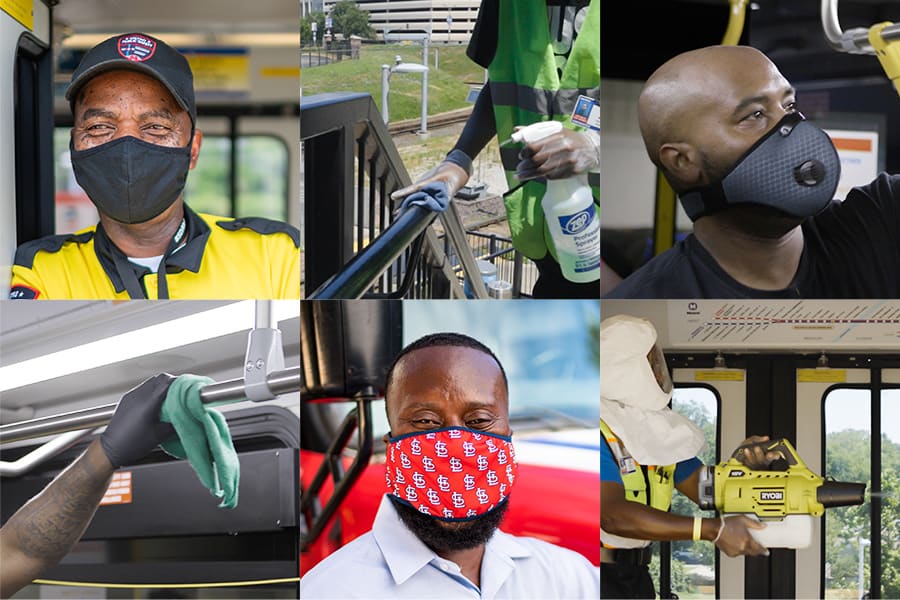 The COVID-19 pandemic has required all of us to make changes. One thing that hasn't changed is our focus on ensuring you, your fellow passengers and all of our team members can travel safely on Metro Transit.
Since March 2020, we have made adjustments to transit operations and policies to protect our riders and operators, while continuing to provide vital transportation options for everyone who needs to connect with their important destinations throughout the region.
This page is updated with the latest information on service changes and transit operations, as well as the steps we are taking to keep everyone safe on the Metro Transit system during this pandemic.
If you have questions, please contact Metro Transit Information at 314-231-2345 (phone) or 314-207-9786 (text), available Monday through Friday from 7 a.m. to 6 p.m., or email us at customerservice@metrostlouis.org. Changes to service are also published on our Twitter and Facebook.
What You Need to Know Before You Ride
All buses are limiting the number of passengers that can be on board at the same time. The operator may not be able to board everyone who is waiting at the stop, and some passengers may be asked to wait for the next bus. We understand that this may be an inconvenience, but we are prioritizing the safety and health of all passengers and operators.
ADA & Accessibility
Our commitment to providing excellent customer service for our passengers with disabilities is as important as ever.
If you need a reasonable modification to service or would like more information about Metro's ADA services, contact Amy Parker, ADA Coordinator at adacoordinator@metrostlouis.org or by phone at 314-982-1525 (711 for Relay)
The Transit Access Center is now open at our new location by appointment only. Contact our ADA Services team for more information, available Monday through Friday from 8 a.m. to 4:30 p.m. at 314-982-1510 (711 for Relay) or at adaservices@metrostlouis.org.
---
Metro Transit COVID-19 Updates
Updated 11/16/2020
MetroBus Service Changes on November 30
On Monday, November 30, Metro is making changes to 14 MetroBus routes in Missouri and Illinois as part of a quarterly service change, including bringing back weekday service on 4 express routes.
---
Updated 10/12/2020
Metro Joins APTA Commitment to Health & Safety 
Metro Transit remains committed to safely moving our region. We have joined the American Public Transportation Association Health & Safety Commitments Program as part of our continued efforts to provide vital transportation options for everyone who needs to connect with their important destinations.
---
Updated 8/25/2020
MetroBus Service Changes on August 31
On Monday, August 31, service will resume on the #56 Kirkwood-Webster and #59 Oakland MetroBus routes. Both routes will operate on a Saturday schedule for all seven days of the week. In addition, all Illinois MetroBus routes will resume their normal weekday and weekend schedules, and schedule adjustments will go into effect for the #33 Midland and #58 Chesterfield Valley routes.
---
COVID-19 Impact / Confirmed Cases
Updated 1/20/2021

Notes:
• The number of COVID-19 positives is cumulative, and reflects all positive tests since March 2020.
• Employees having had close contact with these individuals are notified and asked to quarantine / monitor for symptoms.
• In addition, facilities and areas where potential exposure occurred are sanitized and disinfected using CDC guidelines.
• Metro Transit / BSD only reports confirmed cases involving our employees. Contractors and members of the general public are not included in Metro Transit / BSD's public reporting of COVID-19 cases
• For Metro Transit / BSD's reporting purposes, a case is considered "confirmed" upon receipt of documentation from public health authorities or an employee's medical provider.
*COVID-19 Related Absences include: BSD ordered quarantine | Healthcare Provider ordered quarantine | Employee self-quarantine | Caring for Child / Individual with COVID-19 (EPSLA), and Child Care (EFMLEA / PHEL)Learn More