June 13, 2018
Link Market Hosts "Block Party" at North Hanley Transit Center on Friday
Return to Blog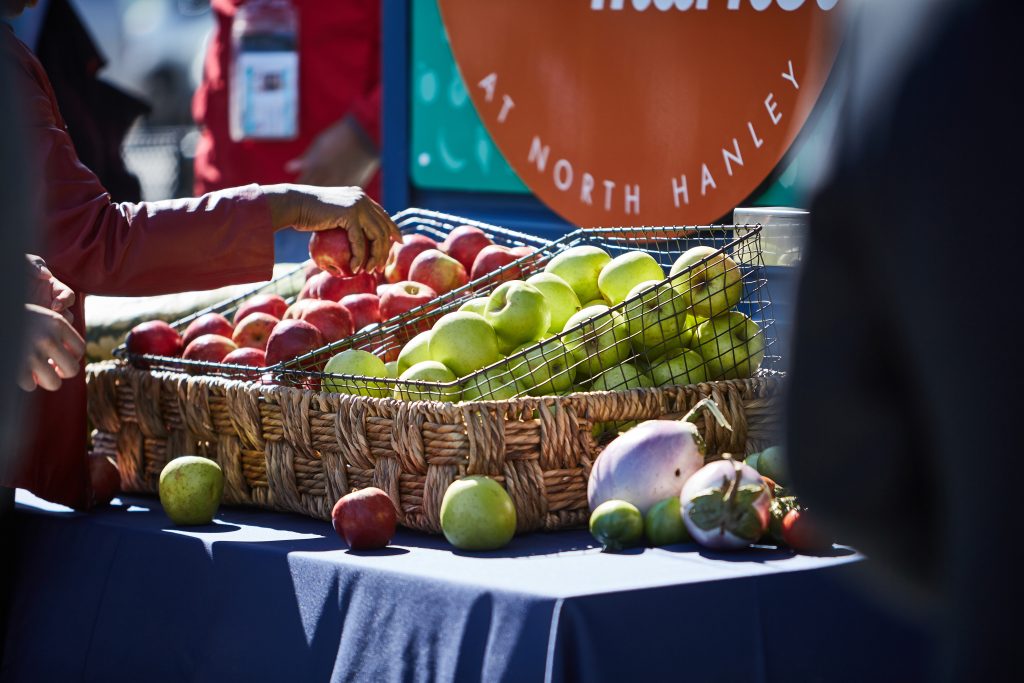 Enjoy good food, free giveaways, and fun cooking demonstrations at a special Block Party event at the North Hanley Transit Center on Friday from noon to 3 p.m.
The Block Party is hosted by The Link Market as a way to thank customers, introduce families to farmers and other vendors, and celebrate the market's first six months of operation. The event is free and open to the public.
"The Link Market is more than a grocery store" said Jeremy Goss, Link Market Founder and President. "Our food has a mission. We work with local farmers and community gardens to bring great food to this neighborhood and the next."
The event will showcase farmers like Michael Turley of Rolling Lawns Farms in Greenville, Ill., whose milk can be found every week at The Link Market. Turley will be on hand to meet customers and discuss the importance of supporting local dairy farmers.
"We're so excited to be working with The Link Market. They're on a mission and we want to be part of it," Turley said. "Fresh, healthy food should be accessible to everyone, and we're committed to playing a small role in making it happen."
The block party will also feature interactive cooking demonstrations by celebrity Chef Martin Lopez from chefmartin.net. Chef Martin will prepare Calabacitas Mexicanas, a healthy, Mexican zucchini dish. The vegan-friendly taco recipe combines several fresh ingredients found at The Link Market, including: corn, onions, tomatoes and zucchini.
"I believe that cooking is a celebration and art," Chef Martin said. "I get my ingredients and I feel the textures, smell the aromas, and then the utensils become my tools, the pots and pans become my palette, and the plates are my canvas."
You'll be able to meet with several other vendors and partners at the Block Party, including:
Black Brew Tea
Diversity Cooking
Links2Health
Metro Transit
Moor Lawns
PotBangerz
Rolling Lawns Farms
SLATE
St. Louis Area Food Bank
St. Louis Community Credit Union
Clay Academy
Grace Hill Settlement House
The Link Market was developed in partnership with the Bi-State Development Research Institute, Metro Transit and the Missouri Foundation for Health, which is funding a program through a grant. Easily accessible by public transit at their two locations at the North Hanley and Wellston Transit Centers, the kiosks offer affordably priced vegetables and fruits and other healthy household staples. The Link Market is open Monday through Friday from 9 a.m. to 5 p.m. Cash, credit and EBT are accepted.
"There are areas of our region, particularly in North St. Louis County, where it can be challenging to reach grocery stores or other resources where you can get fresh produce and other nutritious food," said John Wagner, Director of Bi-State Development Research Institute. "The Link Market kiosks are helping the region address issues like food insecurity by providing easy and affordable options to access fresh, healthy food for the thousands of people who use, or live near, the Metro transit system."
Return to Blog
Categories:
Metro Lifestyle