August 4, 2023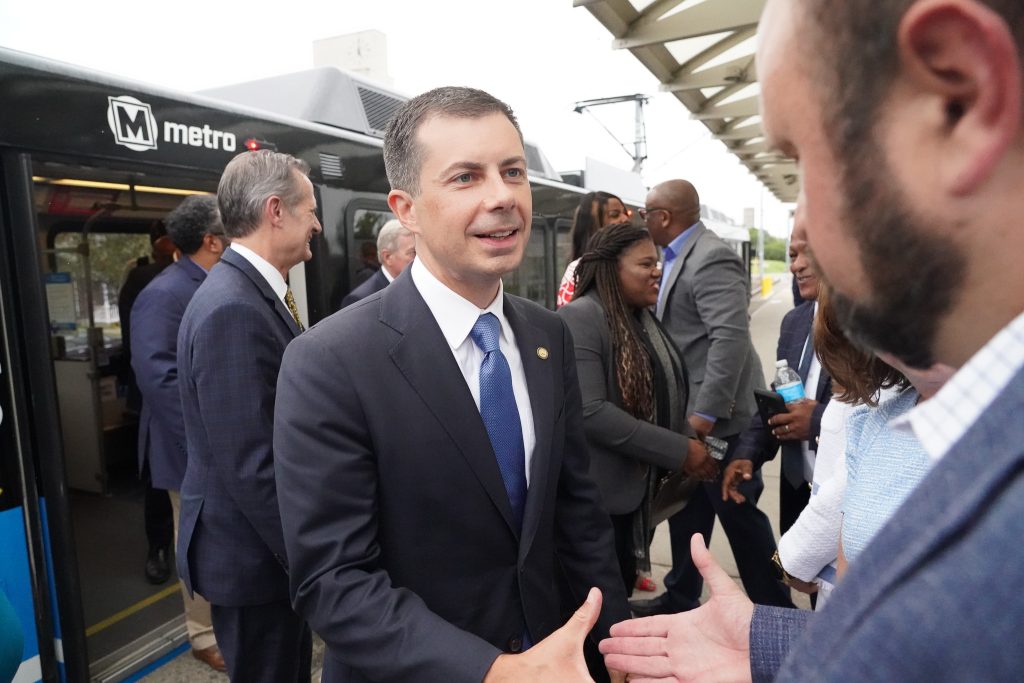 We were delighted and honored to welcome U.S. Secretary of Transportation Pete Buttigieg on Monday (July 31) to our Illinois MetroLink Facility and Emerson Park Transit Center in East St. Louis, Ill. The Secretary was in town to announce we are receiving nearly $28 million in federal funding for flood relief to assist in recovery from the July 2022 flash flooding weather event. He also reaffirmed the federal government's recent commitment of $196.2 million toward purchasing new MetroLink train cars. His visit was even more exciting because Monday was actually MetroLink's 30th anniversary and that made the day even more special.
Secretary Buttigieg was joined by several federal, state and regional leaders, including U.S. Senator Dick Durbin, U.S. Congresswomen Nikki Budzinski and Cori Bush, St. Clair County Chairman Mark Kern, St. Louis Mayor Tishaura Jones, East St. Louis Mayor Charles Powell III, and Bi-State Development Board Chair Herb Simmons. The group enjoyed a tour of the Illinois MetroLink Facility led by Bi-State Development President & CEO Taulby Roach, where they learned what happens behind the scenes to keep our MetroLink trains moving. They saw a MetroLink car that has more than 2.1 million miles logged on it and another that has been in service 1.2 million miles. Every MetroLink car in the fleet has logged more than a million miles – a remarkable achievement that is a testament to the amazing work of our maintenance teams.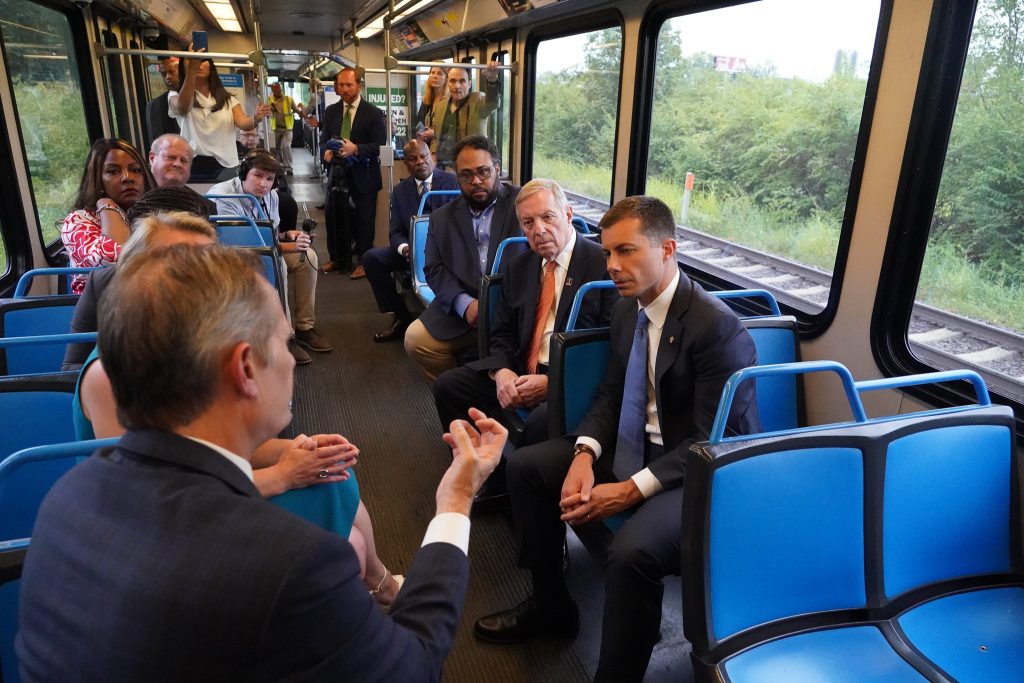 The Secretary and the group boarded one of those million-mile train cars to head to the Emerson Park Transit Center, where a lot of updates have taken place or are underway such as the recent completion of a transit stop transformation and the construction of a new $13.5 million Public Safety Center. This station is also among one of the first four stations that will receive new fare gates and fencing through the Secure Platform Plan.
During a news conference at the Emerson Park Transit Center, Secretary Buttigieg officially announced $27,675,000 in federal emergency disaster relief funding for Metro Transit. This funding will support our ongoing recovery efforts following last summer's devastating flash flooding.
"It feels like every week, we are hearing about a new flood or storm or drought or wildfire or heatwave, or other extreme event, and since we are seeing this with our own eyes we know, as leaders, our duty includes doing something about it," said Secretary Buttigieg. "In terms of our transportation work, that means supporting recovery and rebuilding efforts and it means ensuring that our infrastructure is built to withstand the extreme weather that is coming more frequently."

"All of these efforts mean cleaner air, lower emissions and a new generation of good-paying jobs. So as East St. Louis and other communities all around this region, and all around this country, are continuing to rebuild and recover, we want you to know that we are with you every step of the way. We understand the power of good transportation policy."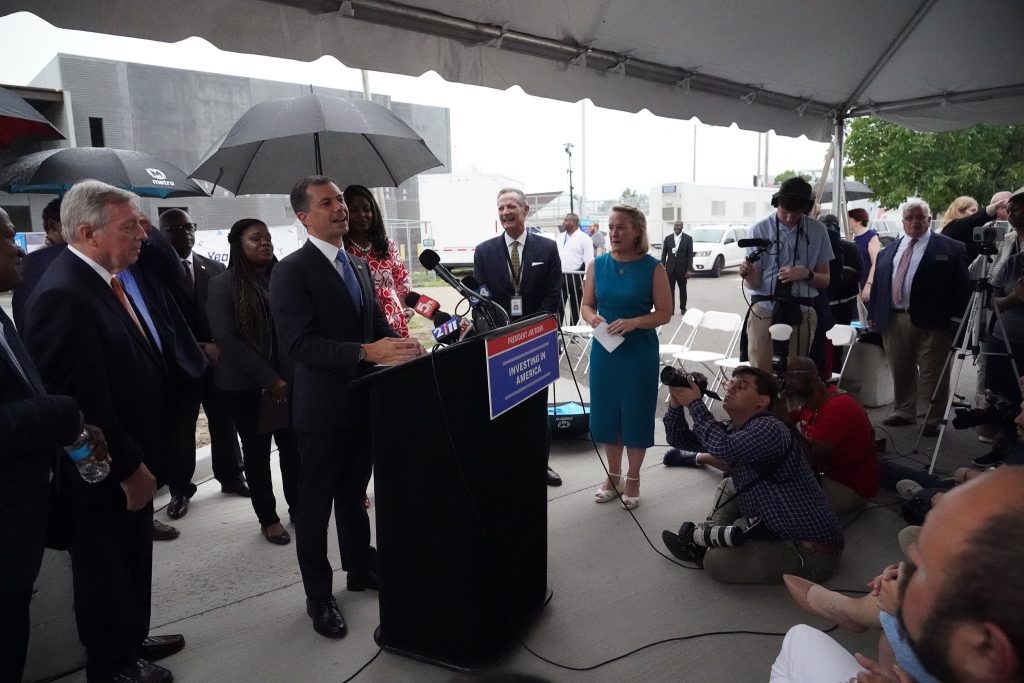 The news conference also highlighted another award for Metro Transit of $196.2 million in federal grant funding that was announced in May to replace aging MetroLink light rail cars. Thirty train cars in MetroLink's fleet have been in service for 30 years since the opening of MetroLink on July 31, 1993, and they are reaching the end of their operational life and are scheduled for replacement.
"This successful grant award shows a unified legislative delegation, working together to benefit Missouri and Illinois. Additionally, the Federal Transit Administration has once again stepped forward to advance transit in the St. Louis region," said Taulby Roach, Bi-State Development President and CEO.
Check out the slideshow below for more images from Secretary Buttigieg's visit.
Return to Blog
Categories:
Team Metro