January 13, 2021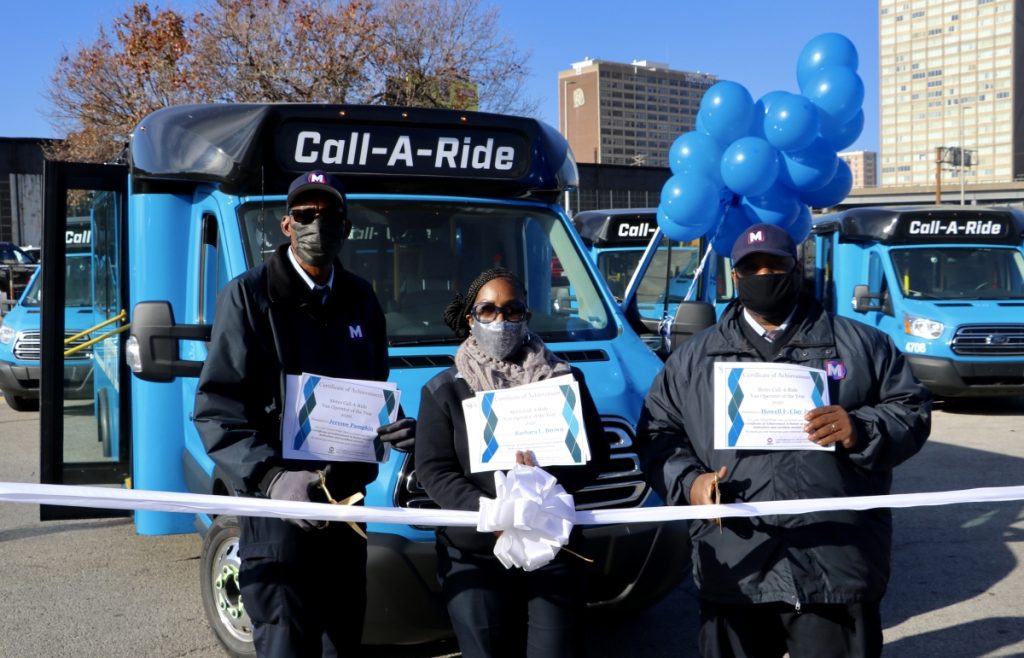 Our team members work hard to keep our region moving every single day. From operators to customer service, maintenance to mechanics, and operations to public safety, we bring the best of the best together to bring progress, collaboration and innovation to our communities. We want to share their stories, so stay tuned for more team member spotlights.
This week's team member spotlight has a special surprise – we're not highlighting just one team member, but three amazing Operators from Metro Call‑A‑Ride. Barbara, Jerome and Howell are all Metro Call‑A‑Ride's Outstanding Operators of the Year.
Metro Call‑A‑Ride regularly recognizes the contributions and customer service of their team, and each year, it recognizes the very best of their Operators with the Outstanding Operator of the Year award. To qualify, Operators must have excellent on-time performance, no complaints or disciplinary actions, five or more compliments from their customers, and no chargeable accidents.
Typically, one Metro Call‑A‑Ride Operator is recognized with this distinction. But this year, we are fortunate to have three Operators who achieved the service's highest honor.
Check out our Q&A below to get to know a little more about our Metro Call‑A‑Ride Operators of the Year.
---
Barbara
How long have you been at Metro?
I've been a van operator for Metro Call‑A‑Ride for 13 years. And, now I've become an Operator of the Year, something I'm very proud of.
What does a typical day look like for you?
I look over my manifest and map out the day, and start by being safety conscious. I always perform a visual check before and after I leave the lot. I hold a good record of customer satisfaction, and I am very compassionate when it comes to my passengers. I drive with care at all times to get my passengers to and from their destinations safely. They depend on us.
What do you like best about Metro?
I love that Metro allows you to grow in the company, whether its with management, driving or at any of the facilities. It's great to be part of a company that can alter your future for greatness.
Do you have a favorite memory from work?
In my time as a van operator, I have had many proud and rewarding moments with my passengers. When they are able to talk and laugh throughout whatever they are going through, it is such a blessing to me to be a part of those moments.
---
Jerome
How long have you been with Metro?
10 years.
What was your first job?
I was supervisor of O'Hare Flight Kitchens, which was the caterer for Ozark Airlines. I was the youngest employee in a supervisory position.
What do you like best about Metro?
I like being a part of an organization that directly impacts other peoples' lives.
What do you like to do when you aren't working?
I've been married for 27 years, and have a daughter and a grandson – and I enjoy relaxing and spending time with my family and friends.
What are you most proud of when it comes to your work?
I'm proud that I can provide a safe and pleasurable ride for my passengers, many of whom are facing challenging disabilities. This is both a humbling and rewarding experience for me, each day.
---
Howell
How long have you been with Metro?
Just over 7 years.
What was your first job?
My first real job was working at Old Country Buffet, bussing tables and washing dishes.
Tell us a little about your family.
I am a man that loves his wife, his family and friends, and I am very grateful and blessed for my job. I love my pastor and church family too.
What do you like to do when you aren't working?
I like to cook, especially around the holidays, and one of my favorite games to play is racquetball. I'm also a huge San Francisco 49ers fan.
What do you like best about Metro?
Metro is a place where you can grow in your position and be the best at what you do.
What does a typical day look like for you?
I say a prayer, clock in and grab my manifest and look over it. Then I go to work, doing my best to be as courteous and nice as possible, while being safe. And then get ready to do it all over again.
---
Want to meet some of the riders that these three get to where they need to go? Check out some of our latest passenger profiles to meet Joyce and Roshonda.
When you're out riding with us, make sure to pause and thank our team members for what they do. We could not move the region without them. Thank you, Barbara, Jerome and Howell!
Return to Blog
Categories:
Metro Lifestyle
,
Team Metro