Links2Life is about YOU. Getting you to the places you need and want to go. It's about linking you to important things like work, healthcare or education. It's about linking you to the fun things around town like shopping, entertainment or the ball game. It's about how Metro St. Louis is YOUR link to a more full life.
When you hop onto Metro, you'll be connected to all the excitement that St. Louis has to offer. There is an incredible array of activities and events going on every day, and Metro wants to make sure you don't miss any of the fun. Whether you need to be linked to the ball game, a museum or Forest Park, Metro is your easy and convenient link to it all. Look at the list below and get hopping.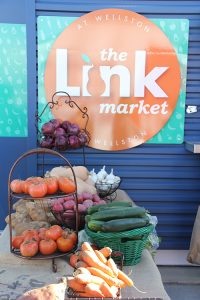 In today's fast-paced world, it isn't always easy to stop for groceries or pick up a few ingredients on the way home for dinner. Now, Metro riders have a quick and convenient resource to fill up their pantry with fresh, healthy food.
The new Link Market food kiosks, located at the North Hanley and Wellston Transit Centers, offer transit riders the chance to purchase fresh fruits, vegetables, bread, milk, meat and other healthy household staples at great prices.
The Link Market food kiosk pilot program is the result of a partnership with the Bi-State Development Research Institute, a non-profit enterprise of Bi-State Development, and the Missouri Foundation for Health, which is funding the 18-month pilot program.
The Link Market is open Monday through Friday, 9 a.m. to 5 p.m., at the North Hanley and Wellston Transit Centers. Cash, credit and EBT payments are accepted.
As part of the program, nutritionists at the University of Missouri Extension will provide education sessions at the Wellston and North Hanley Transit Centers to promote healthy eating. Visitors can enjoy cooking demonstrations, ask questions and learn more about the importance of proper nutrition and how to incorporate fruits and vegetables into their diets while on a budget.
Recipes from past demonstrations, include:
---
Links 2 Health –
Fast and Free Health Screenings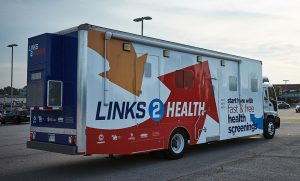 The new Links 2 Health mobile health screening vehicle makes it easy – and free – for everyone to take the first step toward a long and healthy life.
The 18-month pilot program will provide adults 18 years of age and older with health screenings, such as blood pressure and diabetes testing, as well as other health assessments, all free of charge. No insurance, copay or payment is needed. Everyone who gets a screening will also be eligible for assistance in applying for health insurance, and will have follow-up primary care set up for them with transit-accessible healthcare providers.
The Bi-State Development Research Institute received a Rides to Wellness Demonstration and Innovative Coordinated Access and Mobility Grant from the U.S. Department of Transportation's Federal Transit Administration of nearly $1 million dollars for the pilot program, in partnership with the St. Louis County Department of Public Health.
Stop by the Links 2 Health mobile screening vehicle at any of these transit locations:
Links 2 Health Mobile Health Screening Vehicle
Free basic health screenings
Set up follow-up care
Walk-up service available 11 a.m. to 6:30 p.m.
---
Things To Do, All Year Long
Explore the wonders of the Garden of Glass at the Missouri Botanical Gardens — Get there on the #8 Bates-Morganford

Catch a Cardinals game in person at Busch Stadium or watch at Ballpark Village — Take the #40 Broadway
Step back in time at the Old Courthouse — Hop on the #99 Downtown Trolley
Catch a show at Tivoli Theater — Get there on the #97 Delmar
Take a tour of one of the numerous breweries that St. Louis has to offer
Find your inner child at the City Museum and the Magic House
---
Take Metro in December
St. Louis Zoo – Accessible via Route #90 Hampton
December 1-30: U.S. Bank Wild Lights
STL Symphony Live at Powell Hall – Accessible via Route #97 Delmar
December 3: An Evening with Leslie Odom, Jr.
December 8-10: The Four Seasons
December 29-30: DreamWorks Animation in Concert
December 31: BMO Private Bank New Year's Eve Celebration
America's Center & The Dome – Accessible via Route #99 Downtown Trolley
December 14-16: Gateway Dirt Nationals
The Fabulous Fox Theater – Accessible via Route #10 Gravois-Lindell
December 14-17: A Christmas Carol
December 23: Moscow Ballet's Great Russian Nutcracker
December 27-31: Cinderella
Peabody Opera House – Accessible via Route #99 Downtown Trolley
December 9: Sebastian Maniscalco
December 15: A Charlie Brown Christmas Live on Stage
December 26-28: Elf The Musical
Scottrade Center – Accessible via Civic Center MetroLink Station
December 2: Jim Gaffigan
December 9: The Original Harlem Globetrotters
December 26: The Trans-Siberian Orchestra Presents: The Ghosts of Christmas Eve