August 6, 2018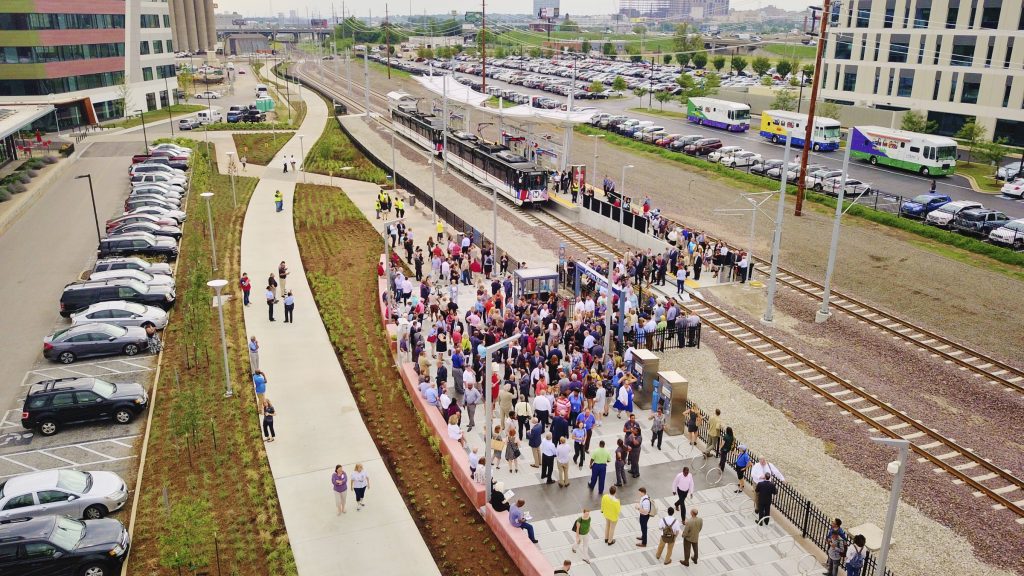 The first new MetroLink station to be built in more than a decade, and the first to be constructed by Metro Transit through a public-private funding partnership, officially opened on July 31, 2018.
The grand opening took place 25 years ago to the day when Metro Transit opened the region's light rail system. The new Cortex MetroLink Station offers another transportation option for current and future workers in the Cortex Innovation Community and throughout the St. Louis central corridor. The event also marked the completion of the first section of the Chouteau Greenway, a quarter-mile paved path linking Boyle and Sarah Avenues along which people can walk, run or bicycle. Construction on the third phase of the project, the extension of the MetroLink platform at the Central West End Station, will get underway soon.
The Cortex MetroLink Station and Chouteau Greenway project were funded through a partnership between the Federal Transit Administration, Cortex, Washington University, BJC HealthCare, Great Rivers Greenway, the City of St. Louis, Citizens for Modern Transit, Metro Transit and Bi-State Development. Representatives from all the partners joined federal, state and local leaders and hundreds of community members to celebrate the opening of the 38th station on the region's light rail system. The newest station, located between Boyle and Sarah Avenues, provides an additional stop in the rapidly growing area between the Grand Station and Central West End Station.
"Access to reliable transportation is essential to attracting new businesses to our region, and this new station and greenway are amazing benefits for companies and organizations here in the Cortex Innovation Community. The revitalization of this entire area is one of the best things going on in the St. Louis region and in this country," said Bi-State Development President and Chief Executive Officer John Nations.
Bi-State Development operates the Metro Transit system for the St. Louis region.
"A crucial aspect of this new station is that it is the first time we have used a public-private partnership to get private sector dollars invested in a public transportation asset in St. Louis," Nations said. "This can serve as the first of what should become a model for financing the expansion of the MetroLink system in particular, and public transportation in general, in our region."
Project partners committed more than $5 million dollars to put with a $10.3 million Transportation Investment Generating Economic Recovery (TIGER) grant from the Federal Transit Administration. The $15.5 million project has three components, with the new Cortex Station and the Chouteau Greenway being the first two phases. HNTB Corporation led the project design team and the project contractors included L. Keeley Construction, Wissehr Electrical Contractors, Sachs Electric and RailWorks Track Services Inc. The third phase of the project, the extension of the platform at the Central West End MetroLink Station, is expected to be completed in about six months. The Central West End Station will remain open during construction.
Mokhtee Ahmad, administrator for Region VII of the Federal Transit Administration, talked about the role of the Federal Transit Administration in the landmark project.
---
Photos: View construction photos of the Cortex MetroLink Station, Chouteau Greenway
---
"The Federal Transit Administration is proud to be a partner in contributing $10.3 million in federal TIGER grant money for this project because it delivers on every level," Ahmad said. "It provides much needed transportation options in this community, but in a best way because it is sustainable and environmentally friendly," said Ahmad. "This is a perfect example of the power of public-private partnerships, and how regional collaboration can take an idea and transform it into something real and tangible and beneficial to the entire region."
"These are two truly transformative projects that will project St. Louis into the future by connecting all kinds of people from all walks of life to the exceptional job opportunities right here at Cortex," U.S. Congressman William "Lacy" Clay said. Clay (D-St. Louis) represents the 1st Congressional District in Missouri. Saluting the vision of the many stakeholders in the project," he added, "St. Louis is again a place where really big dreams can come true."
Missouri State Senator Jamilah Nasheed (D-St. Louis) called the development a "game changer" in the City of St. Louis, highlighting the American Public Transit Association's statistics that, for every $1 billion invested in public transportation, 30,000 jobs are supported.
"Now just imagine, if we can create or support 30,000 jobs north of Delmar, by way of public transportation," said Nasheed. "No. We don't have to imagine. We can just do it. Now is the time for equitable transportation policies throughout the City of St. Louis. We can make it happen."
Missouri State Representative Michael Butler (D-St. Louis) gave credit to the broad collaboration that made the project celebration possible. "When we leave today … I want you to remember this great feeling, this event, and let's make more of them."
For Lewis Reed, president of the St. Louis Board of Aldermen, that collaboration was evident in the makeup of the crowd. "Transportation is one of the great equalizers. Just look at the people around you and look at the diversity within the crowd today. This is what transportation looks like. This is what development looks like. This is what a public-private partnership looks like, right here today," Reed said. "As we think about transportation, we must not just think of transportation as a means to get a ride from one location to another. Transportation is more than that. Transportation is about jobs. Transportation is about economics. Transportation is about housing. Transportation is about health care. Transportation is about diversity, and that's what St. Louis looks like."
Darlene Green, comptroller for the City of St. Louis, talked about innovation, both within the development and the funding for it. "Over the past several years, Cortex has become one of the most robust innovation hubs in our region … the innovation capital of the region. How about that!," Green said. "The project partners put their heads together to conquer some funding challenges and they developed a unique public-private funding partnership, while at the same time maintaining a focus on fiscal responsibility. This new approach is being talked about all over."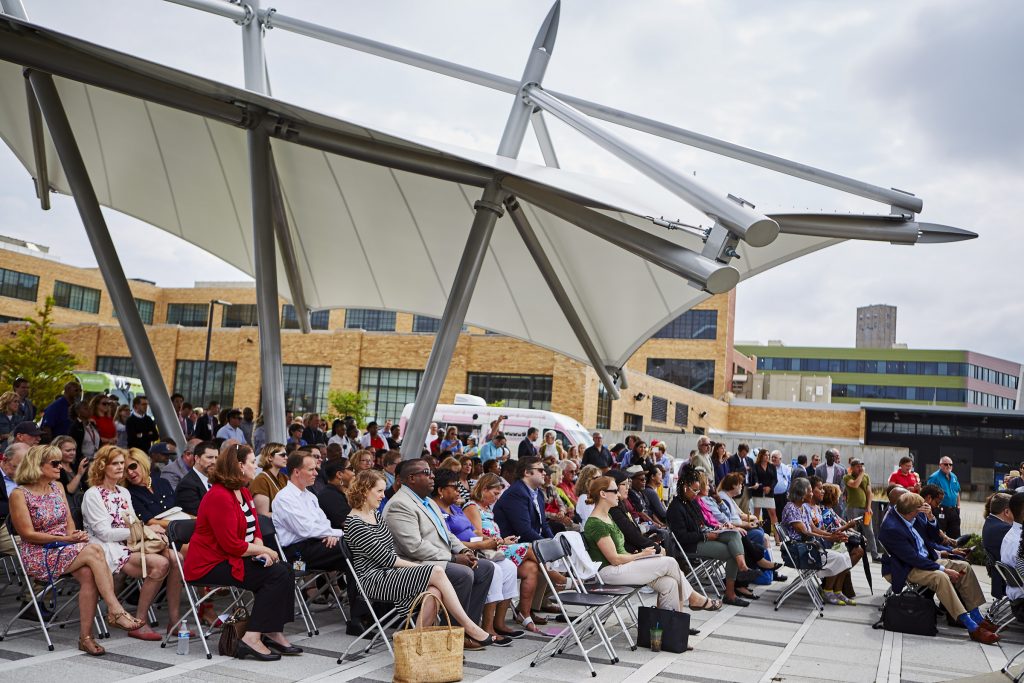 "We collectively are building something here that's incredibly important for this region and for this country," said Cortex Innovation Community President and CEO Dennis Lower. He noted what started as two buildings eight years ago has grown to 13 buildings in the Cortex Innovation Community, with three more under construction and 13 more projects expected to break ground in the next four years. "This station is getting here just in time."
"On behalf of the 13,000 BJC team members who work at a site directly accessible now by MetroLink, we are thrilled to have been a partner in helping this station at Cortex come to fruition," said Bob Cannon, group president of BJC HealthCare, one of the region's largest employers. "Not only because the Cortex Innovation Community is an important part of our region's economic engine, but also because this station will serve our team members who work at the still new, five-story, 200,000 square foot building behind us called BJC at the Commons, as well as our employees who work just to the west. … This station will also serve as a bridge to our academic medical campus and ensure that current and future BJC employees have an excellent public transportation option to get to work."
Another major partner in the project was Washington University in St. Louis.
"This is not just another station, although that's important; it's another brick, a very big brick, in the building of a great innovation district," said Executive Vice Chancellor and Chief Administrative Officer Henry "Hank" Webber. "I'm proud to chair the board of the Cortex Innovation District. It is a dense, diverse, urban innovation district with 5,000 jobs on the way to 13,000. The fact is great innovation districts do not work without public transportation. … We don't just want to create jobs here, we want to create jobs which everybody in the region, especially those who most need them can get to and public transportation is essential to that. Public transportation is a way to spread economic benefits to all."
June McAllister Fowler chairs the board of Citizen's for Modern Transit, the region's transit advocacy group, which led the effort to develop the draft feasibility study for the new station in 2014. "It's wonderful to be recognized with all the institutional and governmental pillars that help to move our region forward. … We are also honored to have played a role in this project, particularly in its early stages, and as so many have said, well done St. Louis for figuring out how to come together and doing an infrastructure project that means so much to the entire region."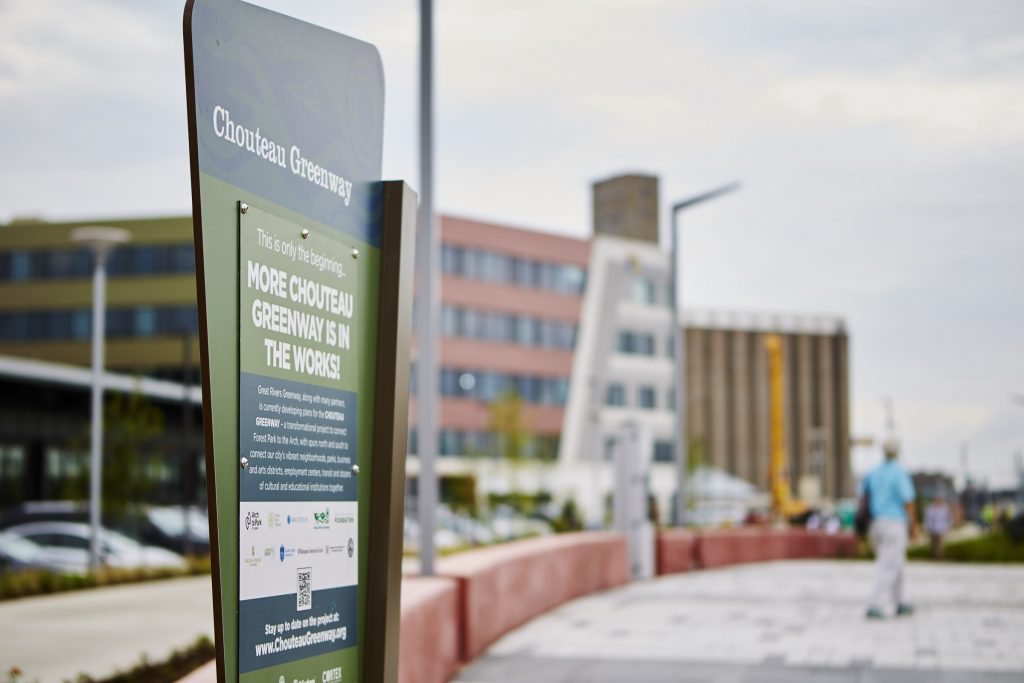 The new Cortex MetroLink Station and the first quarter-mile section of the Chouteau Greenway is located in St. Louis's 17th Ward. Joseph Roddy, Ward 17 alderman, enthusiastically welcomed the culmination of the hard work that has gone into the project.  "I started working on this project 16 or 17 years ago and I had no idea how hard it is to stop a train," Roddy said. "It's all come together thanks to so many people who have touched this project."
"I do want to thank people for believing in Chouteau Greenway," said Susan Trautman, Chief Executive Officer of Great Rivers Greenway. "For those who haven't learned about it yet, lots more to come. Our goal isn't just to connect Forest Park to the Arch, but to create access to the communities north and south and create a place of diversity and unity and a place where people in St. Louis have common ground and access to our cultural institutions, to our medical centers, to our educational institutions and to the great parks and greenways that are in our region."
The first phase of the MetroLink system opened on July 31, 1993. Bi-State Development Board Commissioner Aliah Holman talked about the growth of the MetroLink system over the past 25 years which has grown from the original 16 stations to 38, while she also highlighted the tremendous amount of transit–oriented development along the 46-mile MetroLink system.
"Since 2011, nearly $8 billion dollars in commercial development, yes, I said $8 billion, has been completed or is currently under construction or is reasonably committed within a half-mile radius of MetroLink stations in Missouri and Illinois. That is impressive!"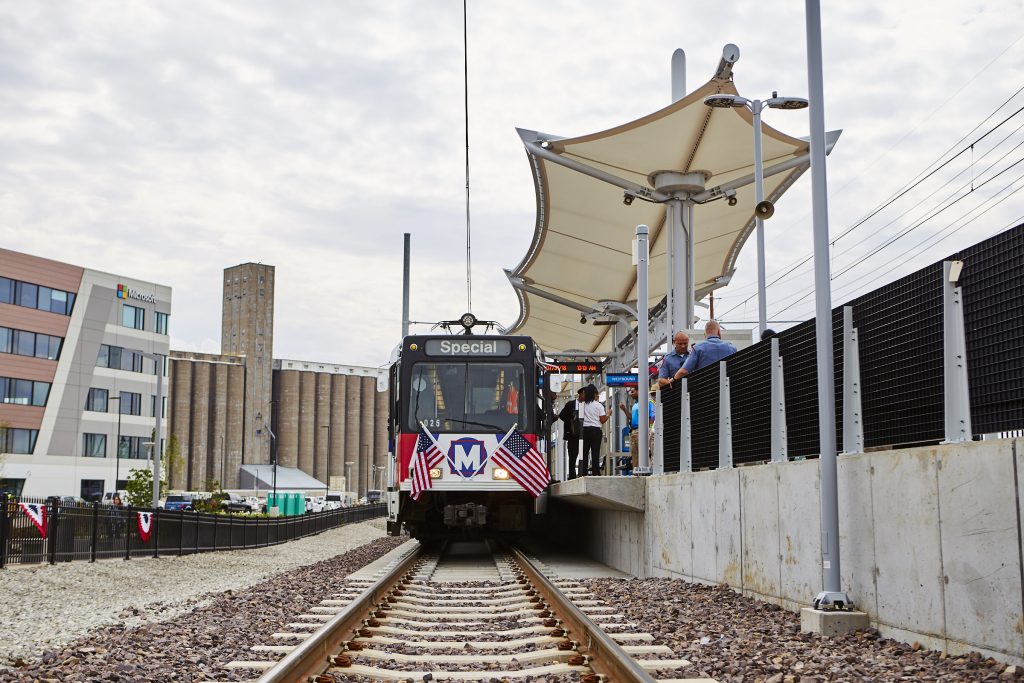 Tom Curran, director of intergovernmental affairs for St. Louis County, highlighted how, in the 25 years since Bi-State Development first brought light rail to St. Louis, saying MetroLink has provided literally millions of trips to employment centers, recreation, health care centers, the St. Louis Cardinals and St. Louis Blues games. "It is part of the fabric of the St. Louis community," said Curran. "What a wonderful way to celebrate the 25th Anniversary with the opening of this beautiful station."
Special guest John "Jack" Leary Jr., who served as executive director of the Bi-State Development Agency from 1990 to 1997 and oversaw construction of the initial MetroLink alignment, recalled that 180,000 people rode MetroLink during the first three days after it opened in 1993, far exceeding expectations, despite the wide skepticism many in the region had about bringing light rail to the region. "But there were leaders here who were steadfast in their determination to bring light rail here," Leary said. "Congratulations, St. Louis, for having the foresight to bring MetroLink to this region."
After the program concluded, everyone in attendance was invited to participate in the community ribbon cutting.  An estimated 200 people posed for the photo which was captured by multiple cameras including a drone camera.
Metro Transit continues to invest in its system, completely redesigning the transit center at the Civic Center MetroLink Station in 2017, bringing fresh food kiosks, mobile basic health screening units, and a new lending library program to several MetroLink stations in Missouri.
Return to Blog