February 27, 2020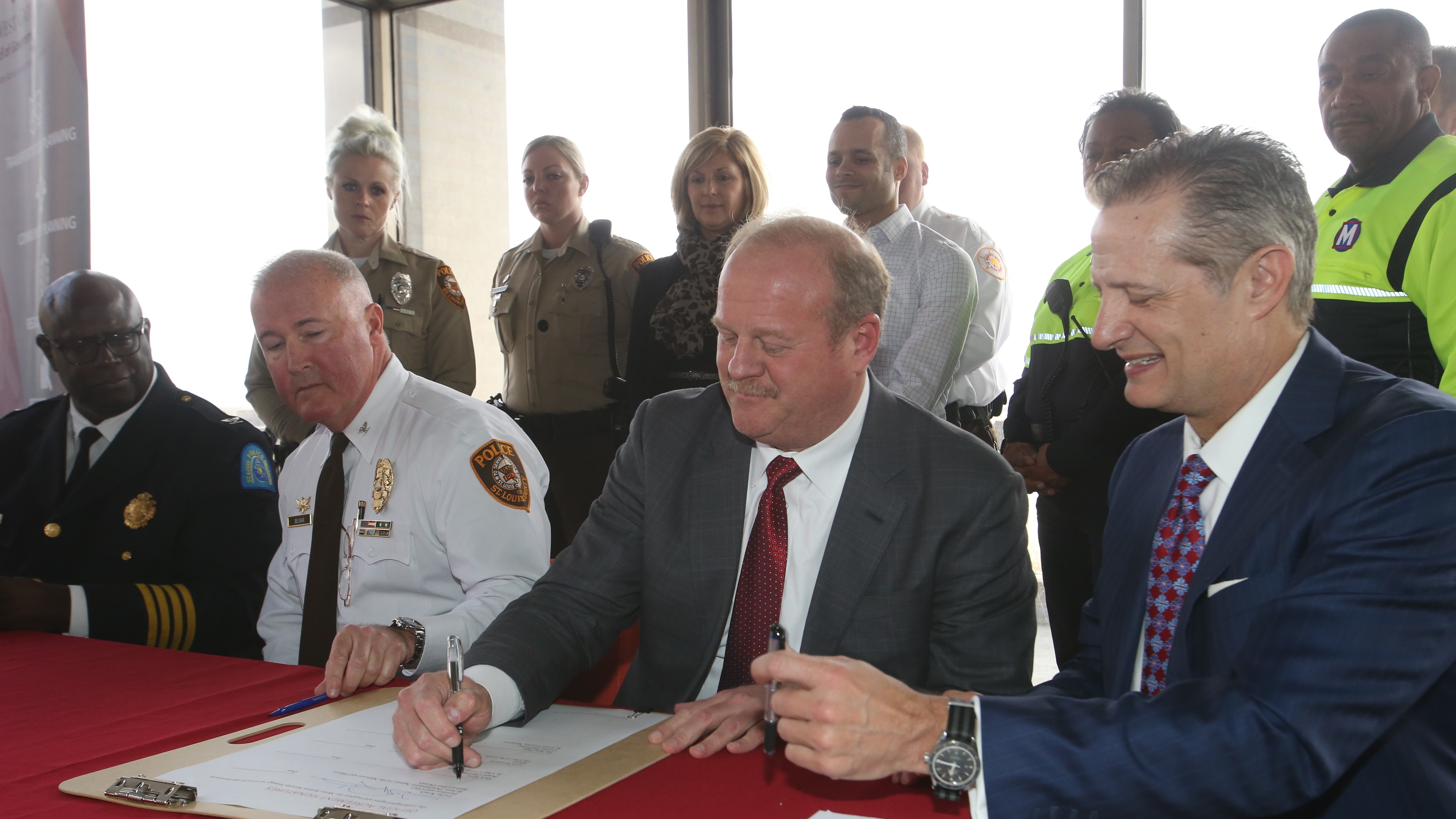 Metro Transit joined its regional partners yesterday (Feb. 26) in the signing of a new security agreement that outlines the framework for providing transit riders with a safer, more secure and more comfortable ride. This agreement is the culmination of two years of work and collaboration between Metro Transit, Bi-State Development, East-West Gateway Council of Governments, WSP, St. Louis County, City of St. Louis, St. Clair County and Metro's law enforcement partners at St. Louis County Police Department, St. Clair County Sheriff's Department and the Metropolitan St. Louis Police Department.
"Building strong regional partnerships are the keys to ensuring a safe and secure public transit system," said Taulby Roach, President and Chief Executive Officer of Bi-State Development. "Our customers will experience a more cohesive and coordinated approach to security that will offer an improved transit experience."
What Metro Transit Security Looks Like Today
There are multiple layers of security and personnel patrolling the system and helping passengers:
Security Officers and Fare Inspectors assist passengers; patrol trains, MetroLink stations and transit centers; and enforce the rules and policies of the Metro Transit system
Transit Security Specialists support security officers and other Metro team members while patrolling the system, responding to calls and coordinating with law enforcement
Law enforcement partners at St. Louis County Police Department, St. Louis Metropolitan Police Department, St. Clair County Sheriff's Department and St. Louis City Sheriff's Department provide a uniformed police presence on the transit system with both full-time and part-time officers and deputy sheriffs
The hiring of a new public safety leadership team last year has helped accelerate Metro's transition into a new public safety strategy. To deliver our customers with a safe and comfortable ride, our team is focused on three key areas:
Visibility: Our Transit Security Specialists and security officers are everywhere our customers are — patrolling platforms, at transit centers, on board MetroBus and MetroLink trains. With new, high-visibility uniforms, they are easy to spot and are always ready to assist you.
Rule Enforcement: Loud music and smoking are examples of nuisance behavior that can create a negative experience for all riders. Our team is strengthening enforcement of the rules of the transit system to ensure everyone is using Metro the right way and can enjoy a safe, comfortable commute.
Technology and Infrastructure: All MetroLink platforms are monitored on video 24/7 by dispatchers who can immediately call for security or law enforcement assistance if necessary. Cameras also monitor Park-Ride lots, stairwells, parking facilities and trains, buses and vans. Metro is also using new infrastructure to create better monitored and secure access points to the transit system.
---
See Something? Say Something – Text 314-300-0188 | Call 314-289-6873 – Available 24/7
---
Ongoing Improvements
At the same time the comprehensive security strategy has been developed over the last two years, Metro has been making significant improvements to its public safety approach.
In the last two months, Metro Transit has approved new contracts and agreements with our regional law enforcement partners and with our new contracted security provider – G4S Secure Solutions – who will being providing contract security guard services beginning in April. The new guards will be wearing new high-visibility uniforms, which were adopted by Transit Security Specialists in January, which will provide a more visible and accessible security presence.
In addition, last fall Metro expanded a pilot project that changes how customers access platforms. Initially launched in September 2018, the program employed new infrastructure and personnel to create new, defined access points to the North Hanley, Forest Park-DeBaliviere and Fairview Heights Transit Centers, with the goal of improving fare inspection and customer experience. The overwhelmingly positive feedback received from customers, law enforcement and security personnel led to the expansion of this project to the Central West End and Delmar Loop Transit Centers.
Comprehensive Security Strategy
The security strategy can be read in its entirety at ewgateway.org/metro. It has four major goals:
To reduce the rate and perception of crime on the Metro system;
To implement fare enforcement as a security tool;
To engage all Metro employees and security contractors in securing the Metro system; and
To identify and assess crime and other security threats to customers, employees, and property and to maximize security effectiveness.
The foundation of this strategy is a Metro Security Assessment launched in Spring 2018, performed in conjunction with East-West Gateway, regional law enforcement and security consultant WSP-USA. Click here for more information about the security assessment and implementation of the recommendations that are improving safety on the system.
Return to Blog
Categories:
Safety